Georgia Oakley's impressive debut, set in the UK during the introduction of Section 28, features a knockout performance from Rosy McEwen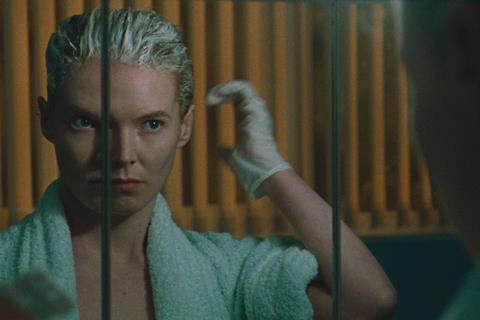 Dir/scr: Georgia Oakley. UK. 2022. 97 mins
The year is 1988. Margaret Thatcher's Conservative government is in the process of introducing the now-notorious Section 28, a clause of the Local Government Act which seeks to prohibit "the promotion of homosexuality". The airwaves are full of braying Tory sanctimony and talk of "protecting the children". For Jean (an exceptional Rosy McEwen), a closeted secondary school PE teacher in the North East of England who is just beginning to feel comfortable with her lesbian identity, the ramifications are seismic. This superb debut from writer and director Georgia Oakley uses an intimate character study as a lens through which to view a period of profound crisis and upheaval for the gay community. It's a remarkably accomplished picture on every level, not least the keenly felt and fiercely authentic performances.
A remarkably accomplished picture on every level
Oakley cut her teeth with a series of short films which screened widely on the festival circuit, with her 2017 short film Little Bird earning several prizes. Following on from its premier in Venice's Giornate Degli Autori strand, Blue Jean seems likely to boost her profile considerably. Likewise that of McEwen, whose contained but compelling central performance is one of the picture's driving forces. A warm reception at further festival screenings, particularly in LGBTQ+ events, is likely and the film should figure prominently on the wish lists of acquisitions agents for arthouse distributors.
Jean paints bleach paste onto her boyishly cropped hair, and then settles down in front of Cilla Black's cosy innuendos on ITV's Blind Date; seemingly oblivious to the casual misogyny of the format. She is, it becomes clear, a woman who is still very much in the uncomfortable space between worlds. She guards her privacy, keeping fellow teaching staff at arms length and her family in the dark. But although she is in a long-term, committed relationship with Viv (Kerrie Hayes), she is also still slightly on the fringes of Viv's wider circle of out and proud dykes. The baby steps she takes towards the closet door hit a series of stumbling blocks: firstly her nervy, uneasy response to the increased scrutiny brought by Section 28, and later the arrival in her school of a new girl, Lois (Lucy Halliday), whose own discovery of her sexuality threatens to capsize Jean's delicately balanced personal life.
Oakley's sensitive handling of the film's themes makes eloquent use of McEwen's physicality as an actor, and her character's heightened sensitivity regarding anything which might be used against her. The camera lingers briefly but pointedly on the moments of contact between Jean and her students, hands lightly touching arms, as she coaches them in defensive netball tactics. Oakley also captures a tangible sense of time and place, crafting both a social landscape, and –through astute music choices and appealing, grainy 16 mm photography – an aesthetic feel for the moment.
But what's most distinctive perhaps is the kind of lesbian relationship which the film foregrounds. Cinema's fascination with female same-sex relationships begins and usually ends with the moment of teenage awakening, it's much rarer to encounter a lesbian couple in (at the start of the film at least) a committed and stable relationship. Even more uncommon is the film's decision to show a butch lesbian – Viv is shaven-headed, leather-studded – as a romantic lead.
In this, and in its exploration of the ramifications from Section 28 on an individual and personal level, Blue Jean is a bold, deeply affecting drama about a moment in British history which seems to have been conveniently forgotten.
Production company: Kleio Films
International sales: Film Constellation leo@filmconstellation.com
Producer: Hélène Sifre
Cinematography: Victor Seguin
Production design: Soraya Gilanni Viljoen
Editing: Izabella Curry
Music: Chris Roe
Main cast: Rosy McEwen, Kerrie Hayes, Lucy Halliday, Lydia Page, Stacey Abalogun