Dir: Teddy Chen. China-Hong Kong. 2009. 138 mins.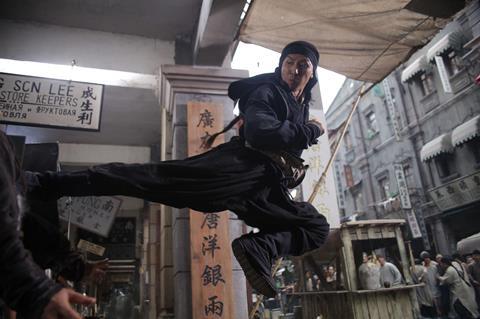 Impressive action sequences and a cast of memorable characters breathe life into Teddy Chen's Bodyguards and Assassins, a Chinese blockbuster set in 1905 Hong Kong.
With major Asian stars appearing in virtually every significant role, the final hour is wall-to-wall action
Although this lavishly-staged work takes its time during a lengthy first act, the frantic melee that follows in the film's final hour, played out on the crowded streets and markets of Hong Kong, delivers a satisfying mix of action and drama.
Bodyguards has been a massive hit in China since its release on December 18, significantly out-grossing compatriot Zhang Yimou's A Simple Noodle Story and passing the $40 million mark as of January 3. It has also performed well in Hong Kong and Taiwan, earning roughly $2 million in each territory. Upcoming bows include Korea on January 21 and a spring release in the UK.
The film centres around the real-life figure of Dr. Sun Yat-sen, who would go on to overthrow the Qing Dynasty in 1911 and found the first modern republic in China. The fictitious plot imagines a brief visit by Dr Sun to Hong Kong in 1905 to meet with fellow revolutionaries. This causes a sensation among a group of Dr Sun's supporters, headed by the passionately committed Prof. Chen Shao Bai (Tony Leung Ka-fai) and financially aided by the more circumspect tycoon Li Yu Tang (Wang Xueqi).
Qing authorities led by the dowager Empress have dispatched assassins to eliminate Dr Sun, however, and so the two men recruit bodyguards to escort him through the city during the hours of his visit.
These bodyguards, many of whom have only a vague notion who they are protecting, include a former martial arts master brought down by gambling (Donnie Yen), a rickshaw driver (Nicholas Tse), a hulking street vendor (basketball star Mengke Bateer), a lovesick beggar (Leon Lai-ming), and the headstrong daughter of an assassinated general (singer Li Yuchun).
Outmatched in every way, the motley group risks everything to protect Dr Sun and Li Yu-tang's 17-year old son, who acts as a decoy.
With major Asian stars appearing in virtually every significant role, Bodyguards has no single protagonist. However the standout performance is clearly given by veteran actor Wang Xueqi (Forever Enthralled) as the tycoon, whose innate sense of humanity gradually overcomes his reluctance to get involved.
Genre fans in the West may at first be disconcerted by the almost complete lack of fighting sequences in the film's first half, but the final hour is wall-to-wall action. Particularly impressive is a standoff between Donnie Yen's gambler and an assassin played by Vietnamese kickboxing champion Cung Le. Indeed, the acrobatic energy of the scene makes a subsequent confrontation involving Leon Lai seem flaccid by comparison.
The $23 million production was shot within a massive set of 1905 Hong Kong built outside Shanghai that significantly contributes to the film's spectacle. Technical credits across the board are strong, including cinematography by Arthur Wong (Warlords) and production design by Kenneth Mak (Fearless). The score, by Chan Kwong Ming and Peter Kam, though lacking unity, ups the energy in the latter half.
Bodyguards and Assassins is the first project from Cinema Popular, a joint venture by Hong Kong based director Peter Chan Ho-sun (Warlords) and Beijing producer/director Huang Jianxin (The Founding of a Republic) to produce films targeted at the mainland Chinese market.
To sign up for Screen's weekly Reviews Newsletter with all the week's new releases, internationalopenings and full festival reviews delivered free to your mailbox every Friday, please click HERE
Production companies
Cinema Popular
WE Pictures
China distributor
PolyBona Film Distribution
International sales
We Distribution, +852 2366 1622
Producers
Peter Chan Ho-sun
Huang Jianxin
Screenplay
Chun Tin-nam
Guo Junli
James Yuen Sai-sang
Wu Bing
Cinematography
Arthur Wong Ngok-tai
Production design
Kenneth Mak Kwok-keung
Music
Chan Kwong-ming
Peter Kam
Action director
Lee Tat-chiu
Main cast
Donnie Yen
Wang Xueqi
Nicholas Tse
Tony Leung Ka-fai
Leon Lai-ming
Hu Jun
Eric Tsang
Li Yuchun
Fan Bing-bing
Simon Yam