Dir/scr: S. Craig Zahler. US, 2015. 130 mins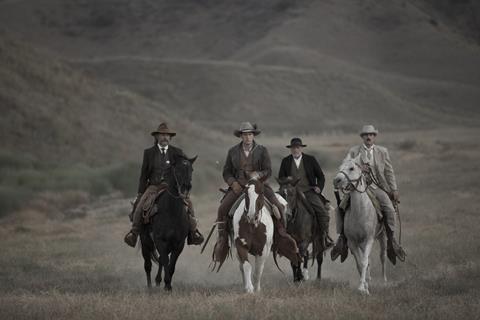 A cult item par excellence, Bone Tomahawk does for the Western what Gareth Edwards did for Monsters. Long, slow and low-budget, Bone Tomahawk is also disturbingly tense, hyper-violent, and destined to attract an adoring fanboy following. Best avoided if human vivisection is a crunch too far, Bone Tomahawk is still restrained for the most part, and it's the performances – particularly Kurt Russell's grizzle and gravitas – which distinguish the piece (apart from some tracheotic-teeth, the less said about which, the better).
Although the troglodytes are admittedly low-rent and little-seen monsters, they know how to clinically ratchet – or hatchet - up gruesome fodder for the film's fire.
Bone Tomahawk is about an inhuman tribe of troglodytes who have become bestial cannibals, but it's also mostly about four men and their trek to rescue a kidnapped woman – The Searchers who end up in From Dusk Til Dawn territory, although We Are What We Are is a more useful recent commercial benchmark.
Bone Tomahawk is being sold internationally by Celluloid Dreams, where it should attract more big-screen attention than its selected cities/simultaneous VOD release in the US through RLJ Entertainment on October 23. The running time could certainly be shaved. This is set to be a slow burner, however, reliant on word-of-mouth and powered by pleasing performances from Russell, Patrick Wilson, Matthew Fox and Richard Jenkins as four horsemen of their own apocalypse. Premiering at the London Film Festival, this ambitiously-ugly genre effort could also tour that circuit's midnight slots with effortless ease.
Westerns are notoriously cheap to make, yet DoP Benji Bakshi and designer Frederick Waff flesh out Bone Tomahawk's wooden planked, one-horse-town of Bright Hope (pop. 268) and empty, non-distinguished plains, at least initially (closing sections are visually thin, although by then the film is relying on other elements to retain interest, having lit the fire under the cannibal BBQ).
Flirting with the idea that he might be delivering a zombie Western for the most part, director/screenwriter S. Craig Zahler shows how he can ratchet up the tension and teasingly keep it there for a running time which is unnecessarily long but still effectively strained. Having sold 21 unproduced screenplays in Hollywood (as per the film's production notes), this is Zahler's calling card and it's a loud, bloody one – Bone Tomahawk's very opening shot is a close-up of a man's throat being slit.
This is a notably savage Wild West, where "smart men don't get married" and the action plays out in the town's dust-and-timber saloon, The Learned Goat. When a murderous drifter rolls into Bright Hope, tough-minded Sheriff Hunt (Russell) moves immediately to take action - by swiftly knee-capping him and dispatching him to the cells. The simmeringly beautiful nurse Samantha is sent for medical treatment, leaving her injured herdsman husband Arthur (Wilson) behind in bed.
When Samantha, the drifter and Deputy Nick (Evan Jonigkeit) mysteriously vanish during the night, Sheriff Hunt rounds up a posse to bring them back, which includes oddball sheriff's assistant Chicory (Jenkins) who is tougher than he initially seems, local tough guy white-hat Brooder (Fox), and the besotted Arthur, who insists on coming along despite his injured leg. They've been told that an arrow on the scene identifies the kidnappers as troglodytes, a "special mix between Indians and animals".
Bone Tomahawk wants to be a throwback and as such, isn't remotely PC: Brooder has killed so many Indians, viewers can be assured that a revenge scalping is surely on the way for somebody on his team. And the dialogue is very knowing. "This is why frontier life is so difficult," says Samantha. "It's because of the idiots". Not all the monologues are as interesting as Zahler believes, and he's saddled Richard Jenkins in particular with a few Tarantino-esque musings which don't always work – the fact that they remain charming comes entirely down to the actor's skills.
While the majority of this film's business and fanbase will probably come from downloads, Bone Tomahawk is a big-screen ticket and will probably be revived as such after its initial release in midnight screenings and themed events. Technical credits certainly bear up to scrutiny despite zero effects work, and although the troglodytes are admittedly low-rent and little-seen monsters, they know how to clinically ratchet – or hatchet - up fodder for the film's fire.
Production company: Caliber Media
International sales: Celluloid Dreams, info@celluloid-dreams.com
Producers: llas Sonnier, Jack Heller
Screenplay: S. Craig Zahler
Cinematography: Benji Bakshi
Production designer: Frederick Waff
Editors: Fred Raskin, Greg D'Auria
Music: Jeff Herriott, S. Craig Zahler
Main cast: Kurt Russell, Patrick Wilson, Matthew Fox, Richard Jenkins, Lili Simmons, David Arquette