Dir/scr Robert Budreau. US/Can, 2015. 96 mins.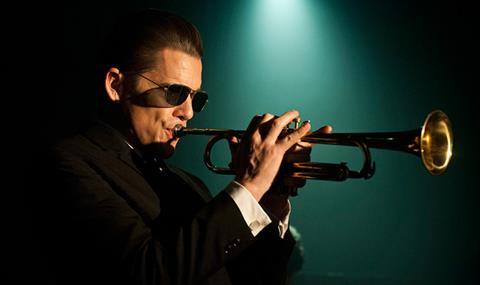 Ethan Hawke delivers an intense, committed performance as drug-addled trumpeter Chet Baker in the odd, erratic Born To Be Blue, written and directed by Robert Budreau as an bumpy free-form improvisation on the hopeless-wreck-makes-musical-comeback biopic. Imprisoned in a fanciful narrative, Hawke ekes out the humanity in his character, who pioneered West Coast Swing, and it's an impressive if somewhat isolated achievement which might hit a riff in limited play (although comparisons to Clint Eastwood's superior Bird are inevitable, while Bruce Weber's 1988 doc Let's Get Lost still remains the definitive piece).
Budreau's film is a memorable event, if not quite a story to Let's Get Lost in.
Born To Be Blue's conceptual flights of fancy are loosely executed and despite its seductive soundtrack (on which Hawke also sings), the film can stumble over into aimlessness. There's a moody air, though, which permeates Budreau's film and makes it unique. Sold internationally by K5, this will benefit greatly from Hawke's post-Boyhood resurgence and good notices for his performance. Arriving in the market at much the same time as Hank Williams biopic I Saw The Light, Budreau's passion project may face an uphill struggle to break out, though, as Hollywood's fascination with the self-destrutive musical genius seems to flip over into repeat mode.
Born To Be Blue is an improvisation on Baker's life story, prompted by the fact that the Oklahoma farm boy almost never knowingly told the truth about himself. This does mean, that as a narrative, Born To Be Blue remains elusive, opting for a jazz soaked atmosphere over explicit story-telling. Essentially, the plot revolves around loose-canon Baker's attempts to learn to play his trumpet again after his teeth are knocked out in a fight. It's a bloody battle, and mostly against his own self-destructive nature. All the while, he's experiencing the push and pull of true love with a composite character played by Carmen Ejogo
Born To Be Blue takes an Italian prison cell in the early 1960s as its starting point. Baker (Hawke), behind bars for his latest drug offence (he was addicted to heroin for most of his adult life), is approached by the producer Dino de Laurentiis to star in a movie, playing himself.
The film never transpired in real life, but Budreau snaps over to an imaginary monochrome film set where Hawke, as Baker, plays out scenes from his life, all of which may or may not have taken place. British-born actress Ejogo plays two of his girlfriends, who later merge into a composite character called Jane. Baker is plagued by his need to be taken seriously, particularly by the black jazz gods of Birdland, Miles Davis and Dizzy Gillespie, who are angered by the white boy's commercial success in 'their' medium.
Baker never wrote his own music, and his resulting insecurity leads him to repeatedly turn to heroin for succour. He's a desperate case - at the movie's outset even his loyal manager Dick Block (Calum Keith Rennie) has given up on him.
Many will buy into Born to be Blue as a free-form mood piece, heightened by Hawke's intense performance. It's hard to connect with the film otherwise, or the plight of a composite character like the actress/piano player Jane, who encourages Baker into better sex by saying, 'pretend you're playing me". Music industry characters deliver lines like: "I've been working with junkie musicians for 20 years and I've never seen anyone work this hard!".
Shot in the unusual 1.85: 1 ratio, Born to Be Blue features some lovely design by Aidan Leroux, which ranges from Oklahoma service stations to Birdland interiors and performances in recording studios which, coupled with the vibrant score and Hawke's vocals, make Budreau's film a memorable event, if not quite a story to Let's Get Lost in.
Production companies: New Reel Films, Lumanity, Black Hangar Studios
International sales: K5 International
Producers: Jennifer Jonas, Leonard Farlinger Robert Budreau, Jake Seal
Executive producers: William Santor, John Hills, Andrew Chang-sang, Adam Moryto, Gurpeet Chandhoke, Stefan Jacobs, Mark Slone, Christina Kubacki,Patrick Roy, Terry Bird.
Cinematography: Steve Cosens
Production designer: Aidan Leroux
Editor: David Freeman
Music: David Braid
Costume designer: Anne Dixon
Main cast: Ethan Hawke, Carmen Ejogo, Callum Keith Rennie