Roma men scrabble to make a living on a huge rubbish dump near Belgrade in this empathetic Serbian documentary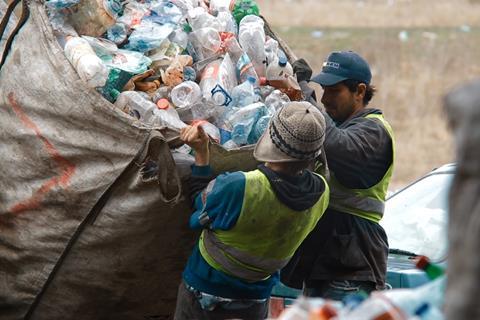 Dir/scr: Nemanja Vojinovic. Serbia/Slovenia. 2023. 83mins.
Cinematic alchemy turns grimy garbage into something precious in Bottlemen, the second feature-length documentary from Serbian writer-director Nemanja Vojinovic. Premiering in the non-fiction competition at Sarajevo, this is a work of hardscrabble humanistic empathy that balances sensitive ethnography with immersive sensorial impact.
Balances sensitive ethnography with immersive sensorial impact
An invigorating plunge into the rough-and-tumble world of men working as recyclable-plastic scavengers at Vinca, a huge rubbish-dump near Belgrade, it's a highly accomplished enterprise that should attract ample festival play — especially in those events concerned with ecological themes.
Divided into three sections of around 27 minutes apiece — prologue and part I ('Pack Leader'), part II ('Hungry Wolves'), part III ('Dinosaurs' ) — Vojinovic's followup to Las Distancias (2017) condenses several years' filming into brisk feature-length running-time. The picture is constructed as a series of discrete vignettes across which certain key protagonists recur. Chief among these is Yanika, an illiterate Roma who, in the second section, cedes his role as 'group leader' to Slavisa, himself later replaced by 'Steva the Crocodile' (other colourful monikers here include 'Salami', 'Elvis' and 'Tile the Shoe'.) What exactly 'group leader' means in the context of this recyclables-gathering work at Vinca is never properly explained, but it seems to involve a lot of telephonic ear-bashing from the tight-fisted, never-seen big boss(es).
It quickly becomes clear that what looks like nightmarish chaos at Vinca in fact conceals a certain kind of order based on tradition and seniority – "it's not safe, but someone has to do it." A title-card, somewhat ironic in the light of the primeval squalor that follows, identifies Vinca as one of the very first European sites of human settlement, 7000 years ago. Vojinovic also includes illuminating footage of the bottlemen's homelife some 130km away in a tumbledown, Roma-populated corner of Novi Becej.
Such sequences (which eschew anything resembling aestheticised 'poverty porn') underline the crucial level of trust and access built between the filmmaker and his garrulous, down-to-earth subjects. His approach is classic fly-on-the-wall stuff, with his crew's presence never directly acknowledged — although there is one telling, fleeting moment when one of the fellows, discussing a business-related matter that may or may not be illegal, glances nervously towards the camera.
As well as the human scavengers, Vinca is the haunt of myriad gulls which sometimes fill the screen in dizzying panoply, the beating of thousands of white wings blurring into avant-garde-style abstraction. In a way that echoes Lucien Castaing-Taylor and Verena Paravel's sensory-ethnography landmark Leviathan (2012), Bostjan Kacicnik sound-design intermittently swells into an overwhelming cacophony of avian cries. These blend with the low thrum of the heavy machinery (guided by barely-glimpsed municipal employees) that moves the mountains of rubbish around the site.
Deploying the widescreen format to craft digital images of high-contrast intensity, cinematographer Igor Marovic shows the bottlemen and their environments in intimate detail — dust, sweat, dirt — juxtaposed with more epic vistas in which we grasp the dump's huge size and geographical context. This is, we are told, one of the biggest urban landfills in the world (and the second most-polluted in Europe), prone to hazardous fires releasing unwholesome fumes into the atmosphere.
Or rather, it was the second most-polluted, having ceased operation towards the end of Bottlemen's filming. The picture thus becomes an odd kind of elegy for a bygone hellscape that no rational viewer would ever want to visit for themselves, but which was still a bizarre kind of workplace buoyed by the hard-knock camaraderie of its dirt-ingrained denizens.
Production companies: Rt dobre nade, URGH!, Set Sail Films, TV Slovenija
International sales: Taskovski, sales@taskovskifilms.com
Producers: Marina Stojnic, Nemanja Vojinovic, Viva Videnovic
Cinematography: Igor Marovic
Editing: Dragan Von Petrovic
Music: Predrag Adamovic