A small political ecosystem throws up some big results for documentary film-makers Jesse Moss and Amanda McBaine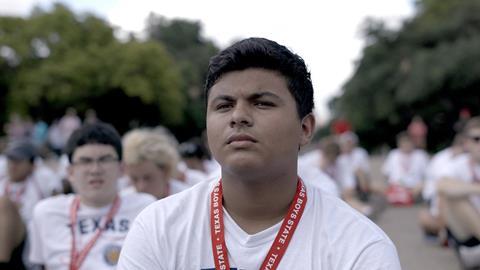 Dirs: Jesse Moss, Amanda McBaine. US. 2020. 109 min.
A compelling political campaign chronicle and an incisive allegory of American democracy, Boys State is also much more fun that you'd expect. Set in Austin, Texas, the film chronicles an annual event that has taken place in states across the US since 1935 called Boys State, in which hundreds of high-school pupils are selected to participate in a mock government. These young men, often ambitious high-achievers, establish party platforms and run for political positions, from legislative seats to party chairmen to the pre-eminent position of governor. (Run by a politically conservative veterans-run organisation called the American Legion, there is a separate Girls State, if you're curious, but that's another story.)
Through a combination of luck and proficient editing, the filmmakers develop each of their arcs in involving ways, building the stakes and suspense to a moving conclusion
In remarkably entertaining fashion, Boys State skillfully manages to walk a fine line between irreverent and unsettling; on one hand, it follows in the footsteps of so many endearing documentaries that follow teens competing for victory (Spellbound, Mad Hot Ballroom, Science Fair, and on and on); and yet on the other, it's a timely and provocative look at America's current political set up, from the bitter divisiveness of party systems to the dirty tricks and nefarious Internet memes that continue to capitalise on those divisions.
Acquired at Sundance by Apple and A24, Boys State also has glimmers of hope and humanity that should help it thrive during one of the most contentious and fractured political years in memory. If audiences don't feel oversaturated with such issues, this could make it one of the year's most talked-about docs in the United States, especially once audiences meet the film's humble, unassuming hero, Steven Garza.
You might expect few young progressives willing to campaign in pro-gun, anti-abortion Texas. But Garza, a child of Mexican immigrants and supporter of Bernie Sanders, enters Boys State with a naïve sense of optimism and aspiration: bucking the odds and wearing a "Beto" T-Shirt, he wants to be governor and approaches his campaign with an honesty, earnestness, and spirit of consensus that seems totally at odds with his testosterone-fueled surroundings. Garza initially struggles, barely even getting the required 30 signatures on his petition for the governorship, but directors Amanda McBaine and Jesse Moss (The Overnighters, Full Battle Rattle) observe his dogged persistence—at times, literally following him from behind as he marches around campus, along with some choice music cues, heralding both his awkwardness and resolve.
Garza's main competitor for his party's candidate is the football-playing, tousle-haired, rabble-rousing Robert Macdougall, tipped early on as a popular favourite. On the other side of the aisle, working for the "Federalist" Party, we meet their main rival, not a gubernatorial candidate, but a skilled political operative named Ben Feinstein, who loves Ronald Reagan and exuberantly champions the rhetoric of the ultra-right. The film's final protagonist is another surprising outlier: a well-spoken and supremely charismatic African American former Chicagoan named Rene Otero, who like Garza, seems out of place, but manages to rise through the ranks on the basis of his colorful oratory talents.
McBaine and Moss have chosen their characters well—each is more complicated than they sound: Feinstein is a double amputee who has overcome personal odds to reach his ambitions, while Macdougall isn't as superficial as he sounds. And through a combination of luck and proficient editing, the filmmakers develop each of their arcs in involving ways, building the stakes and suspense to a moving conclusion, both for its personal transformations and its final vote tallies.
Boys State, it should be said, isn't all political. It's also a revealing portrait of a multi-faceted institution at work. While more swift-moving than the work of Frederick Wiseman, McBaine and Moss similarly crisscross around Boys State to reveal with perceptiveness and candour its many facets, from kids acting as a press corps to a marching band to a hilarious sequence composed of Boys State's talent show auditions. The result is more than the sum of its parts: a striking microcosm of American society and its politics, and how belief systems can be both so easily warped and corrupted, and yet also, in some rare instances, still remain surprisingly faithful and true.
Production Company: Mile End Films, Concordia Studios
International distribution: Apple/A24
Producers: Amanda McBaine and Jesse Moss
Editor: Jeff Gilbert
Cinematography: Thorsten Thielow
Music: T. Griffin