Dir: Gerard Barrett. Ireland/Canada. 2016. 95 mins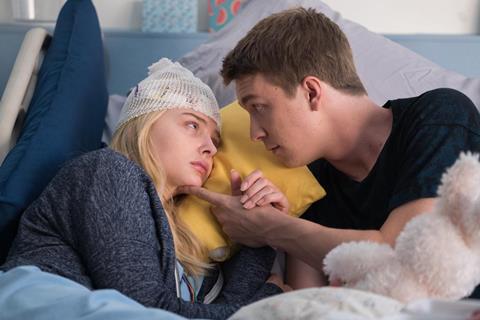 Susannah Cahalan's mental illness memoir provides the source material for this by-the-numbers account of one woman's rapid descent into psychosis. Chloë Grace Moretz plays 21 year-old Susannah, a cub reporter at the New York Post, and a girl with everything to look forward to. Then a rare brain disorder strikes and looks set to rob her of her job, her personality and her future.
While Cahalan's ordeal may make for a compelling book, it does not, on the evidence of this picture, seem particularly suited to cinema
The fact that Cahalan recovered enough to pen the book on which this is based means that the outcome of the story is no surprise. However, despite the fact that Susannah eventually manages to claw her way back from the brink of madness, this is a downbeat slog of a film which tells a not particularly involving story.
Cahalan's book spent time on the New York Times bestsellers list, so familiarity with the source material might help to raise audience awareness of the film. Whether or not that will translate into box office is less certain: gruelling mental anguish is not necessarily the easiest sell. Lacking the spark of originality and formal daring of, for example, The Diving Bell And The Butterfly, this is a film which might be best suited to small screen viewing.
We are introduced to Susannah as she is, according to her ironic voice over, in her 'dream job at the NY Post'. She trades banter with her colleague and desk neighbour, played by Jenny Slate, and holds her own against a bullish and impatient editor (Tyler Perry). She is in the honeymoon period of a new romance with musician Stephen (Thomas Mann). And her divorced parents are sufficiently amicable to bury the hatchet and jointly host a birthday party for her.
The first hint that something is not quite right is illustrated through the sound design. The sharp edges of words are blurred; there's an echo which makes it sound as though Susannah is walking away from conversations and into a cave. There's a constant sense of distance between Susannah and the people who crowd around her, unaware for the moment that anything is amiss. Later, she hears voices which jostle into her mind and push out her other thoughts.
Visually, Barrett uses some fairly obvious techniques: the camera tilts at precarious angles, the image drifts in and out of focus. He overuses montages of Susannah looking confused on various forms of public transport.
And then the seizures start. Her symptoms – by now her behaviour is becoming erratic, with reckless highs and paralysing lows – are dismissed by the doctors as burnout. She has been drinking too much and partying too hard, they say, and this, coupled with the pressures of work, has caused her to crack. Before long, Susannah is hospitalised and facing long term admittance to a psychiatric ward. Her parents – a cool turn by Carrie-Anne Moss contrasts with lots of strident shouting from Richard Armitage – keep the pressure on the medics to try and find the reason for Susannah's sudden deterioration.
Although her character spends much of the third act in a catatonic state staring blankly at a wall, the role still poses some challenges for Moretz. She's fine with the grand gestures of the table-jumping manic phase, but less confident when it comes to conveying the dread and uncertainty that comes with losing touch with the outside world. But ultimately, the issues that confront Moretz are symptomatic of a deeper problem here: while Cahalan's ordeal may make for a compelling book, it does not, on the evidence of this picture, seem particularly suited to cinema.
Production company: Foundation Features, Broad Green Pictures, Denver & Delilah Films
International sales: Mister Smith, www.mistersmithent.com
Producers: Rob Merilees, Lindsay Macadam, Charlize Theron, AJ Dix, Beth Kono
Screenplay: Gerard Barrett
Cinematography: Yaron Orbach
Editor: JC Bond
Production design: Ross Dempster
Original score: John Paesano
Main cast: Chloë Grace Moretz, Thomas Mann, Richard Armitage, Tyler Perry, Carrie-Anne Moss