Enriching and intimate portrait of late Irish musician Fergus O'Farrell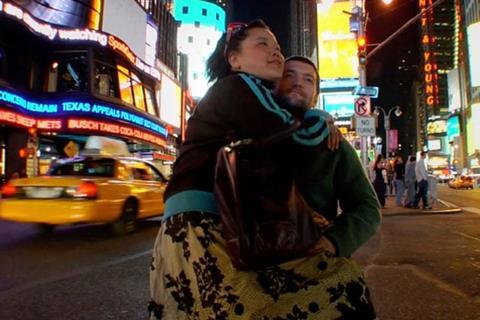 Dir. Michael McCormack. Republic of Ireland. 2019. 85mins.
Sometimes, the most intimate story can give the biggest possible picture. Breaking Out begins with the tightest of shots of a man in a bed who is slowly being strangled by muscular dystrophy, and widens out to embrace a jubilant life lived through and for music. A very personal documentary which scorches the viewer with love, Michael McCormack's story of the late Irish musician Fergus O'Farrell – whose song 'Gold' is one of the showstoppers of his friend Glen Hansard's Oscar-winning film (and Tony-winning play) Once – is an enriching film in which a spirit breaks free of the body's physical confines.
An affirmation of life in the face of its certain, imminent end, and of the mighty, atavistic power of music
A few small stumbles aside – some of which, such as a bland title, can be easily fixed or qualified – Breaking Out, which won Best Irish Documentary at Galway's Film Fleadh, looks certain to also win hearts and minds in its native Ireland. It would seem a natural draw internationally to avid Once fans and beyond, most likely on a prestige streaming platform.
The varying quality of the image here is to be expected from the blend of footage assembled. An introduction and quasi-coda involving the actor Jeremy Irons, O'Farrell's neighbour in West County Cork, is puzzling, but ultimately ties in with O'Farrell's skewed sense of humour and defiant take on his life – whose span defied doctors' predictions by over 20 years; he passed away in 2016, at the age of 48. An animated interlude works well. There are clear parallels here to Stephen Hawking and a fictional account of the love story on screen, much like The Theory of Everything, could even be imagined.
There's one particular sequence in Breaking Out which is an extraordinary illustration of what the moving image can express, even within the factual realm of documentary. As O'Farrell struggles to breathe for long enough to sing his way through the second album from the musical collective Interference, his family and fiends create a simple tube; a basic rubber hose from the tool-shed in his modest bungalow home. Hansard then blows into it, physically pushing air into his beloved friend's lungs on the right beat for O'Farrell to achieve the phrasing. The very idea of this, and the expression of love, fear and pride on Hansard's face, is an affirmation of life in the face of its certain, imminent end, and of the mighty, atavistic power of music, which has clearly kept O'Farrell alive through these difficult years.
As Breaking Out tracks O'Farrell's life from the diagnosis of muscular dystrophy at the age of eight through to school and college – with some great home footage of one of Interference's first performances in school in the '80s – it bears witness to what he terms "a continual losing of things". His ability to walk up stairs, to stand, to eventually breathe, disappears but his spirit is strong and his character is amused and quirky and irreverent throughout. There are deep lows and unexpected triumphs and, most heartwarmingly, an unlikely heroine in the robust shape of O'Farrell's Chinese wife, Meng Li, and her uncanny facility with the English language.
At once musical, documentary and biopic, Breaking Out is also a love story; although the deep feeling between "Ferg" and Meng is not the only romance in this deeply affecting film, which can often feels like a privilege to watch.
Production company/international sales: Silver Moonbeam, silvermoonbeamfilm@gmail.com
Producers: Michael McCormack, Aideen O'Sullivan
Cinematograpy: Nick O'Neill, Richard Kendrick, Cormac Downes
Editor: Mick Mahon
Music: Fergus O'Farrell
Featuring: Fergus O'Farrell, Glenn Hansard, members of the music collective Interference