Andy Serkis' directorial debut tells the worthy real life story of responaut Robin Cavenish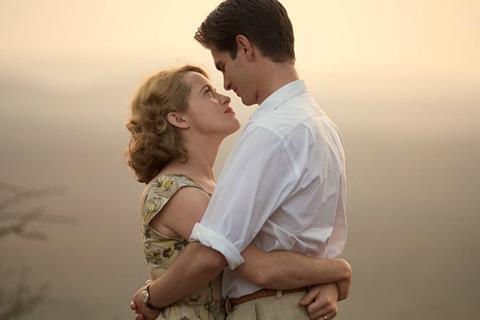 Dir. Andy Serkis. UK. 2016. 117 mins
The directorial debut from actor Andy Serkis tells an uplifting real-life story of great misfortune bested by force of will, chipper resilience — and what we can only assume was a considerable personal fortune. Robin Cavendish, toothily played by Andrew Garfield, was a dashing, 28-year-old tea broker, newly married to wife Diana (Claire Foy) and soon to be a father when he contracted polio while working in Kenya in the late 1950s. Paralysed from the neck down, and dependent on a respirator for his survival, Robin defied the odds and went home to live with his family.
The film immediately feels as British as Pimms, drizzle and self-deprecating understatement
Although there are numerous parallels here with the Stephen Hawking biopic The Theory Of Everything, Breathe has neither the weight of name recognition nor the knotty complexity of that picture. As such, it is unlikely to achieve similar recognition, either at the box office (it's released in both the US and UK in October, from Bleecker Street and STX Entertainment respectively) or during awards season. Despite premiering at Toronto before moving to London, it's also too conventional to really chime with festival audiences, and will likely most connect with fans of middlebrow prestige pictures.
The lack of emotional distance between the filmmakers and the subject – producer Jonathan Cavendish is the son of Robin and Diana – might account for the bracingly celebratory approach. This is understandable, perhaps, but it results in a lack of dramatic light and shade, and an absence of texture in the characterisation.
With its swooping shots of lush green and pleasant lands, cricket whites and crumbling piles, and its ethos of bucking up and jolly well getting on with stuff, the film immediately feels as British as Pimms, drizzle and self-deprecating understatement. Robin's appraisal of his situation, when he regains consciousness to find himself bedbound and breathing through a hastily chiseled hole in his windpipe is that it's "a bit of a bugger."
Of the two central roles, Foy gets more of a satisfying arc, from doll-faced society beauty to unflappable, uncomplaining saint. Garfield, meanwhile, is restricted as much by the screenwriting as he is by his character's lack of movement.
The supporting cast is peppered with boho toffs and affable eccentrics. Hugh Bonneville plays Teddy, Oxford don, inventor and wine lover who rarely enters the frame without a really rather special bottle of St Emilion clutched in his fist. Tom Hollander plays two characters, the bantering, buffoonish identical twin brothers of Diana whose roles seem to be a combination of sad clowns, a Greek chorus and inadvertent peril when one of them short circuits Robin's portable lungs.
The film's dogged tendency to look on the bright side is underlined by a score by Nitin Sawhney that tinkles like forced laughter at a cocktail party. The colour palette is equally heavy-handed: England is washed in greens; anywhere a bit foreign gets a sandy golden hue. And azure blue crops up regularly, a recurring reminder of the skies that were routinely denied to less fortunate patients suffering from Robin's condition.
Production company: Imaginarium Productions
International Sales: Embankment films info@embankmentfilms.com
Producer: Jonathan Cavendish
Executive producers: Claudia Bluemhuber, Hugo Grumbar, Tim Haslam, Ian Hutchinson, Phil Robertson, James Spring
Screenplay: William Nicholson
Cinematographer: Robert Richardson
Editor: Masahiro Hirakubo
Production design: James Merifield
Music: Nitin Sawhney
Main cast: Andrew Garfield, Claire Foy, Tom Hollander, Hugh Bonneville, Stephen Mangan, Ed Speleers, Diana Rigg