Dir. Steven Spielberg. US 2015. 135 mins.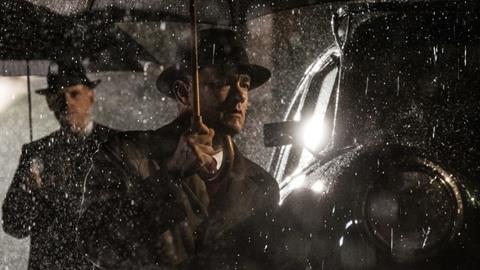 Though Steven Spielberg's Cold War drama Bridge of Spies proves an over-determined celebration of American-style integrity, fair-mindedness, and tenacity, its star Tom Hanks makes the most of a decidedly old-fashioned hero role. Re-invoking his 1990s reputation as the Baby Boomers' James Stewart, Hanks gives good value as the increasingly furrow-browed Brooklyn insurance claims lawyer James B. Donovan. Formerly an OSS counsel and assistant prosecutor at Nuremberg, Donovan is pressed into negotiating the first East-West spy exchange in the newly divided Berlin of 1962 and risks some unauthorised political brinkmanship to achieve his ends.
Unusually for a Spielberg movie, Bridge of Spies is tonally uncertain, to the extent that its box-office may suffer
Originated by British writer Matt Charman, whose script was refined by Joel and Ethan Coen, Bridge of Spies has an unconventional structure for a big Hollywood film. It initially focuses on the 1957 arrest in Brooklyn Heights of the Tyneside-raised Soviet Spy Rudolf Abel (Mark Rylance) and his unsuccessful courtroom defence by Donovan who, despite a rekindling of the Reds-in-our-midst paranoia incited by the Rosenbergs' trial, prevails on the unsympathetic judge (Dakin Matthews) to save Abel from the electric chair.
Spielberg shifts gear emphatically when the film introduces the CIA's training of U-2 spy plane pilot Gary Francis Powers (Austin Stowell), and his capture and sentencing by the Soviets. Another storyline opens when the Stasi arrest Yale student Frederic Pryor (Will Rogers) on suspicion of spying in Potsdam. These disparate strands are cleverly woven together when Donovan – hastily dispatched to Berlin by CIA director Allen Dulles (Peter McRobbie) to swap Abel for Powers before he's forced to divulge US military secrets to the KGB – takes it upon himself to demand that Pryor's release be part of the deal. His CIA handler (Scott Shepherd) fumes in vain.
Bridge of Spies, which premiered at the New York Film Festival, is as visually fluid and technically assured as all of Spielberg's films. His regular cinematographer Janusz Kamiński has helped create some classic Spielbergian moments: the unspoken friendship between Donovan and Abel, which is the core of the film, deepens as white light blazes through a gap beneath a window blind; an expansive master shot of Donovan crossing into East Berlin on the S-Bahn re-purposes the experiencing of awe familiar from Spielberg's sci-fi films. Spielberg relishes, too, Donovan's shrewd lawyering, which links him to the more famous attorneys played by Anthony Hopkins and Daniel Day-Lewis in Amistad and Lincoln respectively.
Yet, unusually for a Spielberg movie, Bridge of Spies is tonally uncertain, to the extent that its box-office may suffer. Audiences expecting a Cold War thriller will rue the absence of John le Carré-like suspense – or a climax as nerve-wracking as the KGB spymaster Karla's long walk, at the end of the 1982 BBC miniseries Smiley's People, across the Glienicke Bridge, where Spielberg's film also culminates.
It was likely the Coens, seeking a flavour of Billy Wilder's frantic Cold War comedy One, Two, Three, who intensified the absurdist comedy of Donovan's bizarre encounters with the incongruously flashy lawyer (Sebastian Koch), representing East German interests, and the Peter Lorre-like KGB man (Mikhail Goreyev), who poses as the lawyer representing the gushing woman and kids who claim to be Abel's family. Donovan's head cold, meanwhile, may have been inherited from Jack Lemmon's morally compromised corporate climber in Wilder's The Apartment. Spielberg's dialogue scenes lack the pace and venom of Wilder's, though, and it's unsurprising that he's more comfortable showing how the evolving respect shared by the weary but driven Donovan and the lugubrious if stoical Abel easily overcomes their ideological differences.
Amy Ryan has a thankless role as Donovan's wife in scenes that demonstrate how his support of Abel – and against nationalist sentiments – costs her and their children peace of mind. The domestic scenes are the least developed.
Production Companies: DreamWorks Pictures, Fox 2000 Pictures, Reliance Entertainment, Participant Media, Studio Babelsberg, Amblin Entertainment, Marc Platt Productions
Domestic Distributor: Touchstone Pictures
International Distributor: 20th Century Fox
Producers: Steven Spielberg, Marc Platt, Kristie Macosko Krieger
Executive producers: Adam Somner, Daniel Lupi, Jeff Skoll, Jonathan King
Screenplay: Matt Charman, Joel Coen, Ethan Coen
Cinematography: Janusz Kaminiski
Editor: Michael Kahn
Production design: Adam Stockhausen
Music: Thomas Newman
Website: bridgeofspies.com
Main cast: Tom Hanks, Mark Rylance, Scott Shepherd, Amy Ryan, Sebastian Koch, Alan Alda, Austin Stowell, Mikhail Goreyov, Will Rogers, Peter McRobbie, Dakin Matthews, Michael Gaston