Dirs/prods. Alexis Bloom, Fisher Stevens. US, 2016, 95 mins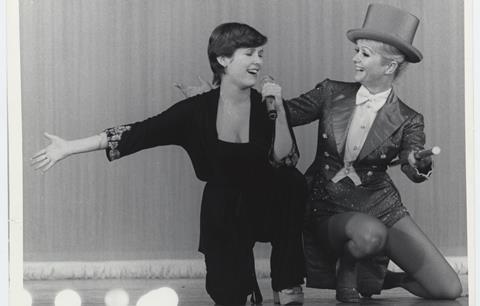 Daughter-mother act Carrie Fisher and Debbie Reynolds – note the billing order – continue to put the 'show' in their business in the compulsively-watchable HBO Hollywood documentary Bright Lights: Starring Carrie Fisher and Debbie Reynolds. In a film which could also be billed Real Postcards From The Edge, these troubled, lovable, prickly, obsessive entertainers, supported by brother-son Todd, invite the viewer into their rackety lives – bright, lived fully in the spotlight, chin-up and completely unsinkable.
"I went too fast and I was too much and I was embarrassed about it"
This touching love story – with each other, the past, and the camera – has clear appeal, to 'Old Hollywood' fans, to Star Wars followers, to voyeurs in general. Playing out in the Cannes Classics sidebar, this could easily, breezily play the festival circuit, but it's more than just a glitzy curio. Despite the noise of the marriages, scandals, divorces, drugs and mental illnesses which whizz by in a flashbulb-blitz of never-before-seen home movies and magazine headlines, Bright Lights is both wistful and affecting.
"Age is horrible for all of us, but she falls from a greater height," says Fisher of her now-84-year-old mother, but 59-year-old Carrie also looks frail and worn, and neither appears healthy. Reynolds seems to diminish during the course of the film, shot between April 2014 and November 2015. Yet both barrel on, Debbie to the lounges of Las Vegas, where she can barely negotiate the steps, Carrie to Star Wars conventions where she signs autographs for $70 a pop, glass of coca-cola permanently glued to one hand, cigarette in the other, pout at the ready.
You could strip away the beaded gowns and showbiz belters, not to mention the permanent Christmas tree in Carrie's eccentric home, and still be satisfied with the satisfyingly complex, quirky, loving mother-daughter relationship at the film's core. That's quite a lot to strip out, though, and neither principal would particularly want that. Carrie and Debbie are showbiz troupers, part of a Hollywood that's fading away before our eyes. They love each other, but they also love all that jazz. Their fear isn't being in the spotlight, it's about what might happen when it fades.
Carrie Fisher always was razor-sharp, and her wit cuts through Bright Lights and propels it through some familiar stories – "Americas Sweetheart" Debbie, the fresh-faced star of Singing In The Rain, and her ill-fated marriage to crooner Eddie Fisher, who dumped her, Carrie and Todd for a freshly-widowed Elizabeth Taylor. Debbie's bankruptcy at the hands of her next husband, the compulsive gambler 'Daddy Karl', her perennial money woes, and compulsive purchase of the largest-ever stack of Hollywood memorabilia for a proposed museum which never came about (the film details its eventual auction).
Then there's Carrie's own Star Wars fame, marriage (to Paul Simon), drug problems and eventual diagnosis of bi-polar disorder, moving on to her much-discussed 'diet' for The Force Awakens (footage proves its existence, plus the dubious extent of her own co-operation). Bright Lights also details Eddie Fisher's addiction to crystal meth and eventual death, in much reduced circumstances. Todd, meanwhile, has married a former Knight Rider actress who has her own 'Kit' car and an 'emotional wellness chicken' as a companion. He explains that he "had to marry within the entertainment race" as an outsider might be overpowered by his family. He has a point.
What illuminates all this, and makes it tangibly, at times heartbreakingly, human is the footage – vintage old home-movie sequences coupled with more candid present-day interviews, crisply edited by Penelope Falk and Sheila Shirazi. "We were getting ready for a photoshoot all the time," says Carrie, recalling her childhood, meaning there's a lot to look back on now. "Todd and I have a shared history of weirdness."
Debbie's infectious joy in performing is brought back to life, while a teenage Carrie's contribution to her mother's nightclub act becomes real again. We see Carrie on the Great Wall of China, of all places, in the grips of a manic episode. "I went too fast and I was too much and I was embarrassed about it," she says.
Cut to the present, where an ever-frailer Debbie insists on hoisting herself on the stage as her fearful daughter looks on. She says she wants to keep on going "until I drop, and then be stuffed, like Tigger". Even as Carrie looks on with a cynical eye, she also has a showbiz habit that she can't quite break. But the Fisher family is a hive of compulsions – including a pronounced addiction to breaking out in song, not always as compelling as the warblers imagine.
Carrie's trinket-laden approach to interior decorating in the compound she shares with her mother can look odd – doll-heads everywhere, the rear end of a stuffed lion emerging from a wall - but when she explains how it's a reaction to her big, empty childhood home of marble and glass, it all becomes all the more poignant. Director/producers Alexis Bloom and Fisher Stevens sensitively tie the past which towers over this family to their almost nostalgic present, making the viewer understand why the almost atavistic need for them to continue to share it to the very end.
Production companies: Bloomfish Pictures
International sales: jennifer.bowen@hbo.com
Cinematography: Billy Pena, Vasco Lucas Nunes aip
Editors: Penelope Falk, Sheila Shirazi
Music: Will Bates
Featuring: Debbie Reynolds, Carrie Fisher, Todd Fisher, Eddie Fisher