France's Vincent Le Port makes his arresting debut with this dramatisation of a real-life murderer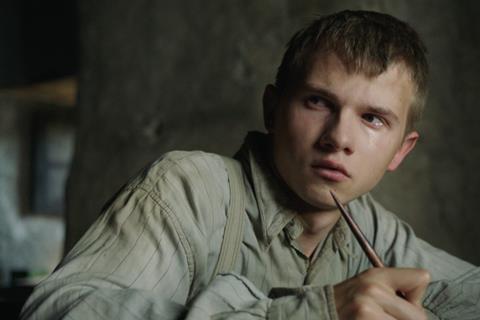 Dir/scr: Vincent Le Port. France. 2020. 101 mins
Vincent Le Port's riveting debut feature takes a true crime case from early twentieth century France and transforms it into a chilling, utterly compelling journey through the mind of a murderer. Rigorously composed and executed, Bruno Reidal, Confession Of A Murderer confirms the promise of Le Port's award-winning shorts and showcases an extraordinary central performance from newcomer Dimitri Dore. The unflinching approach to upsetting subject matter may prove daunting for some but critical acclaim should commend it to festival programmers and arthouse distributors around the globe.
A remarkaby assured, precisely calibrated feature
Bruno Reidal is set in Raulhac, southern France in the autumn of 1905. Le Port signals his intentions from the opening scene in which we witness the crime of seventeen year-old Reidal (Dore). The camera remains fixed on an anxious face twisted in concentration. There is the faint hint of a tremble, a sense of the exertion required to decapitate his victim – a 13 year-old boy. A spatter of blood stains his collar. Afterwards, Reidal staggers through the dusk woods and gives himself up to the authorities.
Reidal then faces a panel headed by Professor Lacassagne (Jean-Luc Vincent). Their task is to determine his sanity. They encounter a sullen, guarded individual who was previously known as an excellent student and a hard worker. They ask him to write his memoirs and express the truth of what lies in his head. That takes on the air of an unburdening confessional for Reidal and a succession of flashbacks cover key moments from his early family life, his time as a seminarian and his constant, growing desire to take a life.
The film is focused on the killer's point of view and understanding of his own struggles. There is a clinical air to his memories of a mother who would beat him, an incident of sexual abuse, the annual slaughter of a pig that sparked his interest in murder and his sense of inferiority to those who made fun of his poverty and gauche manner.
Bruno Reidal is a remarkaby assured, precisely calibrated feature that achieves a fully-realised depiction of an individual and a period. Every element contributes to a unified, convincing whole. The images of workers in the fields and farm life could have come from a painting by Pissarro or Jean-Francois Millet; Reidal and his family could be characters from the pages of Victor Hugo or Emile Zola.
The subject matter echoes Rene Allio's Moi, Pierre Riviere (1976) and places Redial in a canon of sociopathic loners that might also include Taxi Driver's Travis Bickle. The casting throughout is excellent, particularly Alex Fanguin who plays Bruno at age six, and Roman Villedieu who assumes the role of 10 year-old Bruno. They perfectly match Dimitri Dore, who captures a sense of Redial as both monster and tragic victim. There is a strong physicality in his performance that conveys the torment of someone pulled into themselves, hunched and wary of a world that carries only suffering.
Redial is both a brilliant student and someone tormented by his desires. The link between thoughts of torture and death and sexual satisfaction grows stronger, the struggle to resist futile. The more we learn about the teenager the more chilling a presence he becomes and yet Dore brings out a vulnerability in him and a sense of someone who fought valiantly against his own nature. Le Port brings us full circle back to the act of murder, infused now with a knowledge of Redial's demons. The journey to that understanding is richly realised and enthralling.
Production companies: Stank, Capricci, Arte
International sales: Indie Sales cchautant@indiesales.eu
Producers: Thierry Lounas, Pierre-Emmanuel Urcun, Roy Arida
Cinematography: Michael Capron
Editing: Jean-Baptiste Alazard
Production design: Arnaud Lucas
Main cast: Dimitri Dore, Jean-Luc Vincent, Roman Villedieu, Alex Fangui