Dir. Chanya Button. UK, 2015, 106 minutes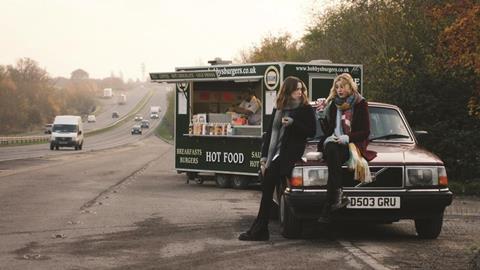 Actress and TV scribe Charlie Covell (Cucumber spinoff Banana) makes a decent stab at a road-trip comedy drama with her debut feature Burn Burn Burn. A flavoursome supporting cast of familiar faces in many cases perks up a rather over-determined concept about two female pals travelling to scatter the ashes of their deceased male buddy. Short on big laughs but buoyed by a fair few smiles, this debut for shorts director Chanya Button successfully delivers most of its emotional cues, without ever suggesting itself as a likely commercial winner in today's ever more crowded theatrical marketplace.
Chloe Pirrie registers vividly, an adroit casting choice for the film's most interesting, articulate and damaged character, suggesting hidden layers with nifty economy.
Dan (Poldark's Jack Farthing), a flashback reveals, was the life and soul of the party. What he failed to mention to his friends is that he had terminal pancreatic cancer. At his funeral, under-achieving actress Seph (Downton Abbey's Laura Carmichael) and advertising copywriter Alex (Chloe Pirrie of acclaimed indie Shell) are handed a laptop dongle containing filmed testimony of his dying wish – to be scattered in four locations across the UK, all of special import to him. Think of it as Thelma & Louise meets Casper the Friendly Ghost, they are urged.
Both are sceptical, but the screenplay contrives first to have Alex discover her girlfriend's infidelity and then to have Seph fired from her nanny post. Now they hit the road in a borrowed Volvo with all urgency – failing to tell Seph's boyfriend James (Joe Dempsie) that they have departed.
Generic road-trip tropes such as a map-reading squabble fail to generate much mirth, but the film receives a big assist at its first stop, courtesy of Alice Lowe (Sightseers), very funny as a costumed guide to Glastonbury Abbey. The next interlude comes after the pair meet nouveau hippie hedonist Adam (Julian Rhind-Tutt) and join him for a night of music, alcohol excess and empty philosophical chat with his friends and acolytes partying in a local barn.
Dan's explanation of each destination's choice is watched on a laptop by Seph and Alex only on arrival, providing convenient, schematic punctuation of the drama. Filmed at different stages of his physical decline by Dan, these pieces-to-camera contribute a complementary narrative, while also spilling secrets about both women's pasts. In the present, the major drama is Seph's relationship with James, a sweet, dopey guy who the film seems to think isn't interesting enough for her – an imbalance we'll just have to take on trust, since Seph's remarkable qualities are hardly evident.
As for Dan, who at one point quotes the most famous passage of Kerouac's On The Road (the one containing the phrase alluded to by this film's title, "…burn, burn, burn like fabulous roman candles…"), he's also distinctly less original than the screenplay seems to think.
In dramatic terms, though, it's Alex who turns out to have the most interesting back story, and Pirrie registers vividly, with a screen presence somewhat redolent of Rebecca Hall. It's an adroit casting choice for the film's most interesting, articulate and damaged character, suggesting hidden layers with nifty economy. In a supporting role, Alison Steadman proves a nice late addition as an unlikely hitchhiker headed to Scotland to flee family troubles.
Technically, the film looks competent on what was presumably a rather modest budget, and effectively exploits the photogenic locations consistently offered up by Dan's diktats. Best of all are the stunning vistas viewed from misty Ben Lomond – a destination worthy of the trip.
Production companies: Young Button Productions, Rather Good Films
International sales: UDI, sales@urbandistrib.com
Producers: Chanya Button, Daniel-Konrad Cooper, Tim Phillips
Screenplay: Charlie Covell
Cinematography: Carlos De Carvalho
Editor: Mark Trend
Production designer: Noam Piper
Music: Marc Canham, Candy Says
Main cast: Laura Carmichael, Chloe Pirrie, Jack Farthing, Joe Dempsie, Alison Steadman, Nigel Planer, Jane Asher, Julian Rhind-Tutt, Sally Phillips, Alice Lowe, Melanie Walters, Iestyn Arwel, Matthew Kelly