Dir: Sanjeewa Pushpakumara. France/Sri Lanka/Netherlands/Qatar, 2016. 84 mins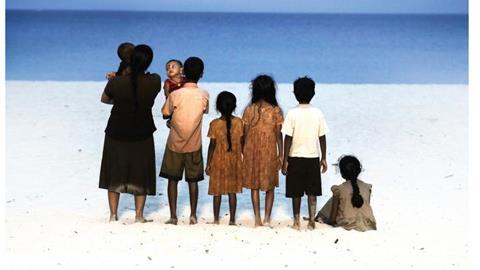 A careworn mother squats on a dirt floor and brushes her eldest daughter's hair, picking out the lice as she does so. Her mother-in-law chides her. "It's bad luck to pick nits at night." "How could things be worse?" shrugs Kusum, the woman. She has a point. Since her fish salesman husband was killed by militant thugs for his political affiliations, Kusum has been left alone to support her eight children and her mother-in-law. She does this by breaking rocks in a nearby quarry. But of course, things can get worse and they do in this heartfelt but gruelling litany of suffering.
Pushpakumara doesn't shy away from using shocking imagery to hammer home the daily humiliation of Kusum's relentless downward trajectory
The film, director Sanjeewa Pushpakumara's second, was developed with the Cannes Cinéfondation residence program, and supported by the Doha Film Institute, the Hubert Bals Fund and Cinema du Monde. This pedigree, plus the quiet outrage the film displays towards the past treatment of women in Sri Lanka (the film is set in 1989), should mean that Burning Birds will have a decent festival life. But this is relentlessly bleak and not wholly original material. Subsequently, it poses quite a marketing challenge to any distributor hoping to bring the picture to a theatrical audience.
Kusum (Anoma Janadari) loses the job at the quarry after it is shut down following an accident. Determined to provide for her children and keep them all in the education that will help them out of the extreme poverty from which they currently suffer, Kusum takes a job in an abattoir. Her work in this traditionally a male domain involves serving cups of tea and swilling out the death slurry from the killing floor at the end of the day.
Along with her wages, she is given a small plastic bag full of meat remnants for her children. The money is good, and for a brief moment, Kusum is able to treat her children to something more than the subsistence basics. But then, after she rejects the sexual advances of her boss, he has her abducted from the street and then orchestrates a gang rape.
Pushpakumara doesn't shy away from using shocking imagery to hammer home the daily humiliation of Kusum's relentless downward trajectory. In one scene, she expresses breast milk to give a daughter who fainted from hunger at school; in another, she shaves her pubic hair in preparation for the next horror that awaits: work as a prostitute. More sexual violence inevitably follows, as well as condemnation from her children and mother-in-law when her secret is revealed."You should have cooked your kids and eaten them," says the mother-in-law, helpfully.
Janadari's stoic suffering has real power, however not all of the other performances are as polished. Some are so mannered that they undermine the naturalism of the rest of the film. Also quite jarring are some of the more abrupt scenes – snippets contain just a single line of dialogue that interrupt the flow of the film. Music is employed quite sparingly, plaintive laments with appropriately anguished lyrics are used on a couple of occasions. The most impressive elements are the photography – everything is infused in tones of spice and dust – and costume. Kusum's blouse is held together with safety pins but she would rather go without food than not buy the material to make her daughter's new school dresses.
Production company: Neon Productions
Contact: Film Republic xavier@filmrepublic.biz
Producers: Antonin Dedet, Sanjeewa Pushpakumara, Dominique Welinski
Screenwriter: Sanjeewa Pushpakumara
Cinematography: Kalinga Deshapriya
Editor: Ajith Ramanayake, Katharina Wartena
Production design: Piyatissa Akuramboda
Original score: R. Abaji, Philip David Sheppard, Jithendra Vidyapathy
Main cast: Anoma Janadari, Mahendra Perera, Samanalee Fonseka, Chandani Senaviratne