Striking South London-set debut with Thomas Turgoose and Theo Stevenson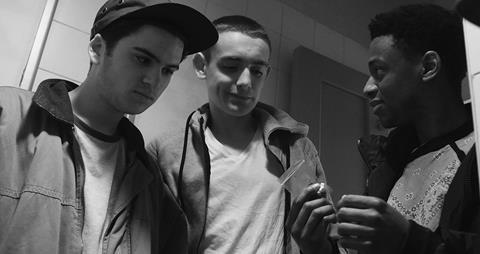 Dir: Rafael Kapelinski. UK, 2017, 89 mins
South London drama Butterfly Kisses attempts to handle a considerably darker topic than its coming-of-age set-up initially leads you to expect, and it's a mark of the film's class that it does it with a visual elegance that is well above par for low-budget UK estate realism.
Rosie Day makes a strong mark with her knowing, spiky manner and husky delivery.
A striking feature debut for director Rafael Kapelinski, Butterfly Kisses, made through Film London's Microwave project, features a strong young cast headed by Theo Stevenson, plus striking black-and-white camerawork from Nick Cooke. The film's stylistic polish is arguably the flip side of a certain reticence in giving its narrative the definition it deserves, leaving this a striking, individual production but too understated to make a strong mark outside festivals.
The film starts off in familiar downbeat Britpic vein, with three teenage boys hanging out and swapping hormonal banter: they are cocksure Kyle (Liam Whiting), affable Jarred (Byron Lyons) and relatively shy Jake (Theo Stevenson, a regular on TV's Humans, seen here in rather darker mood than when he was the impish lead in Horrid Henry: The Movie). While the other boys boast about their success with girls, handsome but bashful Jake is fondly mocked for still being a virgin.
The first section of the film sees the boys being stereotypically laddish – gasping at horse-themed porn with their school mates, and hanging out at a local snooker hall, where manager Shrek, a goofy but unreliably volatile character, doubles as their drugs connection. That Shrek is played by Shane Meadows regular Thomas Turgoose - contributing a boisterous, somewhat malevolent streak of humour - suggests that Butterfly Kisses owes a lot in characterisation and style to the Meadows approach, notably in his black-and-white Somers Town.
The film steps beyond familiar territory as we see Jake mooching around a high window in his block of flats, spying on neighbours. He's simply interested in people, he says, and he certainly seems to have taken an interest in a tough-acting new girl in the area, Zara (Rosie Day). But Zara also has a young sister, and Jake earns extra cash as a babysitter.
It becomes apparent quite early just where Butterfly Kisses is going, and because its real theme is so dark – especially in the unconventional context of a teenage boy's traumas – the film is caught in a delicate dilemma. It can either be more explicit, at the risk of sensationalism, or underplay things, but then seem to be coy. Greer Taylor Ellison's script pretty much hits the appropriate balance, but the moody aestheticism of the visuals tends to lessen the impact of a drama that eventually comes to a somewhat awkward close. In particular, the initially subtle, then increasingly glaring use of a nightmarish horse leitmotif makes the film seem much more a stylistic exercise than a full-blown psychological exploration (Fish Tank, The Selfish Giant, now this - British estate realism does seem to have a thing about horses).
Cooke's photography certainly creates an ominous atmosphere that's a lot classier than the rough-grained Brit realist norm, imparting a decidedly Eastern European aesthetic to the mix (Kapelinski is an alumnus of the Andrzej Wajda Master School of Film Directing in Warsaw as well as Britain's NFTS). Newcomers Whiting and Lyons are totally relaxed and convincing in their dialogue with Stevenson, whose not-quite-popstar looks and introverted delivery keep us guessing about Jake's psychological anguish – and a scene in which he thinks his friends have discovered his secret is superbly played for tension by the trio.
As Zara, Outlander regular Rosie Day – young though she is, a seasoned TV stalwart - makes a strong mark with her knowing, spiky manner and husky delivery.
Production company: Blue Shadows Films, Grump Films, Rocha World Films, Solopan
International sales: m-appeal/Raspberry & Cream, films@m-appeal.com
Producers: Merlin Merton, Jacek Szumlas
Screenplay: Greer Taylor Ellison
Cinematography: Nick Cooke
Production design: Fleur Whitlock
Editor: Andrew Walton
Music: Nathan Klein
Main cast Theo Stevenson, Liam Whiting, Byron Lyons, Rosie Day, Thomas Turgoose