A young Mexican girl lives as a boy to avoid the attention of the local drugs cartel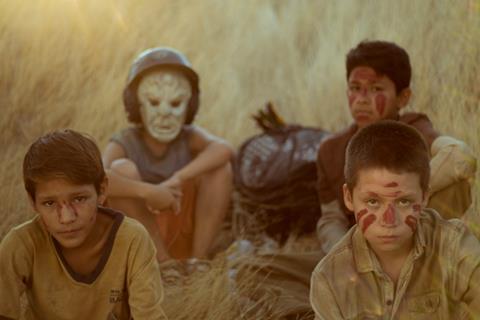 Dir/scr. Julio Hernández Cordón. Mexico-Colombia. 2018. 84 mins
Set in Mexico at an undisclosed time, Buy Me a Gun takes place in a world where women are largely absent, children are frequently abducted, the population is dwindling and the cartels control everything. It's writer/director/producer Julio Hernández Cordón's (I Promise You Anarchy, Atrás hay relámpagos) vision of a grim future, as well as his nod to several childhood classics. Peter Pan might not have wanted to grow up, but his story has — and that the film features a group of literally lost boys, as well as a realm overseen by a powerful captain, doesn't evade notice. Nor does naming his young protagonist Huck (Matilde Hernández Guinea, who convincingly bears the movie's emotional weight on her shoulders).
Surveys an unforgiving world from a determined child's perspective.
Premiering in Director's Fortnight, Buy Me a Gun's deft tonal balancing act is just one element that should endear the movie to viewers — and should secure further attention on the festival circuit. The commonality of dystopian stories, not to mention updated takes on beloved classics, might dampen the feature's broader prospects, but this is a finely judged piece that makes clever use of its setup.
That all is not right is established early, not just from scene-setting text on screen or glimpses of women and children kept in cages, but in the evident disconnect between Huck's perception and her reality. With her age still in single digits, she speaks of her father Rogelio's (Rogelio Sosa) belief in luck that he can pass on to her. As their far-from-favourable plight tending to a rundown baseball field used by local heavies demonstrates, that's wishful thinking.
The pair is fortunate to remain together, with Huck's mother and sister taken captive by the local capo (Sostenes Rojas), but theirs is a life of survival, not happiness. Rogelio's drug addiction leaves the duo in ever-increasing debt to the cartel chief, who gleefully lords his shortcomings over him whenever they can. And, in a perilous attempt to keep herself safe, Huck forced to pretend she's a boy — although the actual boys (Ángel Leonel Corral, Wallace Pereyda and Ángel Rafael Yanez) who have escaped the gang's clutches all know better.
It's a matter of when — not if — Huck and Rogelio's fragile existence will crumble, and the concise 84-minute film wastes no time in dismantling their existence. That the plucky young Huck will carve her own path is similarly unsurprising, as Buy Me a Gun trades in tension not twists. Though the film threatens to veer into too-cute territory with Huck's occasional narration, it commandingly garners suspense as it surveys an unforgiving world from a determined child's perspective.
Nicolás Wong's astute cinematography helps maintain the balance between sombre and hopeful — as the feature reaches its climax, aerial shots put everyone in their appointed place but handheld roves bring energy and immediacy. Indeed, small touches stand out throughout, whether repurposing toys to suit the bleak context, navigating Huck through a traumatic scene in a visually striking way, or rendering one character with significantly more complexity and empathy than expected. Cordon's reshaping of his influences into an affecting dystopian tale strikes close to home, and it's to his credit that this potent, poignant coming-of-age tale is ultimately filled with resilience.
Production companies: Burning Blue, Woo Films
International sales: Films Boutique, contact@filmsboutique.com
Producers: Rafael Ley, María José Córdova, Rodrigo S. González, Diana Bustamante, Jorge Forero, Julio Hernández Cordón
Production design: Ivonne Fuentes
Editing: Lenz Mauricio Claure
Cinematography: Nicolás Wong
Music: Alberto Torres
Cast: Matilde Hernández Guinea, Rogelio Sosa, Sostenes Rojas