Dir/scr: Angelina Jolie Pitt. US. 2015. 122mins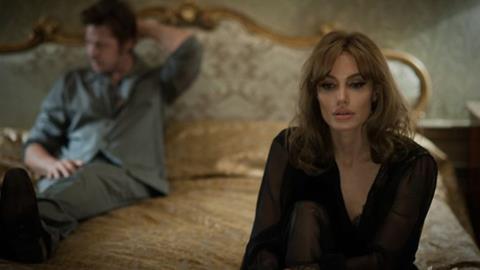 For her third feature film as a director, Angelina Jolie Pitt continues to make challenging, commendably ambitious movies that aren't particularly effective.
Jolie Pitt opts for a meticulously restrained and withholding approach.
By The Sea incorporates a measured, insular tone to examine the quiet disintegration of a long-term married couple, and while there are some fleeting pleasures in watching an A-list star use her clout to produce what is, essentially, an intimate art-house film for a major studio, it's a pity that she can't wring deeper insights or greater drama from the material.
Premiering as the opening-night selection at AFI Fest, this Universal release will open in the States in select cities on November 13, the film sure to garner attention because of the marquee attraction of co-stars Jolie Pitt and her husband Brad Pitt, who appear onscreen for the first time together since 2005's Mr. & Mrs. Smith.
But By The Sea's decidedly languid air may keep the film from connecting with mainstream audiences, who will balk at the deliberate pacing and strong scent of ennui. Also adding to the commercial hurdles, the movie doesn't look likely to garner rhapsodic reviews or award-season nominations, further hampering its word-of-mouth potential.
Set sometime during the 1970s, By The Sea takes a close look at the brittle marriage of Roland (Pitt) and Vanessa (Jolie Pitt) as they vacation at a gorgeous seaside French resort. Civil but not affectionate, the couple spend most of the days apart — he's working on a new novel, while she (a former dancer) is consumed by depression — as they try not to discuss an unnamed profound trauma from the past. But when they meet their next-door neighbours— sexy, frisky, adoring newlyweds (Mélanie Laurent and Melvil Poupaud) enjoying their honeymoon — a strange sensation springs up in Roland and Vanessa, especially after they discover a peephole between their room and the newlyweds'.
Jolie Pitt has said that By The Sea, which she wrote as well as directed, was a response to the passing of her mother, and the comment provides a clue into the movie's true theme, which is about coping with loss. Initially, that seems to translate into the death of a marriage, as Roland and Vanessa's flat exchanges suggest a love affair whose best days are behind it. But as By The Sea progresses, what becomes clear is that something has happened that severely changed this couple, hints coming from oblique references in the dialogue as well as flickers of flashbacks that haunt Vanessa.
Unfortunately, while Jolie Pitt keeps the specific trauma a mystery until near the film's end, it becomes far too easy to guess a general range of possibilities for what it might be. This narrative secret serves as By The Sea's portentous elephant in the room, teased as the key to unlocking Roland and Vanessa's unspoken anguish, but because the revelation isn't particularly surprising, it doesn't add much to our experience of being with these people.
That lack of illumination is a problem throughout. Jolie Pitt opts for a meticulously restrained and withholding approach, no doubt hoping to amplify the suspense around her inward-looking characters and the unknowable nature of marriage itself. However, Roland and Vanessa simply aren't sufficiently compelling to provoke us to fill in the blanks. Pitt brings his usual weathered charm, and Jolie Pitt makes her character's all-consuming melancholy occasionally ravishing, but there's not enough depth underneath.
By The Sea seems to turn an intriguing corner with the introduction of the second couple, Lea and Francois, whose youthful exuberance inspires unexpected feelings in our central couple. What starts out as harmless grass-is-greener sexual curiosity eventually turns into something kinkier as Vanessa becomes addicted to living vicariously through her neighbours' bedroom adventures, eventually roping Roland into her voyeurism. There's a potential for darkly comic and erotic territory in this plot twist — an acknowledgement of the struggles involved with keeping a long marriage passionate — but Jolie Pitt can't maximize it, settling instead for a conventional study of betrayal and mistrust.
In her past films, Jolie Pitt has been unafraid to tackle incendiary subject matter (In The Land of Blood And Honey) or look bluntly at the limits of human endurance (Unbroken). But in those movies, as with By The Sea, her commitment to serious themes is undercut by a rigid, overblown style — no matter the type of story she's trying to tell, she often bears down on it so hard that the film doesn't have much room to breathe. In the case of By The Sea, Jolie Pitt adopts some of the visual techniques of European art cinema of the 1960s and 1970s to evoke Roland and Vanessa's ineffable longing, but it mostly comes across as mannered, the director cribbing from a borrowed aesthetic to add significance to her story.
Admirably, she's trying to make a barbed, grownup drama about commitment and grief, but she doesn't yet have the confidence or filmmaking talent to match her aspirations.
Production company: Jolie Pas
Worldwide distribution: Universal Pictures, www.universalpictures.com
Producers: Brad Pitt, Angelina Jolie Pitt
Executive producers: Chris Brigham, Michael Vieira, Holly Goline-Sadowski
Cinematography: Christian Berger
Production design: Jon Hutman
Editors: Patricia Rommel, Martin Pensa
Music: Gabriel Yared
Website: www.bytheseamovie.net
Main Cast: Brad Pitt, Angelina Jolie Pitt, Mélanie Laurent, Melvil Poupaud, Niels Arestrup, Richard Bohringer