Dir/scr: Matt Ross. US, 2015. 120 min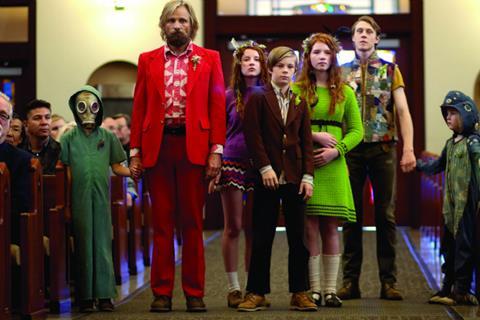 The Cash family may be the most unique you've ever met. Living deep in the forest of the American Pacific Northwest, patriarch Ben (Viggo Mortensen) trains his six young children to survive in the wilderness, all the while teaching them Noam Chomsky, Dostoevsky and Bach. By day, they hunt down deer with only a knife and rock-climb on sheer cliffs; by the campfire at night, they read high-level physics and play music.
Captain Fantastic has all the ingredients of an art-house breakout
Like the family at its centre, Captain Fantastic is an odd bird, sometimes endearing, sometimes unbelievable. There are enough hooks to make a big commercial play for the movie in the marketplace, including Viggo Mortensen's magnetic lead performance as Ben, an array of likeable young actors, a few choice laugh lines, and a couple of comedic set-pieces on a road-trip. But despite some obvious points of comparisons with previous Sundance hit Little Miss Sunshine, Captain Fantastic doesn't fully deliver as either a full-on crowd-pleaser or a critical darling. Bleeker Street Films is already set to release in the U.S.; the film should also have a shot internationally, where the film's good-humoured anti-Americanism may go down well.
After a lively introduction to Ben and his band of remarkable survivalist kids, the story kicks into high gear when Ben learns his wife has killed herself in a mental hospital and her conservative parents are intent on holding a traditional Christian funeral. Viewing this as an affront to the family's progressive ways and his wife's Buddhist beliefs, Ben sets out across the country with his bereaved kids on an old blue school bus to rescue her body.
On the road, the family's quirks, lack of societal norms and cleverness come to the fore in several sequences. At a diner, one of the kids asks, "What's cola?" Ben's response: "Poison water." Faced with a policeman who boards the bus, the kids realise their Communist teachings might raise a red flag, so they quickly pose as a Christian cult to scare him away: "God Bless," they smile, while saying under their breath "Power to the People" and "Stick it to the Man." Sure to get laughs and win audiences over, these scenes set the stage for other confrontations which follow; with the wife's sisters' family and a showdown with the grandparents (the always terrific, but here underused, Frank Langella and Ann Dowd) when Ben's brood, dressed for a party, stumble into the Church funeral.
But a lot of the script strains credibility or doesn't completely cohere. For one, Ben's unwavering commitment to living off the grid and possibly endangering his kids in the process can sometimes be hard to bear. And yet, later in the film, it's equally implausible to suggest that he would so quickly give up on everything he's fought so hard for. There are other questions: how could the father train his kids to be so super-intelligent, and yet have no understanding of basic social skills? And when the oldest son confronts Ben for turning himself and his siblings into "freaks," it would seem to be a pivotal revelation for the character, but it's quickly glossed over. And what is Ben's ideology, anyway? Communist? Maoist? Libertarian Socialist?
For viewers enthralled by the charisma of Viggo Mortensen's mountain-man-cum-anarchist and his family's anti-establishment ways, such complaints may be mere quibbles, but they add up. And at a full two hours, it takes quite a long time for writer-director Matt Ross to resolve his main character's arc and many contradictions.
Still, Captain Fantastic has all the ingredients of an art-house breakout, complete with a heart-rending climactic scene that cuts through the film's earlier ideological trappings and goes straight for old-fashioned catharsis. It's to Ross' credit that the film's emotional pull and polished filmmaking helps stifle his story's credibility issues. But shrewder viewers may not fully buy into Ben's "discourse" or his journey. They might simply see him as a bad dad rather than a fantastic one.
Production Companies: Electric City Entertainment, ShivHans Pictures
International Sales: E One Features
US Distributor: Bleeker Street
Producers: Lynette Howell Taylor, Jamie Patricof, Shivani Rawat, Monica Levinson
Executive Producers: Nimitt Mankad, Declan Baldwin
Editor: Joseph Krings
Production Designer: Russell Barnes
Costume Designer: Courtney Hoffman
Director of Photography: Stéphane Fontaine
Principal Cast: Viggo Mortensen, Frank Langella, George MacKay, Kathryn Hahn, Steve Zahn, Ann Dowd