In a refugee camp in Jordan, football offers hope to two young boys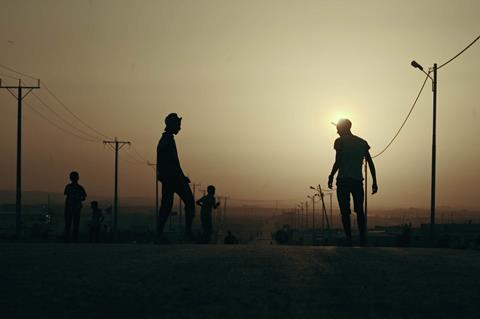 Dir: Ali El Arabi. Egypt. 2020. 73 mins
Football is so much more than a beautiful game in Captains Of Zaatari. It is a pathway to escape and the promise of a better life for two inseparable Syrian pals housed in a vast refugee camp in northern Jordan. Their changing fortunes as fate comes calling proves an emotional rollercoaster in Ali El Arabi's polished, endearing debut feature documentary. The ode to friendship and upbeat tone results in a warm accessiblity that should translate into further festival fixtures and audience support after a Sundance premiere.
Full of human touches and radiating a spirit of positivity
El Arabi begins with an image of a tattered football cradled in the lap of a boy. The ball soon takes flight as others pass and dribble, scarpering down narrow alleys, dodging past rubble,weaving between washing lines and heading towards a shot at goal. Clouds of sand and dust linger in the air before vanishing on the breeze. Placing the camera right in the thick of the action as if part of the game creates an exhilarating statement of what football represents for the younger (male) members of a camp that houses 80,000 Syrian refugees.
El Arabi's focus may be on best friends Fawzi Qatleesh and Mahmoud Dagher, but he also supplies a vivid sense of what life is like in a camp that sprawls as far as the eye can see. Behind the padlocks, barbed wire fences and UN representatives, there are corrugated iron shacks which have become homes. There are shops, satellite dishes, kites sailing through the skies, commerce, kindship and a sense of community.
Fawzi and Mahmoud have pinned all their hopes on football. They practise every day and play at any opportunity. Fawzi vows that one day he will play for Real Madrid. A sense that this may be an impossible dream is revealed in Fawzi's circumstances. His ailing father has been detained for illegally leaving the camp in search of work. Fawzi tries to teach his little sister Rosa by the fading light of candle stubs. Urged to embrace education as a means of improving his future chances, he counters: "I'll still be a refugee." In the camp, people with qualifications are lucky to find employment collecting garbage.
Fawzi seems the more reflective of the duo with the slightly younger Mahmoud still retaining a boyish enthusiasm for each fresh adventure. The film delights in their rock solid bond as they banter, sigh over girls and speculate where football might take them. Later, at the Aspire Academy in Qatar the two teenagers cannot belive their good fortune to have a hotel bed, be running free on a lush grass pitch and enjoying the sheer luxury of being located somewhere with reliable Wi-fi. The arrival of scouts from a sports academy is a defining moment. The possibilty that their fortunes might diverge is cause for genuine heartache.
Simple but focused, Captains Of Zatarri is full of human touches and radiates a spirit of positivity as we watch the boys turn to men and develop wise heads on young shoulders. This documentary is infused with their engaging personalities and reframes the refugee experience as a buddy film that offers a rare sense of hope.
Production company: Ambient Light
International sales: Dogwoof ana@dogwoof.com
Producer: Ali El Arabi,
Editing: Menna El Shishini, Alaa Dajani, Simone Elhabre
Cinematography: Mahmoud Bashir
Music: Gil Talmi