Dir: Jerry Jameson. US. 2015. 93mins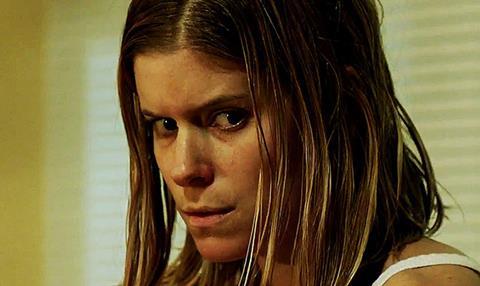 Convincing performances from David Oyelowo and Kate Mara – as an escaped killer and his drug addicted hostage – are the saving grace of Captive, a decent dramatic thriller somewhat weighed down by its mildly religious message. The faith-based crowd may not be the only audience for this based-on-a-true-story tale of redemption at the darkest hour, but it will certainly be the most receptive demographic.
Oyelowo and Mara both work hard to make the characters believable and sympathetic
When it opens Captive in the US and Canada on Sept 18, worldwide distributor Paramount will be hoping to reach the American moviegoers who have recently embraced faith-based releases like The War Room and 90 Minutes in Heaven. Oyelowo's growing reputation could broaden the audience and provide the studio with a needed international selling point.
Based on non-fiction book Unlikely Angel: The True Story of the Atlanta Hostage Hero, the film first introduces Ashley (Mara, last seen in Fantastic Four), an apparently recovering meth addict and single mother trying regain custody of her young daughter. Oyelowo's Brian, meanwhile, is about to go on trial for rape when he escapes – killing several people in the process – and attempts to make contact with his newborn son.
Now the target of a desperate manhunt, Brian takes Ashley hostage and holes up in her apartment waiting for dawn. Recognising that they are both in the depths of despair, hostage and kidnapper begin to form a bond and, to pass the hours, Ashley ends up reading to Brian from self-help tome The Purpose Driven Life (a real-life best-seller).
Steered by TV director Jerry Jameson, the film uses hand-held cameras and action sequences to give its first act some cinematic scope. But it eventually becomes a two-hander, relying on its performances and script to generate dramatic tension. Oyelowo and Mara both work hard to make the characters believable and sympathetic. The dialogue, though, is much less convincing.
The religious theme is fairly subtle through most of the story, but it's made explicit in an end credit sequence featuring real hostage Ashley Smith and Purpose Driven Life author (and evangelical 'megachurch' founder) Rick Warren on Oprah Winfrey's TV chat show.
Production companies: BN Films, Brightside Entertainment, 1019 Entertainment, Yoruba Saxon, Itaca Films
Worldwide distribution: Paramount Pictures
Producers: Terry Botwick, Jerry Jameson, Lucas Akoskin, Alex Garcia, Katerina Wolfe, David Oyelowo, Ken Wales
Executive producers: Santiago Garcia Galvan, Jonathan Gray, Brian Bird, Elliot Lester, Ralph Winter
Screenplay: Brian Bird, based on the book Unlikely Angel by Ashley Smith with Stacy Mattingly
Director of photography: Luis Sansans
Production designer: Sandra Cabriada
Editor: Melissa Kent
Costume designer: Cameron Doyle
Music: Lorne Balfe
Website: http://www.captivethemovie.com
Main cast: David Oyelowo, Kate Mara, Leonor Varela, Jessica Oyelowo, Mimi Rogers, Michael K Williams