Dir/scr: Kitty Green. US/Australia. 2016. 80mins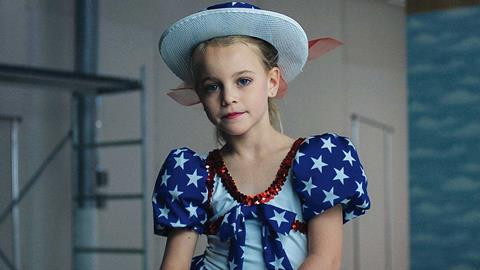 "People are quick to judge," says one of the subjects in Casting JonBenet, a riveting and unexpectedly moving documentary that grapples with the legacy of JonBenet Ramsey's 1996 murder and, more importantly, people's insatiable need to discuss and dissect other people's lives.
Everyone has opinions on who they think killed the girl, but often their logic is coloured by their own experiences
Writer-director Kitty Green constructs her film from a series of interviews she conducted with members of the Colorado community where Ramsey grew up, essentially auditioning these people for roles in a non-existent JonBenet project. What emerges is an exploration of acting and the challenges of reproducing the truth of actual events on film — but what's truly remarkable is how Casting JonBenet compassionately reveals its subjects' own past traumas in the process.
Screening in Sundance's US Documentary section, Casting JonBenet will stream on Netflix in April. More than two decades after Ramsey's death, public appetite for stories about the six-year-old beauty queen remains high, although Green's unconventional approach may not satisfy those who seek a straightforward biographical portrait. Casting JonBenet would seem more suited to adventurous viewers, who will be richly rewarded.
Green (Ukraine Is Not A Brothel) doesn't offer title cards or voiceover to explain her film's nervy premise. Instead, we simply meet people who talk to the camera as part of their audition process — these men, women and children from the Boulder area are trying to be cast as John Ramsey (JonBenet's father), Patsy (her mother), Burke (her older brother) and other figures in the girl's world.
Casting JonBenet offers glimpses of the pseudo-film that Green makes with her different actors — some, first-timers and others semi-professional. But what becomes clear quickly is that the conceit of casting a JonBenet movie is mostly a device to get these people discussing theories on the girl's still-unsolved murder and their opinions about the real-life individuals they're hoping to play.
The Robert Greene documentary Kate Plays Christine worked in a similar vein, using the live-television suicide of Christine Chubbuck as a jumping-off point to question the morality of turning tragedy into drama. Casting JonBenet overlaps slightly structurally — the brief scenes from Green's pseudo JonBenet "movie" are meant to disrupt the line between reality and fiction — but she's after a more humanistic tapestry.
At first, there are so many actors explaining their backgrounds and their character motivations that it can be overwhelming. But slowly, fascinating patterns emerge. Everyone has opinions on who they think killed the girl, but often their logic is coloured by their own experiences. And along the way, we come to learn much about the actors. Because Green is never on camera or heard asking questions, the viewer feels an intimate connection with these strangers, who talk frankly about everything from their battles with cancer to the unlikely ways they make a living.
But beyond offering a rich collection of everyday people, Casting JonBenet deftly makes the point that, although there's an undeniable tabloid allure in stories like JonBenet's murder, public tragedies also captivate us because we can relate to the participants' pain. Instead of crude gossiping, the film's subjects are touchingly forthright, sharing with Green why the murder matters to them. Mothers get weepy talking about their own children. A man describes what happened when he was investigated in the death of a loved one — he was innocent, but the memory still haunts him.
Without warning, Casting JonBenet becomes a confessional, and these actors' candour underlines how, although we may be quick to judge, it's partly because we're trying to understand our own lives. This is not the documentary to see to refresh one's memory about JonBenet Ramsey's grisly murder. But the mirror it holds up to its subjects — and perhaps the audience — is incredibly, sometimes painfully illuminating.
Production companies: Meridian Entertainment, Screen Australia, Forensic Films, Matricide Pictures, Symbolic Exchange
Worldwide distribution: Netflix, www.netflix.com
Producers: Kitty Green, Scott Macaulay, James Schamus
Executive producers: Jennifer Dong, Figo Li, Avy Eschenasy, Adam Del Deo, Jihan Robinson, Lisa Nishimura
Cinematography: Michael Latham
Production design: Leah Popple
Editor: Davis Coombe
Music: Nathan Larson