Terrific comedy-drama from a Bulgarian directing duo is set on an East London council estate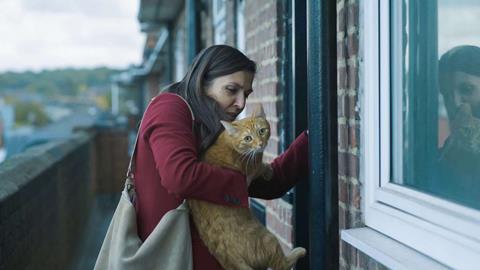 Dirs. Mina Mileva, Vesela Kazakova. Bulgaria, United Kingdom, France. 2019. 92 mins
Some films are gushing love letters to the cities in which they are set. Cat In The Wall is more of an eye-roll of irritation. This terrific comedy-drama is set on a south east London council estate which is riven by social and economic divisions and threatened by the all-consuming force of gentrification. At the heart of the story is a Bulgarian family – single mother Irina, her young son and her brother Vladimir – who find themselves in conflict with their working class British neighbours over ownership of a cat. The film is not entirely about Brexit, but there are obvious references. Irina, after all, is trapped in a home which is being dismantled around her, at a ruinously high cost that she has no choice but to pay. Who in the UK doesn't relate to that right now?
This timely immigrants' eye view of the UK certainly feels like a story which needed to be told.
This is the drama feature debut from documentary filmmaking team Mina Mileva and Vesela Kazakova, both Bulgarian by birth but based in London. A familiarity with the city, and specifically with Peckham, is deeply rooted in the storytelling. Although a little rough around the edges at times, the picture is never less than persuasive and honest. Sometimes brutally so. A warm reception on the festival circuit is likely. And Cat In The Wall could also find an audience theatrically given critical support and word of mouth. This timely immigrants' eye view of the UK certainly feels like a story which needed to be told.
A tireless force of nature, Irina (Irina Atanasova) is prickly and forthright, a character to be relished. A scene in which she dismantles a rosy-cheeked middle-class Marxist who is canvassing on Rye Lane is a thing of beauty. She is driven and pragmatic, with hopes of making a career as an architect; meanwhile she toils in a bar to keep the household ticking over. She is not someone who would ever take handouts, unlike many of her neighbours who live on benefits. "I didn't come here to be a leech," she snaps.
The tension between the council tenants and others who, like Irina, own their flats on a lease, is just one of the fault lines which runs through this tightly packed but not always tight-knit community. When the council announces an extensive and, to Irina's mind unnecessary, overhaul of the building, she is staggered that she and fellow homeowners will be landed with a bill of over £25,000 each, while those who rent pay nothing. The contested ownership of a cat becomes a flashpoint for an accumulation of stresses.
There's a lovely effortless chemistry between Atanasova and Angel Genov, who plays her brother Vladimir, a sad-eyed historian who finds himself forced to work installing satellite dishes. And there's a fresh, naturalistic element to all the performances which makes it feel as though the film was improvised with non-actors, although in fact neither is the case. Unassuming but accomplished handheld camerawork adds to the sense of real life playing out, almost documentary style.
What's particularly striking is the authenticity of British working class voices, something that UK cinema sometimes struggles to get right. It's perhaps no coincidence that two of the films which have captured this persuasively this year – Cat In The Wall and Sacha Polak's Dirty God – come from foreign-born filmmakers looking in.
Production companies: Activist38, Glasshead Limited, Ici et Là Productions
Sales company: Coccinelle fbreccia@coccinellefilm.com
Producer: Mina Mileva, Christophe Bruncher, Vesela Kazakova, Lambros Atteshlis
Screenplay: Mina Mileva, Vesela Kazakova
Cinematography: Dimitar Kostov
Editor: Donka Ivanova
Music: Andy Cowton
Production design: Yulia Kunova
Main cast: Irina Atanasova, Angel Genov, Orlin Asenov, Gilda Waugh, Chinwe A Nwokolo, Kadisha Gee Camara, Jon-Jo Inkpen, John Harty