Dir: Daniel Monzon. Spain/France. 2009. 114 mins.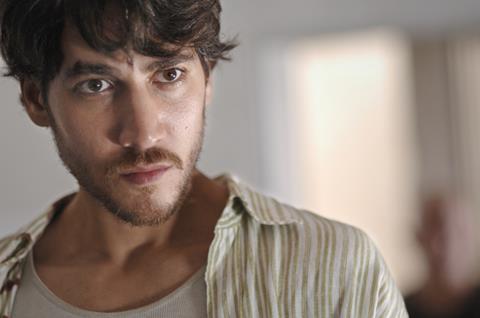 Majorcan director Daniel Monzon's fourth film shows that there is plenty of life in the Spanish genre industry – at least as long as it continues to come up with tasty, confident, products like prison mutiny drama Cell 211. The audience appeal registered at the film's Venice and Toronto festival screenings has been confirmed in Spain with an opening weekend of more than $2m – encouraging news for independents who have picked it up from Films Distribution (Senator in Germany, California Filmes in Brazil, for example, where it should do particularly well). Ancillary looks strong.
The anti-hero is so absorbing, he takes a chunk of our sympathy away from the film's role model
Focusing on the fight for survival of a trainee prison officer caught up in a riot before he has even properly started his job, Cell 211's script is so fond of twists and chicanes that it stretches credibility more than once, especially towards the end. But in a way these lapses just confirm its sweaty, no-nonsense genre credentials. And with an edgy shooting style that plays up the claustrophobia of the prison as social microcosm, and two fine central performances – particularly that of Luis Tosar as hard-guy and riot ringleader Malamadre – there's plenty to enjoy beyond the story.
Cutting to the chase with a minimum of fuss, the film opens in the calm just before the storm. Sensitive young prison guard Juan Olivier (Ammann) is being shown around a high-security facility when he is concussed by a piece of falling masonry. Before the doctor can be summoned a riot breaks out – and his colleagues are forced to abandon Juan in the empty cell that gives the film its title.
When he comes round, the trainee screw soon cottons on to the situation. Realising that his only hope of survival lies in the fact that none of the inmates have seen him before, Juan passes himself off as a prisoner who has just that day been transferred to the unit.
What follows is essentially a jeopardy-laden buddy thriller as two uneasy allies' agendas twist around each other like a DNA helix, with Juan gradually coming to understand that for the prison authorities he's a disposable pawn in a game of media damage limitation. The violent but canny Malamadre, meanwhile, improvises a rugged but effective form of populist dictatorship as he goes along, but is always ready to bail out or change sides to save his skin.
A subplot involving Juan's pregnant wife injects a note of wanton melodrama, while some of the character parts – especially on the prison side – are lurid but effective caricatures. There are critiques of prison conditions, corruption and image-based political manoeuvres, but mostly this is a tough, tense lion's den drama with an anti-hero so absorbing that he takes a chunk of our sympathy away from Juan the role model – especially after the latter crosses the ethical line that until now has separated him from the inmates.
Ironically, it's those who have committed some of the worst crimes – convicted ETA terrorists – who are the only guaranteed winners here. The authorities know that if anything happens to them, prison riots will erupt all over Spain; while for the ordinary prison rebels, they are useful bargaining tools. An edge of cynical realism (rooted in the gritty look of the thing) is a key part of Cell 211's success – without it, the story would feel too contrived to really work.
To sign up for Screen's weekly Reviews Newsletter with all the week's new releases, international openings and full festival reviews delivered free to your mailbox every Friday, please click HERE
Production companies
Vaca Films
Morena Films
Telecinco Cinema
La Fabrique 2
International sales
Films Distribution
+33 1 5310 3399
Producers
Emma Lustres
Borja Pena
Juan Gordon
Alvaro Augustin
Screenplay
Jorge Guerricaechevarria
Daniel Monzon
Cinematography
Carles Gusi
Production design
Anton Laguna
Editor
Cristina Pastor
Music
Roque Banos
Main cast
Luis Tosar
Alberto Amman
Antonio Resines
Marta Etura
Carlos Bardem