Agnieszka Holland's story about a notorious Czech herbalist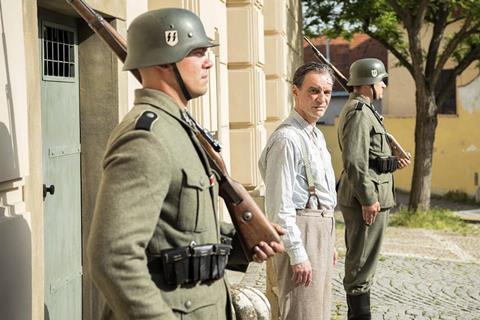 Dir. Agnieszka Holland. Czech Republic. 2020. 118mins.
Questions of compromise and obsession drive Charlatan, a film about a herbalist whose vocation led him to sacrifice everything and everyone he held dear during both the Nazi Occupation of Czechoslovakia and the eventual lowering of the Iron Curtain across that country. Director Agnieszka Holland isn't making any concessions either with this handsomely-mounted tale of an obsessive and decidedly repellent man.
In a year where DAU: Natasha screens in Competition, though, this hands-off take feels just too distanced and old-fashioned to work.
A year after Mr Jones played in the Competition – at a considerably longer runtime than its eventual international release – Holland returns to the Berlinale Special with another examination of a flawed man battling his way through 20th century Europe. Actor Ivan Trojan is no James Norton, however, and his performance is a strikingly non-nuanced delivery of a palpably inexpressive screenplay. The story - of a devoted, unpleasant herbalist - is far more self-contained, less compelling. Beautifully shot and framed, lovingly recreated, yet made seemingly without much consideration for an audience outside its co-production territories, Holland's film is a prestige project which will slot into a general festival release on the strength of her name. A knotty gay love affair may see it find more traction on the LGBTQI+ circuit.
Charlatan focuses on the real-life Jan Mikolasek's life as a herbalist. Using urine samples as his sole diagnostic tool, he was hailed as a saviour by some, and a wealthy con-man by his opponents. Framed in flashback from the 1948 Coup and the loss of both his former Nazi-era protectors and the Communists who succeeded them, Charlatan tracks back to Mikolasek's own injuries from the First World War which informed his dedication to train as a herbalist. But when does a vocation become an obsession? Can caring disguise cruelty? Even as he faces the loss of his comfortable life and vast clientele, the arrogant Mikolasek refuses to bow down or compromise and there's a strain of cruelty and masochism within this man that's as clearly identifiable as the urine samples he constantly holds to the light to diagnose. And none will feel the pain more than his devoted assistant and lover, Frantisek (Juraj Loj).
Mikolasek is the kind of man, according to Holland's screenplay - written by Vaclav's Marek Epstein - who will happily beat the brains out of a sackful of puppies. He'll order Frantisek to abort his own unborn child, with a wife who is shown no mercy. Nothing will stand in his way. The goal is diagnosing more and more patients, holding never-ending urine samples in his hand as Martin Strba's camera hones in on the amber sediment. But neither Mikolasek or Frantisek will express much throughout Charlatan, with Holland preferring to let the background of war and political upheaval inform the audience's opinion of both. Why is someone with such a drive to heal so happy to inflict so many wounds?
Charlatan is shot in a conventional, almost old-fashioned manner to match the period detail as the film cycles through the tumultous decades. It's easily accessible on a visual level while being remarkably inexpressive on a sub-textual one. "You'll never understand me!" barks Mikolasek as the film draws into its final reel. It's not clear that Holland's goal here is to clarify anything but simply present it. In a year where DAU: Natasha screens in Competition, though, this hands-off take feels just too distanced to work.
Production companies: Marlene Film Production
International sales: Films Boutique, contact@filmsboutique.com
Producers: Sarka Cimbalova, Kevan Van Thompson
Screenplay: Marek Epstein
Cinematography: Martin Strba
Production design: Milan Bycek
Editing: Pavel Hrdlicka
Music: Antoni Komasa-Lazarkiewicz
Main cast: Ivan Trojan, Juraj Loj, Jaroslava Pakorna, Jiri Cerny, Miroslav Hanus