The troubled wartime life of artist Charlotte Salomon is animated in this graceful European production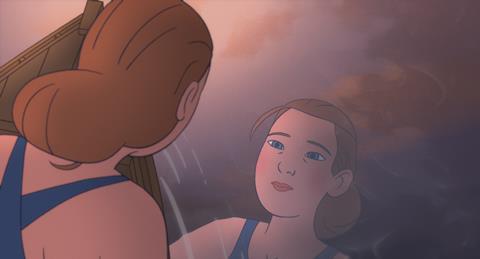 Dirs. Éric Warin, Tahir Rana. CanadaFrance/Belgium. 2021. 92 mins
Born in Berlin, and coming of age creatively just as the Nazis were tightening their grip on all aspects of German life, including its art, the painter Charlotte Salomon (voiced by Kiera Knightley) was at a twofold disadvantage. Firstly, she was Jewish. Secondly, her exuberant, daringly unorthodox artistic style was at odds with the stuffy traditionalism favoured by the Nazis. This engaging animation traces Charlotte's life from Berlin in the early 1930s to just before her death, in Auschwitz, in 1943, taking in her creative opus – a series of 769 autobiographical paintings titled 'Life? Or Theatre?' which was posthumously published. It's a handsome film, but a conventional one, rather missing the opportunity of allowing Salomon's thrilling uninhibited style to inform the film's aesthetic.
A handsome film, but a conventional one.
The film is the result of a collaboration between first time feature director Tahir Rana and animator Éric Warin, who worked on The Triplets Of Belleville and most recently co-directed the 3D computer animated feature Ballerina. Unlike Ballerina, Charlotte employs an appealing 2D animated style, which should connect with more mature animation fans. Thematically too, with its exploration of Charlotte's sexuality and its relative frankness about mental illness, living under the boot of the Nazis and the scars left by conflict, this is a film which is skewed towards an older audience. Further festival screenings and perhaps a home with a streaming platform seem likely.

For a film which is so consumed by the notion of painting as Charlotte's primary means of expression, the screenplay, by Erik Rutherford and David Bezmozgis is illuminated by some very elegant and articulate dialogue. Alfred Wolfsohn (voiced by Mark Strong), the singing teacher who was the teenage Charlotte's early obsession, talks of his gradual recovery from the trauma of his First World War experiences: "I couldn't wait for life to love me," he says, explaining that he instead had to learn to "love life". Later, Charlotte describes the frenzy of making the many paintings which delve into the most harrowing aspects of her past as "like pulling a splinter", something which combines both pain and satisfaction.

And there was much that was harrowing in Charlotte's life, even before the rise of fascism robbed her of a future in Germany and tore apart her family. Charlotte lost her mother at an early age; she was told the flu claimed her life, but later learned that the truth was rather darker. And, according to her autocratic and unsympathetic grandfather (Jim Broadbent), Charlotte's mother's malaise is something which has cursed the whole family, something which may yet claim Charlotte herself. It is this sense of a ticking clock, both in Charlotte's genetic legacy, and in her increasingly precarious position – she is exiled in the South of France, her safety uncertain – which prompts the incredible creative burst which results in what some have described as the precursor to the graphic novel.

The most distinctive moments visually are those which animate Charlotte's fluid painting style, exploring the process by which her work was created. It's an expansive, unbridled technique which conveys a thrilling sense of freedom. It's also a stark contrast to the flatness of the figurative element of the animation, and to the lush but cautious orchestration of the score.

Production companies: January Films, Walking The Dog, Les Productions Balthazar
International Sales: Sierra Affinity info@sierra-affinity.com
Producers: Julia Rosenberg, Jérôme Dopffer, Eric Goossens, Anton Roebben
Screenplay: Erik Rutherford, David Bezmozgis
Editor: Roderick Deogrades, Sam Patterson
Production design: François Moret, Uwe Heidschötter
Music: Michelino Bisceglia
Main voice cast: Keira Knightley, Brenda Blethyn, Jim Broadbent, Sam Claflin, Henry Czerny, Eddie Marsan, Helen McCrory, Sophie Okonedo, Mark Strong