An man attempts to rescue his oprhaned grandchildren from a Syrian refugee camp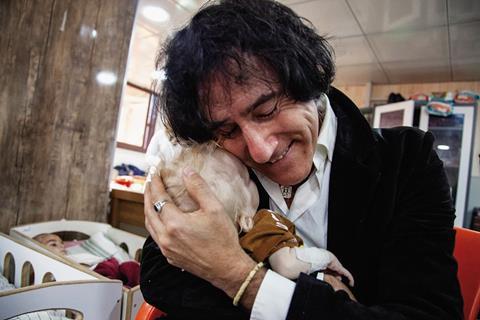 Director: Gorki Glaser-Müller. Sweden/Denmark/Qatar. 2021. 95 minutes
A behind-the-headlines documentary whose camera seldom strays far from the anguished face of its sympathetic protagonist, Children of the Enemy follows a Chilean-Swede's quest to rescue his seven orphaned grandchildren from an overcrowded refugee camp in Syria. This examination of family ties painfully severed by radicalisation — the septet's Scandinavian parents converted to Islam and joined ISIS — deploys stylistic techniques which amp up emotional material to a counterproductive degree.
The film is most effective in simply conveying the agonising practical realities of Galvez's quest
Debuting in the international competition at CPH:DOX in Copenhagen, Gorki Glaser-Müller's second feature may find favour with documentary-oriented festivals and channels foregrounding human-rights themes. The Scandinavian broadcasters who supported the production — national companies of Sweden, Denmark, Norway and Finland — will doubtless position the picture to best advantage in their schedules. They can capitalise on fresh memories of extensive media coverage afforded to middle-aged musician Patricio Galvez and his family in 2018/19; his son-in-law was Norwegian ISIS member Michael Skråmo, notorious for his recruitment videos.
Children of the Enemy adheres squarely to prevailing international trends in small-screen human-interest documentary fare. Indeed, it's a textbook example of how the punishingly heavy-handed overuse of musical scoring can work to a film's detriment. Lisa Nordström's moody compositions are audible from the very first seconds of pre-credit idents. Glaser-Müller — best known in Sweden as an actor in the period since his feature-length directorial debut, 2012 drama Once A Year — relies heavily on her contributions.
Galvez tirelessly negotiates multiple bureaucratic hurdles over a two-month period to complete his hazardous trans-continental mission. Reversals of fortune and interludes of exhausted despair are accompanied by mournfully tinkling piano notes; any remotely lively or exciting development gets the Hollywood-thriller treatment. It's no coincidence that the most affecting and disturbing segment, a fly-on-the-hotel-room-wall sequence demonstrating the extent of the children's trauma, is one where Glaser-Müller for once lets powerful images speak for themselves without melodic lily-gilding.
The film is most effective in simply conveying the agonising practical realities of Galvez's quest, an operation involving endless telephone calls and long down-time periods of waiting punctuated by brief flurries of frenzied activity. Recurring sequences show Galvez seemingly alone and isolated in his hotel room, preoccupied by feelings of guilt about the breakdown of his relationship with his daughter Amanda. This relationship is clearly intended to provide the film with its emotional core — proceedings conclude with an intimate letter written by Amanda to her father. The final-reel appearance of Amanda's fiery mother, who also converted to Islam (without taking her daughter's ISIS route), yields lively, and welcome, on-camera frictions.
The director and his four editors tend to downplay the most potent relationship Galvez has with a living person during the course of the film, however, namely the one with Glaser-Müller himself. The filmmaker is largely self-effacing here, but occasionally makes his presence felt via off-screen questions and/or interactions with Galvez.
Forty minutes in, when Galvez achieves a crucial bureaucratic breakthrough and is overwhelmed with joy, a similarly euphoric Glaser-Müller temporarily puts down his camera and the pair are shown embracing. At such junctures it's evident that the director — himself also Chilean-Swedish — was no mere observer of a man's solo efforts against the system, but rather a crucial fellow-traveller in the quest. The unwritten "rules" of contemporary conventional documentary-style film-making apparently mean that the film must unfortunately exercise restraint about depicting the mutually-sustaining warmth that evidently existed between these brothers-in-arms.
Production companies: Cinenic Film, Film i Väst, SVT, Toolbox Film, GGM Film, One Night Picture
International sales: cinephil, Tel Aviv (info@cinephil.com)
Producers: Kristofer Henell, Erika Malmgren
Co-producers: Signe Leick Jensen, Morten Kaufmann, Charlotte Gry Madsen, Peter Possne
Screenplay / Cinematography: Gorki Glaser-Müller
Editing: Søren B. Ebbe, Erika Gonzales, Kasper Leick, Åsa Mossberg
Music: Lisa Nordström