A young Hmong girl in Northern Vietnam struggles against a pre-ordained path in Diam Ha Lei's compelling first feature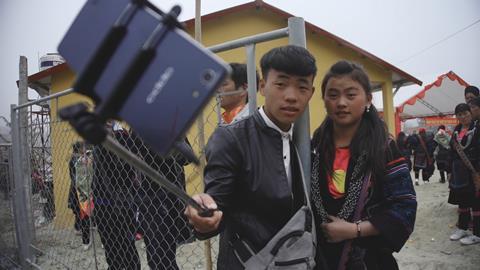 Dir: Diem Ha Le. Vietnam. 2021. 92min.
High in the mountains of North Vietnam, the Hmong community is isolated from the rest of the world as much by their ancient traditions as by the dense rolling mists. For her debut feature, Vietnamese filmmaker Diem Ha Le spent three years in the community, documenting teenager Di as she finds herself torn between her desire for education and a life outside the village, and the pressures of cultural values that view young women as commodities to be sold for high dowries. Diem's intimate access and sensitive approach, together with editor Swann Dubus' keen eye for texture and detail, make for a compelling and eye-opening drama.
While under-age marriage is illegal in Vietnam, Hmong girls as young as 14 are often wed and expected to start a family.
Children of the Mist should certainly attract further festival attention after its world premiere at IDFA; although its social interest themes and stunning visuals make it certainly worthy of theatrical play, streaming may be a more likely final destination.
While many documentary filmmakers subscribe to the observation-only approach, Diem makes it clear from the outset that she is personally involved in this story; she and Di are close friends, despite the fact that they come from very different backgrounds, and she is invested in Di's fate. "I filmed for three years, always scared of what would eventually happen," the director says in an opening voiceover message to 14-year-old Di, who we have just seen weeping on a rocky outcrop for reasons which will only become apparent at the film's end.
Even as events rewind three years, to a time when Di is a happy-go-lucky 11-year-old picking crops on the hillside, that fear of what might happen provides an undercurrent of tension. That's because the village's annual Lunar New Year celebrations involve a tradition in which young men kidnap girls who take their fancy, dragging them off to be married in return for a dowry. While under-age marriage is illegal in Vietnam, Hmong girls as young as 14 are often wed and expected to start a family. That's what happened to Di's older sister, who is pregnant with her second child at 17.
And that's also what happened to Di's mother, who is surrounded by children and a husband she treats with contempt; when they are not tending their farm, both adults spend most of their time drunk on the local 'wine'. (Understandable, given the poverty-stricken, back-breaking toil of their daily lives.) Relations between her and Di are tense; Diem captures familiar arguments about the tidying of clothes, the completion of chores, the attentions of boys. There's also a bigger concern, that Di will fall victim to a kidnap herself — although it's unclear whether Di's mother is more fearful for daughter's well-being, or the loss of her support. "Who will feed the pigs when I am drunk?" is her lament.
Diem, too, is increasingly worried that Di isn't taking the threat to her freedom — and her childhood — seriously; and, indeed, Di is initially convinced she could outrun any boy. But the inevitable happens, and she finds herself 'kidnapped' by adolescent Vang, whose family is adamant the two should now be married. From here, the tone of the film turns darker, as Diem keeps her camera trained on the intense negotiations between the families. It's to her credit that, despite her personal distress, she documents all sides of the argument. Di's mother is torn between upholding customs (and saving face) and wanting to protect her daughter, while Vang himself is shown to have equally limited choices; forced to leave school, the only option left to him is to become a husband and father.
Indeed, that's the main takeaway from Children Of The Mist; that freedom of choice isn't only a question of gender, but one of privilege. The Hmong values are carved out of circumstance as much as tradition; no member of the community, whether male or female, has the means or opportunity to rise up against the traditions they seem to abhor. Di may long for of a life beyond the mountains, but it's a struggle to see how she will turn those dreams into a reality. The strength of Diem's documentary comes from how it balances a recognition of this fact with a celebration of Di's bullheaded fight for independence.
Production company: Varan Vietnam
International sales: CAT&docs, info@catndocs.com
Producers: Swann Dubus, Phuong Thao Tran
Editing: Swann Dubus
Cinematography: Diem Ha Le