Dir: Roschdy Zem. France. 2016. 121mins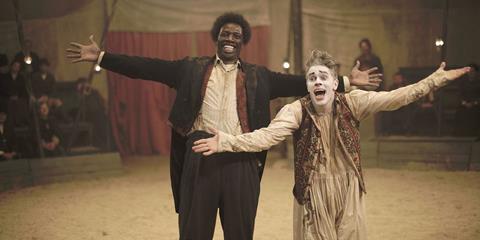 Nobody was clamoring for Omar Sy's negligible presence in Jurassic World but the title role in Roschdy Zem's bittersweet historical drama Chocolat is a marvelous showcase for a fuller range of his talents and effortless charisma, globally appreciated since The Untouchables. James Thiérrée — who, with age, looks more and more like his grandfather Charlie Chaplin — is also superb as George Footit, the clown who, in partnership with Chocolat, revolutionised what a circus act could do. The duo enjoyed unprecedented fame (complete with nationwide ad campaigns and Lumiere films) at the turn of the previous century. This is a sad but involving saga of a Cuban illegal immigrant to France who thrilled well-to-do Parisians but lost everything due to artistic ambition, changing tastes, a gambling habit and racial discrimination.
Chocolat was a star in an era when France claimed to be a standard bearer for human rights while also rationalising that its colonial holdings were just fine.
Of the actor's four films as a director, this is certainly Roschdy Zem's most ambitious effort. It's also the second time (after 2010's unsettling Omar Killed Me) that he has tackled a true story in which white society only permits a non-white man to get so far before feeling the brunt of prejudice and double standards.
There's subtext galore about racial discrimination but the film also works well as a tale of a showbiz rise and fall. French audiences will almost certainly turn out; international distributors should definitely take a look at this handsomely made conversation-starter which bows in France on February 3 and has pre-sold widely across Europe.
A Cuban who was sold and brought to Bilbao as an 8-year-old boy, we first meet the future Chocolat — real name Rafael Padilla — in 1897 in the North of France playing a teeth-baring cannibal in the ramshackle circus run by Monsieur and Madame Delveaux (Frédéric Pierrot, Noémie Lvovsky). He doesn't mind the easy work and enjoys a secret romance with cute young Camille (Alice de Lencquesaing). Courteous, fun-loving Rafael appeals to white women and, it must be said, there are not many black women around.
George Footit, an experienced clown whose latest gags don't impress Delveaux, sees Rafael in the circus ring and, inspired by the black man's supple physicality, proposes that they do an act together. Footit is a stern taskmaster devoted to his craft and Rafael is a devil-may-care fellow only too happy to coast on his natural gifts. There's comic chemistry in their sketches, which incorporate plenty of the white guy kicking the black guy and lots of falling down.
When Parisian circus impresario Oller (Oliver Gourmet) offers them a contract in his 1500-seat theater in the capital the duo is catapulted from the scruffy bigtop to the genuine big time. Footit and Chocolat (Rafael's stage name, which is both derogatory and catchy) are a sensation.
Chocolat goes in for tailored suits and a motorcar in addition to spending a fortune gambling. But when he's arrested as an illegal alien, beaten by police and thrown into a medieval prison, his cell mate — an intellectual from Haiti who mistakenly believed France was eager to put racial equality into practice — raises Chocolat's political conscience. After his release, Chocolat likes getting kicked less and less and aspires to conquer the legitimate stage.
Clotilde Hesme is very good as Marie, a widow with two children who bucks social norms to incorporate Chocolat into her life. Sy, who ages convincingly over a 20 year period, is energetic and appealing but also grave and troubled when required. The mutually beneficial but mostly unequal relationship between Footit and Chocolat pops off the screen in the circus numbers designed by Thiérrée and in the two characters' frequently tense offstage exchanges.
Until this film (and the book that inspired it) Chocolat's only lasting contribution to French life was the expression "être chocolat" ('to be chocolate') which entered the French dictionary in the late 1890s. It means to be fooled, taken advantage of or discriminated against. Chocolat was a star in an era when France claimed to be a standard bearer for human rights while also rationalising that its colonial holdings were just fine.
With the help of evocative production design and Paris locations, Zem and his cast have brought back to life an entertainment pioneer who was tragically forgotten by the time he died in 1917. Gabrel Yared's score is a plus.
Production companies: Mandarin Cinema, Gaumont, M6 Films, Korokoro
International sales: Gaumont
Producers: Eric Altmayer, Nicolas Altmayer
Screenplay: Cyril Gély, Olivier Gorce based on the book by Gérard Noiriel Cinematography: Thomas Lettelier
Editor: Monica Coleman
Production design: Jérémie D. Lignol
Music: Gabriel Yared
Main cast: Omar Sy, James Thiérrée, Clotile Hesme, Olivier Gourmet, Frédéric Pierrot, Noémie Lvovsky, Alice de Lencquesaing, Dominique Rabourdin