Dir. Yang Qing. China, 2016, 94 mins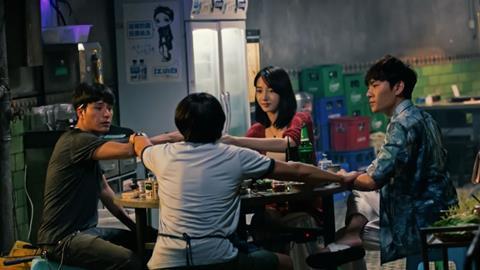 Seven years after his debut feature One Night In Supermarket, writer-director Yang Qing turns in another comedic crime caper set in his hometown of Chongqing. Featuring big-name stars and slick production values, Chongqing Hot Pot had adolescent audience members enraptured at its Hong Kong International Festival premiere. While scant characterisation and flailing tonal shifts may prevent the film from standing up to serious scrutiny, Yang is clearly out to have fun, and on that front his belated second feature certainly delivers.
Chongqing Hot Pot is all spice, with precious little meat
China Lion Entertainment has acquired the film for North America and is planning a day-and-date release with China on April 1. The star power of Bai Baihe (Monster Hunt) and Chen Kun (Flying Swords Of Dragon Gate) should see the film open strongly at home, while its flashy genre flair - that owes a greater debt to recent Korean thrillers than domestic offerings - could even see it reach beyond diaspora audiences overseas.
As its title might suggest, Chongqing Hot Pot leads with the specific intent of making the Southwesterly city a character in its story. An opening voiceover introduces the city's curious subterranean network of concrete bunkers and its inhabitants' love of hot pot, before any of its characters. Audiences are then thrown into the action as four masked individuals pull up outside a commercial bank and proceed to rob it. Only when they discover a tunnel leading from the bank's vault into this underground catacomb does Yang pause and bring us up to speed.
Three former schoolmates, Liu Bo (Chen Kun), Xu Dong (Qin Hao) and Four Eyes (Yu Entai) have jumped on the bandwagon and opened a hot pot restaurant in a converted bunker. Unfortunately, business has not been going well, and coupled with Liu Bo's suffocating gambling debts, has led them to the point of selling up and move out. A potential buyer has offered them an attractive price if they expand their cavernous eaterie further, and in the process of digging, the three lads inadvertently burrow into the vault of the neighbouring bank.
Not looking to rob the place, but rather to repair the damage done undetected, they enlist the help of Yu Xiaohui (Bai Baihe), a former classmate they have not seen since school, but who, as luck would have it, works at the bank. She agrees to engineer a diversion, giving Liu Bo and his friends enough time to fix the problem. But compounding contrivances, workplace discontent - and the aforementioned bank heist - see matters bottleneck into a bloody showdown between cops, robbers, gangsters and our well-meaning restauranteurs.
On its release in 2009, Yang's debut One Night In Supermarket drew favourable comparisons to Ning Hao's Crazy Stone (2006), another low-budget regional crime comedy that found surprise box office success. Chongqing Hot Pot is a similarly screwball caper, featuring a myriad disparate characters in a farcically labyrinthine plot, similar not only to Ning's work, but also the early work of Guy Ritchie or even Ealing Studios classics.
While those films took time to develop their characters, however, Yang presents us with simple archetypes, well-meaning bad-boy slackers, naive lovelorn beauties and snarling, chopper-wielding thugs. There is little distinction between Liu Bo and his pals, while a romantic sub-plot harking back to their schooldays and missing love note sits uncomfortably alongside some extremely violent action. An over-enthusiastic use of side-on and overheard tracking shots during bloody knife-fights down hallways and in rain storms appears to be taken, if not directly from a Park Chan-wook revenge thriller, than one of the innumerable knock-offs that have emerged from Korea in the decade since.
With more time given to developing characters, their motivations and histories, Chongqing Hot Pot could have been a genuinely stand-out genre entry, but as it stands Yang seems too often willing to coast by on the charms of his pin-up performers. Part cheeky boy-band comedy with excessive violence, part tough-guy heist flick weighed down by sappy high-school flashbacks, the film entertains on a superficial level, without ever truly satisfying. Much like the dish itself, Chongqing Hot Pot is all spice, with precious little meat.
Production companies: Wanda Pictures, New Classics Pictures, CKF Pictures, Hehe (Shanghai) Pictures, K. Pictures (Beijing), Heyi Pictures, Easy Entertainment Haining
International Sales: Distribution Workshop (Contact: virginia@distributionworkshop.com)
Producers: Tao Kun, James Li, Chen Kuofu
Executive Producers: Chang Chialu, Cao Huayi, Jerry Ye, Allen Zhu, Lu Yao
Screenplay: Yang Qing
Cinematographer: Bai Yuxia
Director of Photography: Liao 4wa
Editor: Li Nanyi
Original Music by Peng Fei and Zhao Yingjun
Art and costume Design: Lin Mu
Main Cast: Chen Kun, Bai Baihe, Qin Hao, Yu Entai