Brian Cox turns in a solid performance as Winston Churchill in this talky biopic set against the backdrop of the Second World War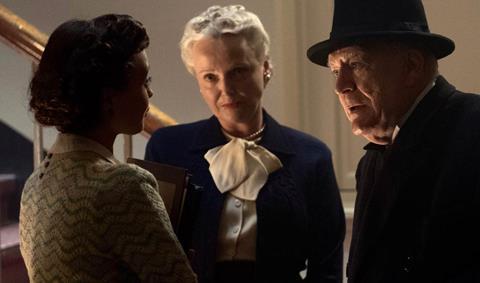 Dir: Jonathan Teplitzky. UK. 2017. 110mins

If Winston Churchill is, as the voters in a 2002 BBC poll decided, the 'greatest Briton that ever lived', then this film, which deals with the Prime Minister wrestling with his downgraded status and sidelining in the arena of world politics, has a contemporary resonance which is perhaps not what the filmmakers intended. It's hard not to see parallels between the blustering, harrumphing old man petulantly chewing on his cigar when he doesn't get his way and the UK itself as it teeters on the brink of Brexit.
The film's boldest move is to explore the side of the man that the film's core audience might not want to see
Although driven by a robust, screen-filling performance by Brian Cox, who not only captures the voice and mannerisms of Churchill but also the distinctive silhouette, the film is too ponderously paced and conventional to make much of an impact. Awards attention would likely help this solid, worthy picture connect with a broader audience but, as it stands. Churchill will likely play best with a older skewing crowd that doesn't mind that this talky war film unfolds in wood-paneled board rooms, gentlemen's clubs and on croquet lawns rather than on the battlefield.
The spectres of the First World War loom large over the Winston Churchill that we first encounter as he strolls with his wife Clementine (Miranda Richardson, excellent) across a deserted beach. The wind which sweeps off his trademark hat also carries with it the distant sounds of trench warfare - gunshots and anguished shouts - as Churchill is reminded of his part in the needless deaths of a generation of young men in the Great War. "I mustn't let it happen again," he growls to Clementine.
As the clock ticks towards D-Day, and General Eisenhower (John Slattery) and Field Marshal Montgomery (Julian Wadham) are united in the belief that a massive show of force is needed to halt the advance of the Germans, Churchill alone is racked with doubts. "This plan is for slaughter," he splutters.
It's an appropriately jowly performance. Churchill's once-sharp edges have been blurred by the single malt he sucks down as if it were tea; his expression is that of an elderly dog who has just woken up to discover that someone has stolen his bone. The film's boldest move is to explore the side of the man that the film's core audience - people who view him as a totemic figure - might not want to see: that he was fallible, depressive and prone to doubts.
Though compellingly acted for the most part, too many of the key scenes are leaden in pace, consisting as they do of verbose arguments between Churchill and his contemporaries over the nuts and bolts of 'Operation Overlord'. And given that the final outcome is historically well-known, there is little tension here. The pace isn't helped by a few too many slow motion shots of billowing cigar smoke or of Churchill wrestling his hat into submission.
The film is most successful - and the man most sympathetic - not when he is clashing with other alpha males but when he is being counseled — perhaps even bossed around — by his redoubtable wife. Richardson's 'Clemmie', with her clipped vowels, sensible perm and her bustling no-nonsense efficiency, is a brisk tonic in every scene in which she appears.
Production company: Salon Pictures, Tempo Productions Limited, Head Gear Films, Metrol Technology
International sales: Embankment info@embankmentfilms.com
Producers: Nick Taussig, Paul Van Carter, Piers Tempest
Screenplay: Alex von Tunzelmann
Cinematography: David Higgs
Editor: Chris Gill
Music Lorne Balfe
Production Design: Chris Roope
Main cast: Brian Cox, Miranda Richardson, John Slattery, Ella Purnell, Julian Wadham, Richard Durdan, James Purefoy