Rohit Shetty's extravagant take on 'The Comedy Of Errors' is an exercise in excess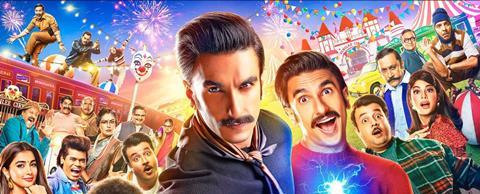 Dir: Rohit Shetty. India. 2022. 112min
Bollywood star director Rohit Shetty's big Christmas release Cirkus, about two pairs of identical twins, is more a case of double disaster than twice the fun. One would presume that, in looking to Shakespeare for inspiration, you'd have a safe story to fall back on. But here, and despite the presence of four credited writers (three for dialogue alone) the Bard's 'The Comedy of Errors' is turned into an unsalvageable hodgepodge.
An excruciatingly inane ride in which nothing makes much sense
Bollywood has had a disastrous 2022 with a string of big budget flops, and has been beaten on home turf by successful films from South India, in Tamil, Telugu, Kannada and Malayalam languages. It has had to contend with a backlash from conservative right-wing forces and constant threat of bans and boycott calls from amorphous moral police. Much hope rested on Cirkus, directed by the industry's hit-making machine Shetty; there was an expectation that his latest film, which releases in India and other territories on December 23, would see the industry begin 2023 on a high. Yet it feels more like another big miss than a likely hit.
Two sets of twins, both called Roy (played by Ranveer Singh) and Joy (played by Varun Sharma), have been unwittingly swapped at birth and, as adults, become embroiled in a series of comic mishaps arising from mistaken identity. One set of twins owns a circus in the hill town of Ooty in South India, in which this Roy performs an eyeroll of an electric act which has a direct impact on his long-lost twin brother, living miles away in Bangalore. Circus-owning Roy's wife Mala (Pooja Hegde) can't conceive and is desperate to adopt, while he puts much store in bloodline and lineage.
In Bangalore, the other Roy is under the scrutiny of the father of his girlfriend Bindu (Jacqueline Fernandez), and all hell breaks loose when he visits Ooty to buy a tea estate and is mistaken for his brother. Confusion is increased by a gang of crooks that has an eye on the cash he is carrying for the business deal. The resulting narrative is an excruciatingly inane ride in which nothing makes much sense. It's enough to make you long for the other versions of The Comedy Of Errors in Hindi cinema —Debu Sen's Do Dooni Chaar (Two Twos Are Four, 1968) and Gulzar's Angoor (1982) — both witty written and winsomely acted.
Cirkus, however, is populated by annoying characters played rough and loud by some of Hindi cinema's otherwise reliable actors including Sanjay Mishra and Johnny Lever. In his double role, Singh looks disinterested rather than invested, and Hedge and Fernandez have little else to do other than being arm candy and dance partners.
Excessiveness extends to every aspect of the film; the over-the-top production design, the overwrought period setting, kitschy sets, exaggerated costumes and utterly forgettable music. Even nature feels oversaturated in the film's frames. Ooty's verdant cover, in the brightest shade of green, seems to have been put under some odd photo filter. So fluorescent and saturated is the colour palette that the eyes sting.
Worst, however, is the liberty Shetty takes in using some of the most beloved Hindi classic songs, strewing the original versions indiscriminately — and, at times disrespectfully — throughout various points in the film.
Production companies: Reliance Entertainment, Rohit Shetty Picturez, T-Series Films
Contact: Reliance Entertainment re.info@relianceada.com
Producers: Bhushan Kumar, Rohit Shetty
Screenplay: Sachin Bedre, Vidhi Ghodgaonkar, Yunus Sajawal, Farhad Samji
Cinematography: Jomon T. John
Production Design: Swapnil Bhalerao, Madhur Madhavan
Editing: Bunty Nagi
Music: Badshah, D.J. Chetas, Lijo George, Devi Sri Prasad, Amar Mohile
Main cast: Ranveer Singh, Varun Sharma, Pooja Hegde, Jacqueline Fernandez, Sanjay Mishra, Johnny Lever, Mukesh Tiwari, Vrajesh Hirjee, Murali Sharma