Ho Wi Ding tells the story of a troubled man in reverse chronological order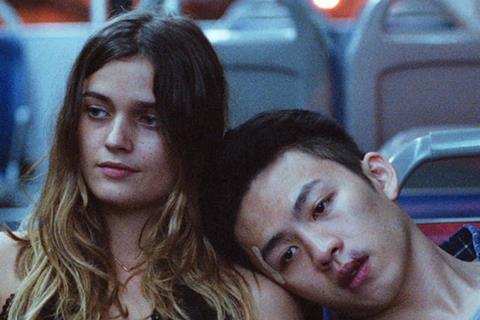 Dir/scr: Ho Wi Ding. Tai-Chi-USA-Fr. 2018. 107mins
Opening with a disillusioned ex-cop plummeting to a squelchy death on the concrete below his apartment building, the latest feature from Malaysia-born, Taiwan-based filmmaker Ho Wi Ding proceeds to explore the circumstances that sealed his protagonist's fate through reverse chronology. Structured as a triptych, with each section not only focusing on a different time period but also boldly playing with the tropes of a different genre, this international co-production is Ho's most ambitious effort to date. Those who have followed the director since his charming breakthrough feature Pinoy Sunday (2009) will find Cities of Last Things to be a jarringly exciting development, as Ho has recently specialized in undemanding crowd-pleasers like Our Sister Mambo (2015) and Beautiful Accident (2017).
The film is at its most arresting in its slick neo noir middle section
With a hypnotic aesthetic that fuses Tsai Ming-liang and Wong Kar-wai at their most despondent with the headlong plunge of Gaspar Noé, Cities of Last Things should make a splash on the festival circuit following its world premiere at Toronto. Commercial prospects may be limited as much by Ho's almost suffocating emphasis on deep-seated urban anguish as the challenge of marketing a mystery box narrative. Yet it's also the kind of highly stylized mood piece that gradually acquires admirers once available on streaming platforms.
It starts deep in dystopian sci-fi territory with Zhang Dong Ling (Jack Kao) wandering the neon-soaked mean streets of an unnamed city (presumably Taipei) as he wrestles with past humiliations and a desire for revenge. Before the night is done, the former police officer will fight bitterly with his estranged wife Yu Fang (Liu Juei-Chi), seek solace in the services of a prostitute who reminds him of a former lover, and settle an old score.
With elements of the story determinedly vague at this stage, viewers are more likely to focus on the details of this future world which tacitly comment on the state monitoring and Westernized consumer trends that are characteristic of today's Greater China. Implanted ID chips enable all activities to be recorded in incriminating detail, traditional areas have been gaudily modified, anti-ageing drugs are readily available to those who can afford them, while those seeking a better life, such as Zhang's daughter (Yin Shin), are moving overseas. Public service bulletins intended to deter citizens from committing suicide preach self-help, but are delivered in an electronic monotone that feels coldly propagandistic.
The film is at its most arresting in its slick neo noir middle section which goes back to when Zhang (now played by Lee Hong-Chi) was a promising rookie detective, only for his career to veer off-course following a feud with corrupt Vice Captain Shi Zhi Wei (Stone). In the melodramatic closing part, a teenage Zhang (Hsieh Chang-Ying) steals a motorcycle to make some quick cash and ends up crossing paths with notorious underworld figure Big Sister Wang (a tour de force from Ding Ning).
Cities of Last Things has a few obvious art-house antecedents. With its triptych approach, not to mention recurrent use of key events and motifs with subtle variations across time periods, it echoes Hou Hsiao-hsien's masterful Three Times (2005) while the futurist elements recall Jia Zhangke's similarly structured epic folly Mountains May Depart (2015). In this instance, some of the ripples in time smack of contrivance and narrowly prevent the film from achieving the behavioral depth that Ho seems to be striving for. However, the crime-orientated milieu gives the narrative a distinctly propulsive feel with Ho's indictment of failings at various societal levels rooted in vignettes of stunningly realized pulp fiction.
Mostly shooting at night, cinematographer Jean Louis Vialard maintains a consistent palette across the three sections while allowing the visual texture to soften as Ho travels back in time to periods that were not necessarily better politically, but at least presented more personal choice. This nocturnal ambience really hits its stride in the second section, with an impulsive dalliance with free-spirited shoplifter Ana (a mesmerizing Louise Grinberg) who takes Zhang on an pulsating odyssey through the city's druggy, techno-fueled underground party scene.
The three actors who embody Zhang may not look much, alike but nonetheless collectively project an emphatically pained aura. Sturdy veteran Kao brings real gravitas to the elder incarnation, a stubbornly analog man in a digital world. Rising talent Lee delivers on the natural promise shown in Thanatos, Drunk (2015) with a fierce display of rebellion, while newcomer Hsieh Chang-Ying tearfully nails the sense of abandonment that is at the root of the protagonist's resentment. For all the film's audacity, it's their demonstrations of related aspects of male vulnerability that emotionally bind Ho's take on how individual psychology is shaped over time by the pitfalls of urban space.
Production companies: Changhe Films, Ivanhoe Pictures, Hymn Pictures Co. Ltd, MM2 Entertainment Sdn Bhd, Kaohsiung Film Fund, Rumble Fish
International sales: Wild Bunch, https://www.wildbunch.biz/, obensalah@wildbunch.eu
Producers: Ho Wi Ding, Hu Chih-Hsin, Ronan Wong, Winnie Lau, Alexis Perrin, Chen Shih-Yong
Production design: Liao Yen-Chou, Maskun
Editing: Ho Wi Ding, Lee Huey
Cinematography: Jean Louis Vialard
Music: ROB
Main cast: Jack Kao, Lee Hong-Chi, Hsieh Chang-Ying, Louise Grinberg, Ding Ning, Lu Huang, Stone