A social realist debut from Kantemir Balagov is an intense film influenced by the Dardenne brothers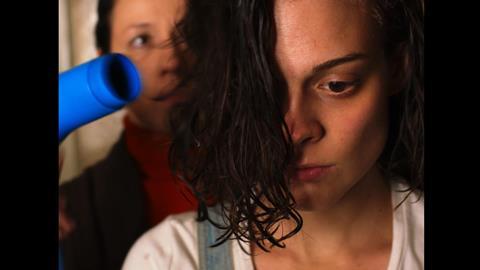 Dir Kantemir Balagov. Russia, 2017. 118mins
Kantemir Balagov studied under Aleksandr Sukurov who co-produces his intense debut feature Closeness (Tesnota), although the film itself reveals much more of the influence of the Dardenne brothers. Balagov has cited Palme d'Or winner Rosetta as an inspiration and Closeness similarly focuses on a young woman coping with the harsh realities of her life. It is a grim, gruelling two hours that might benefit from some editing but Balagov is clearly a talent to watch and festivals championing new discoveries will want to take note.
Darya Zhovner invests Ilana with a defiant spirit and a sense that she will not be broken no matter what happens
Balagov, who is from Nalchik, introduces a personal element into the film with opening and closing titles that tell us something about him and capture a sense of the area in which it unfolds. The story is set in 1998 in the Kabardino- Balkar Republic of northern Russia. Ilana (Darya Zhovner) works as a mechanic in her father's garage. She is a rebellious spirit, reluctant to ditch her dungarees when her mother Dina ( Olga Dragunova ) implores her to wear a dress. The early scenes are devoted to establishing a tight-knit Jewish family. There is a affectionate bond between Ilana and her father Avi (Artem Tsypin) and some playful roughhousing with her brother David (Veniamin Kats) who is about to announce his engagement.
Balagov offers that portrait of a close, loving family before detailing the events that will tear them apart.
On the night of the engagement, David and his fiancee are kidnapped. A ransom is demanded and the reactions of individuals and the wider community show the best and worst of human behaviour. Some seek to exploit the situation for gain, some are indifferent, others start to measure the worth of a life and the value of saving it.
Ilana finds that the kidnapping reinforces her belief that she is of secondary importance in the affections of her parents. It is she who is asked to make the sacrifices that might bring David back into their lives.
Filmed in the kind of grimy streets where hope never takes up residence, Closeness is very much a social realist drama. Life here is a constant struggle, sex is a grubby, rushed affair in a back corridor, tribal loyalties run deep and conflicts that have raged for two hundred years still feel immediate to many people. One lengthy sequence is devoted to reactions of people watching a DVD of executions in Chechnya.
Balagov's use of intimate close-ups and handheld camerawork feels confrontational, underlining that individuals are trapped in cramped homes and desperate circumstances they are unlikely ever to escape. Ilana is more trapped than anyone as a Jewish woman and a second child who doesn't want to conform to her family's expectations. Even her hulking Kalbardian boyfriend Zalim (Nazir Zhukov) seems to have been chosen for maximum irritation.
Darya Zhovner invests Ilana with a defiant spirit and a sense that she will not be broken no matter what happens. She makes for a fine contrast with Olga Dragunova as her mother whose silent resentment and glowering stares speak volumes about the heartbreak she feels as her world falls apart.
Production companies: Example Of Intonation, Len Film
International sales: Wild Bunch sales@wildbunch.eu
Producers: Nikolay Yankin, Aleksandr Sokurov
Screenplay: Kantemir Balagov, Anton Yarush
Cinematography: Artem Emelyanov
Production design:Alexey Paderin
Editor: Kantemir Bagalov
Main cast: Darya Zhovner, Olga Dragunova, Veniamin Kats, Artem Tsypin