Dirs. Longman Leung/Sunny Luk, 2016, Hong Kong, 110mins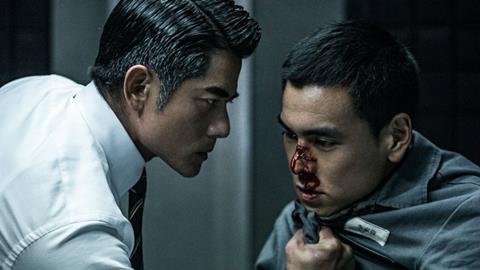 Four years after their debut feature Cold War became the most successful local release of 2012, writer-directors Longman Leung and Sunny Luk deliver a second round of tense confrontations and explosive altercations within the upper echelons of the Hong Kong Police Force. Aaron Kwok and Tony Leung Ka-fai return, headlining a cast packed with local star power, most notably Chow Yun Fat as a no-nonsense litigator who is brought in to grill Kwok's police commissioner after a high-profile prisoner escapes.
Leung and Luk tread incredibly carefully to ensure no mention is made of China
Cold War 2's roster of top-tier players, which also includes Eddie Peng, Charlie Young and Janice Man, should entice audiences back for more, while the film's up-scaled action quota will help it compete in a crowded summer marketplace dominated by Hollywood blockbusters. Opening day-and-date in Hong Kong, China and North America on July 8, as well as in a number of Asian territories, will also help the film make a strong impact. The only cause for concern may be if Hong Kong audiences, still reeling from the police's heavy-handed behaviour during 2014's Umbrella Revolution, prove reluctant to embrace heroic law enforcers again so soon.
Leung and Luk's previous instalment saw Deputy Commissioners Sean Lau (Aaron Kwok) and M.B. Lee (Tony Leung) lock horns over how to handle the kidnapping of five officers that triggered a wave of terror attacks across the city. After Lee's son Joe (Eddie Peng), one of the police hostages, was revealed to be in cahoots with the terrorists, Lau assumed command, while Lee stepped down in shame. In Cold War 2, Lau is now Police Commissioner, while Lee sits things out on pre-retirement leave. But when Lau's wife is kidnapped by Joe's gang, who demand his release, Lau botches the exchange and Joe manages to escape.
Whereas the first film pitted rival police departments against one another, Cold War 2 sees law enforcement go up against the city's legislature as Lau is reprimanded for his actions, with independent litigator Oswald Kan (Chow Yun Fat) brought in to oversee the hearings. The situation is further muddied when Lee is cajoled into returning to work by former Commissioner Choi (Chang Kuo Chu), whose shady cadre of power-mongers want Lee to replace Lau in their planned political reshuffle.
Thankfully, the writer-directors offset these scenes of confrontation over procedural anomalies by staging numerous sequences of high octane action in public places. Whether it be a bomb scare in a crowded MTR station, a shootout in a subterranean highway tunnel, or an explosive stand-off in an isolated scrapyard, the action in Cold War 2 - again overseen by Chin Ka Lok - is far superior to its predecessor.
Taut editing from editor Jordan Goldman, a veteran of multi-stranded US TV dramas like Homeland and Sons of Anarchy, keeps the film wound tightly throughout, while the input of co-screenwriter Jack Ng, frequent collaborator of Dante Lam, also helps effectively balance the drama and pyrotechnics.
The film stumbles, however, in taking itself too seriously. While it's obsessed with protocol and chain of command, there's no real logic in its characters' job descriptions. Janice Man's junior barrister, for example, spends much of the film tailing Lee around town, rather than helping Kan build his case, while Aarif Lee's ICAC anti-corruption investigator is recruited into a covert team reporting directly to Lau. Meanwhile, grandstanding speeches from all the principals can come across as overly earnest, especially when accompanied by Peter Kam's overwrought score.
Perhaps most interesting is that Leung and Luk tread incredibly carefully to ensure no mention is made of China, either in the upper echelons overseeing Lau's indictment, or as power players in Choi's covert collective. After numerous accusations in the press of interference in police operations as well as political decision-making, China's total absence from this picture, while sensible to securing it a mainland theatrical release, feels somewhat naive in Hong Kong's current climate.
Production companies: China Film Co. Ltd, Irresistible Beta Ltd, Edko (Beijing) Films Ltd, Edko Films Ltd, Tencent Penguin Pictures (Shanghai) Co. Ltd.
International sales: Edko Films Ltd, chiujulian@edkofilm.com.hk
Producers: Bill Kong, Ivy Ho, Jiang Ping
Executive Producers: La Peikang, Greg Basser, Bill Kong, Sun Zhanghuai
Screenplay: Longman Leung, Sunny Luk, Jack Ng
Cinematography: Jason Kwan
Editors: Jordan Goldman, Sun Chan
Music: Peter Kam
Production Design: Alex Mok
Action Director: Chin Ka Lok
Main Cast: Aaron Kwok, Tony Leung Ka Fai, Charlie Young, Janice Man, Eddie Peng Yuyan, Aarif Lee, Yo Yang, Chang Kuo Chu, Wu Yue, Fan Zhibo, Ma Yili, Bibi Zhou, Chow Yun Fat