Dir. David Frankel. US, 2016, 96 mins.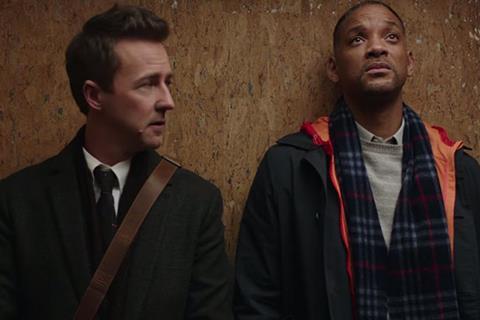 Saddled with more sentiment than even the festive season can excuse, Collateral Beauty corrals an all-star cast into the schmaltziest kind of year-end offering: a contemplative, everything-is-connected, savour-the-little-things drama with an all-star cast including Will Smith, Kate Winslet and Edward Norton.
Its life lessons are packaged with cloying, overt mawkishness which aren't quite the feel-good home run Frankel seems to expect.
However as much as this David Frankel-directed, Allan Loeb-written holiday effort tries to proffer a rosy, merry glow and peddle profundity, any affectionate feelings and thoughtful revelations remain as unconvincing and calculated as the underlying premise. By releasing in the US on December 16 (before a UK rollout on December 26, and most other territories by early February), Warner Bros either aims to lure in those immune to Rogue One: A Star Wars Story, or bury a lacklustre feature at a seasonally appropriate juncture, although counter-programming tactics could garner modest interest. Plus, Collateral Beauty's high-profile array of talent, which also includes Keira Knightley, Helen Mirren, Naomie Harris and Michael Peña, should help attract audiences.
Smith leads the ensemble by slipping into the same serious mode essayed in The Pursuit of Happyness and Seven Pounds — and toying with many of the same themes and elements as well. As New York advertising executive Howard Inlet, he's first seen regaling his staff with a rousing speech, though the brief glimpse of his debonair flair is short-lived. Cut to three years later, and Howard is a bereaved shadow of his former self, dedicating his time to building elaborate domino structures in an attempt to cope with a personal tragedy.
Cue concern from close friends and colleagues Claire (Winslet), Whit (Norton) and Simon (Peña), not only about his welfare, but about the state of the business as a lucrative takeover offer approaches. Enlisting a private detective (Ann Dowd) to track his moves and document his increasingly withdrawn, eccentric behavior, they try to amass the evidence needed to force Howard to relinquish control of his own company.
Pairing Smith's seen-before brand of affable sorrow with a tale of partially well-meaning, partially self-serving interference might seem an odd combination, but the first feature script from scribe and producer Loeb since 2012 Miley Cyrus vehicle So Undercover is just getting started, as is the ill-thought-out, supposedly kind-hearted subterfuge.
With former television director turned filmmaker Frankel (The Devil Wears Prada) known of late for playing with big emotions (Marley & Me, One Chance), he relishes Collateral Beauty as a chance to explore the impact of love, death and time on its wallowing protagonist. And, when Howard starts writing letters to these intangible notions, to give them human form - via Whit, who follows attractive actress Amy (Knightley) from an audition and persuades her and fellow aspiring thesps Brigitte (Mirren) and Raffi (Jacob Latimore) to turn the concepts into characters.
They're part of the plan to oust Howard, but no one counts on the strength of his reaction. Viewers won't be so surprised; there's little subtlety at play, ample foreshadowing, heavily piled-on symbolism, and no doubting the reaction the film intends to inspire, even when it's see-sawing between quirky, solemn and earnest. Pain-fuelled subplots giving Winslet's career-focused executive and Peña's dedicated family man some heft — and bringing Naomie Harris' grief support group leader into the mix — are similarly transparent.
Swaddled in warm tones by cinematographer Maryse Alberti (Creed), and accompanied by a heartstring tugging score by Theodore Shapiro (Ghostbusters), Collateral Beauty never manages to shake off its all-too-deliberate air or willingness to follow the easiest path. Its life lessons are packaged with cloying, overt mawkishness which aren't quite the feel-good home run Frankel seems to expect.
As their characters are told to notice the fleeting splendor that surrounds them, viewers watching can't help but wonder what enticed the cast — which could have once featured Hugh Jackman, Rooney Mara, Jason Segel and Rachel McAdams at earlier stages — to this ostensibly tender, frequently trite project.
Production companies: PalmStar Media, Likely Story, Anonymous Content, Overbrook Entertainment, Village Roadshow Pictures
Worldwide distribution: Warner Bros.
Producers: Anthony Bregman, Bard Dorros, Kevin Scott Frakes, Allan Loeb, Michael Sugar
Executive producers: Michael Bederman, Peter Cron, Buddy Patrick, Steven Pearl, Ankur Rungta
Screenwriter: Allan Loeb
Cinematographer: Maryse Alberti
Editor: Andrew Marcus
Music: Theodore Shapiro
Production designer: Beth Mickle
Costume designer: Leah Katznelson
Cast: Will Smith, Keira Knightley, Kate Winslet, Helen Mirren, Naomie Harris, Edward Norton, Michael Peña, Jacob Latimore