Dir: Nacho Vigalondo. Canada, 2015. 110mins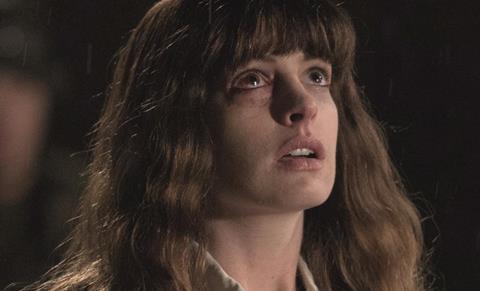 Anne Hathaway plays Gloria, a woman who realises that her beer-sodden nights of misbehaviour are somehow linked to a gigantic lizard monster which has started to terrorise the city of Seoul. And that's not even the most far-fetched element in a story which gets overtaken by its own giddy invention.
There is something quite endearing about the B movie aesthetic of the disaster sequences.
While the name recognition of Hathaway and co-stars Jason Sudeikis and Downton Abbey's Dan Stevens, combined with an out-there premise, will attract interest, this drama from Nacho Vigalondo (Timecrimes) lacks the crucial kernel of narrative credibility needed to ensure that a concept this high takes flight. Festival interest seems likely, particularly if the name talent offers support. Despite its undeniable curiosity value, however, the film may pose a marketing challenge as it is difficult to define and not satisfyingly slick enough to generate Being John Malkovich levels of positive word of mouth.
A brief glimpse of the monster at the film's opening leaves us in no doubt that this creature walks in the giant scaly footsteps of Godzilla. (That film's production company Toho thought the same, launching legal proceedings against this project in May 2015; the case was settled out of court in October that year.)
The film then skips forward 25 years to contemporary New York, where Gloria is battling her own monsters, most of which can be found in a vodka bottle. Her long-suffering boyfriend Tim (Stevens) has had enough, and packs her bags for her. Gloria finds herself in an empty house in the small town where she grew up, nursing the cumulative hangover from a year-long party. By chance, she reconnects with sweet-natured former schoolfriend Oscar (Sudeikis), now the proprietor of his father's bar. Through him, she finds a new gang of drinking buddies to accompany her on her fast track to rock bottom. One night, after a particularly heavy binge, Gloria wakes to the news that a giant monster has staggered around downtown Seoul, causing havoc. This starts to happen regularly, and, in a rare moment of sobriety, Gloria identifies a unlikely connection to her own life.
The trick to pulling off a narrative device as far-fetched as this - something like a portal into the head of John Malkovich, for example - is to keep a matter-of-fact, almost mundane realism to the rest of the film. Yet a series of illogical leaps, plus some glaring inconsistencies in characters (particularly that of Oscar) undermine the flow of this story. Oscar's trajectory, from nice guy to something altogether darker, is central to the narrative, but it's a character swing which feels almost as unlikely a plot device as the giant lizard which stumbles drunkenly around South Korea on a nightly basis.
The special effects are unpolished, but this hardly matters as Vigalondo ensures that the creatures that crush Seoul are mainly viewed through footage captured on mobile phones. In fact, there is something quite endearing about the B movie aesthetic of the disaster sequences. The third act unravels into chaos, however, and, for all its originality, the film fails to leave much of an impression.
Production company: Brightlight Pictures
International sales: Voltage pictures office@voltagepictures.com
Producers: Nahikari Ipiña, Nicolas Chartier, Zev Foreman, Dominic Rustam, Russell Levine, Shawn Williamson
Screenplay: Nacho Vigalondo
Cinematography: Eric Kress
Editors: Luke Doolan, Ben Baudhuin
Production design: Susan Chan
Original score: Bear McCreary
Main cast: Anne Hathaway, Jason Sudeikis, Dan Stevens, Austin Stowell, Tim Blake Nelson