Slow-moving Georgian drama centred around two formerly close friends whose paths have diverged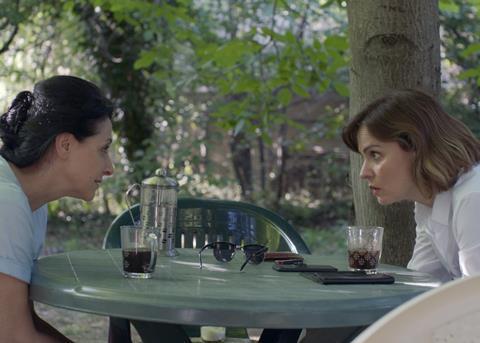 Dir. Tamar Shavgulidze. Georgia. 2019. 70 mins
This restrained drama from Georgia observes a reunion between two middle-aged women who, inseparable in adolescence, parted when their paths diverged. Languid flashbacks hint at intertwined histories, as do the long, locked shots of people exchanging pointed glances across tables. Apart from a coda which is apparently culled from a 1980s television sci fi, the film unfolds, at extreme leisure, in a single location – a summer house where Nana (Ketevan Gegeshidze) and her family have always retreated to escape the oppressive heat of Tbilisi. As such, this is not a work which screams cinema.
A challenge that the actors struggle to meet
The cautious claustrophobia of the halting encounter gets a little lost within the frame. One wonders whether this is an idea which might be better suited to theatre. Certainly, while the film may attract some interest on the festival circuit, it does seem like a footnote when placed alongside some of the more distinctive and assertive new voices which have emerged from Georgian cinema over the last couple of years (notably Ana Urushadze's Scary Mother and Levan Akin's And Then We Danced).
The film opens with a quote lifted from Sylvia Plath's poem The Night Dances. The lines are pretty but, given that the poem is about Plath's toddler son, it's not immediately clear what they have to do with the enigmatic film with follows.
With a timeline which is lazily looping rather than linear, the picture opens with shots of two girls luxuriating in an enervated summer daze. This is followed by a contemplative wide shot of a house with an outside table. A young woman, Irina (Ekaterine Kalatozishvili) emerges, coffee cup clutched like a talisman, and glowers through her sunglasses into the book she is reading. It's not immediately clear that the two scenes are three decades apart. Her mother, Nana, joins her, and starts to sort through the fruit she has gathered in her apron. She smiles benignly at her daughter, who is lashing out at the world following a row with her boyfriend. Shortly after Irina stomps off to the shops, a taxi pulls up and a chic older woman gets out. She too is named Irina (Nino Kasradze). And from the hardening of Nana's expression as she turns away, it's clear that there is a history between them.
We learn more from the flashbacks which flicker through the picture than we initially do from the conversation between the two women. "Have you had chickens for a long time?" asks Irina, who has lead a cosmopolitan existence, dipping between Berlin and Lisbon. There's a sense that they are talking around the things that they really want to say. Once the question of poultry ownership has been cleared up, they tentatively talk about the elephant on the sun-dappled verandah – the kisses that they shared as teenagers which melded them together even as they pulled apart to live very different lives.
This kind of understated writing and low key direction places a burden on the performance aspect of the film. But with the stillness and impassivity of the central characters, it's a challenge that the actors struggle to meet.
Production company: Nushi Films
International sales: nushi.film@gmail.com
Producer: Tekla Machavariani, Aleksandre Shervashidze
Screenplay: Tamar Shavgulidze
Cinematography: Giorgi Shvelidze
Editor: Nodar Nozadze
Production design: Salome Skhirtladze
Music: Natia Sartania
Main cast: Ketevan Gegeshidze, Nino Kasradze, Ekaterine Kalatozishvili, Mariam Iremashvili, Nina Mazodier, Nino Chichinadze, Irina Jordania, Aleksandre Kviria