Dir. Joshua Marston. US, 2015. 90 mins.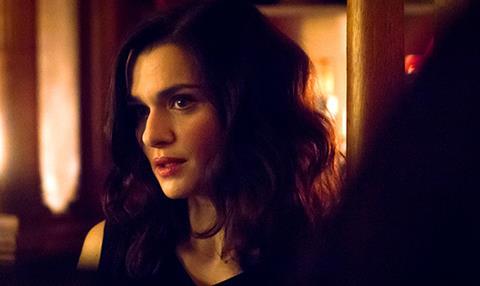 This intriguing, intimate drama from the director of Maria Full of Grace and The Forgiveness of Blood is a smart and skillfully conceived look at the fluidity of identity and the challenges and rewards of reconfiguring one's life. Though a major shift in tone and style from his previous movies, Marston displays an assured sense of direction with his latest film. Here, the traces of melodrama are gone, replaced with the subtle exchanging of glances and a touch of playfulness.
Refreshingly, there is no clichéd love story or illicit thriller that emerges
Such shifts may make Complete Unknown a more challenging sell in the marketplace than Maria, but with a terrific lead performance from Rachel Weisz, slick visuals, and a captivating story that pivots in some unexpected ways, it could prove to be a modest mover in arthouses, both in the US and internationally. Five years since his last feature, Marston's return to big-screen filmmaking is long overdue.
The film opens with a montage of a woman (Weisz) taking on various guises and occupations: first, she's a hippie botanist with her hair in dreadlocks; then she's a concerned nurse in a trauma unit; and then she's a Chinese magician's beautiful assistant, disappearing through a trapdoor.
One day, this enigmatic woman, Alice, enters the life of a mild-mannered New York policy wonk, who invites her to his friend Tom's (Michael Shannon) birthday party. At the gathering, she charms them all with tales of her work as a biologist, and captivates them like a siren with the recordings of frogs that she's studying. But as soon as Tom catches sight of her, uneasiness fills the room. He looks at her suspiciously and begins to subtly poke holes in her personal narrative. When was she in college? How long was she in Tasmania? When did she last see her family? Soon, the secret is revealed about this charismatic, chameleon-like woman. And over one night, Tom finds himself drawn, momentarily, into her lonely life of illusions and new beginnings.
Complete Unknown is extremely deft and conventionally compelling in its first act, with audiences eager to figure out what is motivating Alice, and if and when the partygoers will catch on to her ruse. Once the script discloses who Alice is, however, the movie goes into less expected territory. Refreshingly, there is no clichéd love story or illicit thriller that emerges; Marston is pursuing ideas that are far more personal and philosophical, about the masquerade of identity and what it means to that identity when you make a significant change in your life.
Fortunately, Marston manages to avoid pretention. In fact, one of the best scenes is surprisingly light, when Tom and Alice help an old woman (Kathy Bates), who has fallen on the street, back into her apartment. There, her husband (Danny Glover) likes to rib his guests with untruths, while Alice introduces Tom as Tony, an osteopath who can examine her arthritic bones. Unbeknownst even to him, he comes across as a competent doctor. Everyone lies sometimes, the script suggests, and hidden within those lies are often some truths.
It's hard to imagine Complete Unknown working as well as it does without Weisz in the lead role. She is equally adept at embodying some kind of ideal vision of a woman—charming, intelligent, and sociable—as she is revealing the vulnerabilities and insecurities that exist underneath her alluring surface. She also lends just the right level of slyness to the character—a deviousness without being threatening.
For his part, Shannon doesn't seem to be the best match for Weisz, but he delivers a credible performance of a man at a crossroads, who is less seduced by and simply more curious about this woman who has re-entered his life. There isn't exactly heated chemistry between the two, but there are lots of multi-layered looks, communicating layers of meanings that words couldn't express.
Exquisitely shot by Greek cinematographer Christos Voudouris (Before Midnight, Alps), the film has a cool and mysterious look, with lots of out-of-focus backgrounds and shooting into beveled windows and mirrors, clearly meant to reflect Alice's blurry existence. An engaging, though perhaps slight movie, Complete Unknown is shrewd filmmaking for sophisticated audiences.
Production Companies: Amazon Studios, Parts & Labor, Great Point Media
International sales: Protagonist Pictures, info@protagonistpictures.com
Screenwriters: Joshua Marston, Julian Sheppard
Executive Producers: Robert Halmi Jr., Jim Reeve
Producers: Lucas Joaquin, Jay Van Hoy, Lars Knudsen
Cinematographer: Christos Voudouris
Editor: Malcolm Jamieson
Music: Daniel Bensi Saunder Jurriaans
Main Cast: Rachel Weisz, Michael Shannon, Kathy Bates, Danny Glover, Michael Chernus