Korea's Oscar hopeful is a dynamic dystopian disaster move set in a post-earthquake apartment building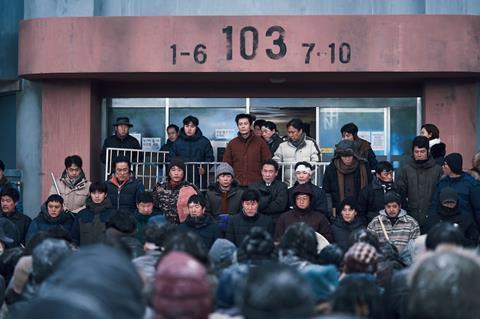 Dir: Um Tae-hwa. South Korea. 2023. 130mins
Surviving an earthquake is nothing compared to the challenges that follow in Concrete Utopia, Um Tae-hwa's dystopian disaster movie which focuses on the aftermath as survivors try to create a new social order in the last apartment complex still standing in Seoul. A slick, inventive blend of jeopardy, violence and black comedy gains further appeal from the echoes of J. G. Ballard's High Rise and elements of biting satire in the style of Triangle Of Sadness. South Korea's Oscar selection has already proved a commercial hit on its domestic release in August and should attract international buyers and audiences following festival screenings including Toronto and Sitges.
A slick, inventive blend of jeopardy, violence and black comedy
Um Tae-hwa's first feature since Vanishing Time: A Boy Who Returned (2016) is based on Kim Soong-Nyung's webtoon 'Cheerful Outcast Part II, Cheerful Neighbour'. It begins with a modest paean to the virtues of the apartment block as an aspirational living space representing social progress and status. The ironic use of 'Home Sweet Home' on the soundtrack sets the tone for a film that will show that a South Korean apartment is a fortress worth defending with your life.
Dynamic, sharply edited opening sequences see an earthquake hitting Seoul and destroying virtually everything in its path. In the grey pall of twisted, smoking rubble, wreckage and death, the one place still upright is the Hwang Gung apartment complex. The residents wait for rescue to arrive. They have no means of contacting the wider world, no notion of how extensive the damage is or what exactly has happened. The viewer remains in the same state of ignorance.
Nurse Myung-hwa (Park Bo-young) and her husband Min-sung (Park Seo-jun), a former civil servant, are among those who feel lucky to be alive. Her immediate instinct is to provide help for others, his is to focus on survival. Those traits will define their characters as the full horrors of life after the earthquake begin to take shape.
Finite resources start to dwindle and there is no sign of help arriving. It becomes apparent that someone needs to take charge of the situation. Kim Young-Tak (Lee Byung-Hun) is elected delegate for the complex, and is soon establishing regulations and arranging rationing. He also initiates a policy that the complex should be for residents only, with everyone else banished to their fate in the freezing cold ruins of Seoul. It is the start of a process in which the veneer of a civilised order is stripped away and a chaotic, dog-eat-dog ethos starts to prevail.
We always assume the aftermath of this earthquake will serve as a breeding ground for a return to savagery and the survival of the fittest. Um Tae-hwa carries off a predictable scenario with flair; maintaining the narrative momentum, testing the characters with impossible moral dilemmas and throwing in fresh twists. A sprinkling of character-revealing flashbacks keeps everything on the boil. The earliest part of the film seems infused with the comic zest of a Joe Dante or Roger Corman production but that mood shifts to something darker and more vicious as reality sets in. Um Tae-hwa successfully negotiates the gear change with some startling moments of bloodshed and also finds the poignancy in individuals confronted by their own inadequacies
Cinematographer Cho Hyoung-rae serves the story as the ash grey tones of a ruined Seoul contrast with the bright daylight of the flashbacks or the warming glow of safety in the individual apartments. Lee Byung-Hun heads a strong cast, investing his increasingly psychotic character with a ruthless, unyielding determination. Park Bo-young and Park Seo-jun win sympathy for a couple facing events that bring out the best and the worst in them. The well-drawn characters, clever plotting and sting of social commentary in a tale of pride and property create an entertaining film that could follow in the wake of Parasite, Squid Game and other South Korean success stories.
Production companies: B H Entertainment, Climax Studio
International sales: Lotte Entertainment. international02@lotte.net
Producer: Byun Seung-min
Screenplay: Lee Shin-ji,Um Tae-hwa
Cinematography: Cho Hyoung-rae
Production design: Cho Hwa-sung
Editing: Han Mee-yeon
Music: Kim Hae-won
Main cast: Lee Byung-Hun, Park Seo-jun, Park Bo-young