Lionel Baier sets a sentimental mother-son drama against the backdrop of a divided Europe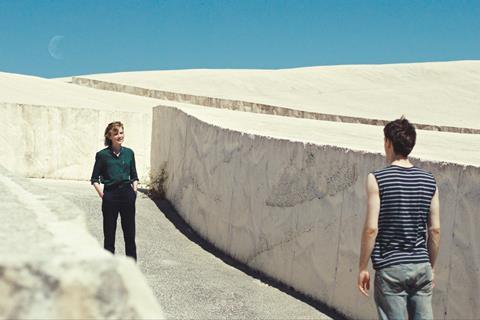 Dir: Lionel Baier. Switzerland/France. 2022. 89 mins

If a warring mother and son can't settle their differences then what hope for humanity? The third film in Lionel Baier's planned tetralogy, Continental Drift (La Dérive Des Continents (Au Sud)) confronts divisions in Europe through the microcosm of personal problems. Droll satire at the expense of cynical bureaucrats and opportunistic politicians sits alongside attractive locations and charismatic central performances from Isabelle Carré and Théodore Pellerin. Yet, however likeable, this mild-mannered tale still lacks the depth or bite to make a substantial impact on theatrical audiences. A Cannes world premiere is to be followed by a French release via Les Films Du Losange on August 31st.
Has a busy plot that finds easy solutions to complex issues and turns towards the sentimental
Intent on creating an "emotional map" of Europe, Baier has previously given us Stealth (Comme des Voleurs (À L'est), 2006) and Longwave (Les Grandes Ondes (À L'ouest), 2013) as part of his tetralogy. Continental Drift casts Isabelle Carré as Nathalie Adler, a European Commission liaison officer in the Sicily of 2020. Early scenes of blue skies and sunshine are overlaid with pronouncements of Matteo Salvini declaring ports closed to boats carrying migrants and promising an end to the 'invasion' of Italy. Nathalie is still a believer in European-wide solutions to global issues, even when faced with the frustrations of arranging an impromptu visit to a migrant centre by Chancellor Merkel and President Macron.
There is a good deal of comic capital in trying to accommodate the wishes of their respective special advisers, who are shameless in manipulating circumstances for a better photo opportunity. Any detention camp must appear scruffy, impoverished and populated by photogenic migrants grateful for their salvation. Anyone smart or articulate should be kept from view. Everything must be controlled to the last detail, but never appear pre-planned.
As the preparations advance, Nathalie is unexpectedly reunited with her son Albert (Théodore Pellerin, who brings a mixture of immature bluster and emotional fragility to the character.) A hot-headed idealist working for the NGO World Citizen, Albert bitterly resents the mother who abandoned him and his father when he was a child, and is incensed that she is a lesbian. He dismisses her as another "Brussels bureaucrat". Ursina Lardi gives a delightful supporting performance as Isabelle's sometime girlfriend and German special advisor Ute, who proves more than a match for Albert's jibes and insinuations.
As the plans for the visit start to unravel, Nathalie engineers the opportunity to spend time with Albert. Their arguments and attempts to reconcile are played out in some striking locations bathed in the white sunlight of Sicily. Alberto Burri's blanket of white concrete over the destroyed town of Gibellina creates a maze-like structure that seems an appropriate place for them to navigate and find common ground.
Continental Drift has some amusing moments and shines in the more melancholy, introspective scenes, including a lovelorn Nathalie's night-time stroll in Catania as Nina Simone's 'The Other Woman' swells on the soundtrack. Elisabeth Owona stops the show as a migrant finally given a chance to demand answers to her questions and concerns. Her appearance is like a slap to the face and has an impact rarely matched in the rest of the film.
Pleasantly entertaining, Continental Drift has a busy plot that finds easy solutions to complex issues and turns towards the sentimental as understanding grows between Nathalie and Albert. A little more astringency would have been welcome.
Production companies: Bandita Films
International sales: Les Films du Losange. a.lesort@filmsdulosange.fr
Producers: Pauline Gygax, Max Karli
Screenplay: Lionel Baier, Laurent Larivière
Production design: Béatrice Scarpato
Cinematography: Josee Deshaies
Editing: Pauline Gaillard
Main cast: Isabelle Carré, Théodore Pellerin, Ursina Lardi, Ivan Georgiev