Live action and CGI animation seamlessly combine in this modern retelling of the 150-year-old ballet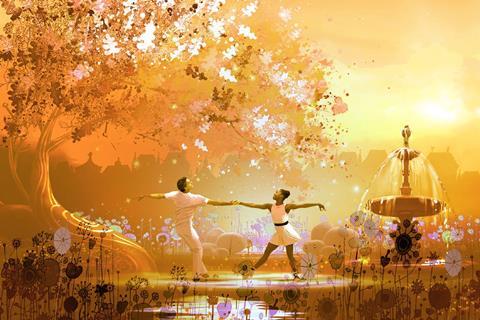 Dirs/scr: Jeff Tudor, Steven De Beul, Ben Tesseur. Netherlands-Germany-Belgium. 2021. 82mins
More than 150 years since it debuted in Paris in May 1870, the comic ballet 'Coppelia' — in which a young man becomes so infatuated with a life-size dancing doll that he forgets about his true love — has much which still resonates. This latest interpretation, a blend of live action and animation, is inspired by the 2016 version for the Dutch National Ballet created by Ted Brandsen (who also choreographs here) and leans heavily into modern concerns of fabricated image and the corruption of beauty, while staying true to the original story.
This is not a musical but a cinematic ballet, and the story is told entirely through dance and music
The film gets a sneak preview at Annecy, with US distributor Shout! Studios planning a release later in the year, and should attract attention for its colourful, seamless blend of styles. A dialogue-free, dance-driven narrative may not win all hearts, there's much to beguile ballet fans, and those with a passing interest may well have their heads turned. Young audiences should be particularly smitten with its Disney-esque charms.
Here, toymaker Doctor Coppelius (a delicious campy Vito Mazzeo) has become something of a plastic surgeon, obsessed with constructing the perfect robot doll, Coppelia. That his creation is reminiscent of Lisa Marie's pneumatic martian girl in Mars Attacks — all high blonde hair and minuscule waist — gives you an indication of the pantomime tone of his villainy. (That, and the habitual twirling of his moustache at key moments). Indeed, everything about Coppelia is unashamedly, necessarily exaggerated; this is not a musical but a cinematic ballet, and the story is told entirely through dance and music. It's a credit to both Brandsen and composer Maurizio Malagnini — not to mention cinematographer Tristan Oliver, whose camera moves as fluidly as the dancers — that it all flows so easily.
The Dutch Ballet's Michaela DePrince is front-and-centre as Swan (truncated from the original Swanhilda), the young woman who watches as her entire town, including her mother (Glynis Terborg), the mayor (Darcey Bussell) and her true love Franz (Daniel Carmago), falls under the spell of Coppelius, who needs to harvest human qualities to imbue his robotic creation with life. Tempting the inhabitants with the promise of unnatural beauty — literally, as his machine turns them into uncannily perfect CGI avatars — Coppelius takes away their individuality and makes them all into self-obsessed automatons. By embracing her human qualities, Swan is able to resist and find a way to save Franz.
The film's traditional themes of beauty being skin deep and staying true to yourself are given a decidedly feminist edge thanks to Swan's determination to both love herself and save the day, all filtered through a cutting edge animation technique which places the dancers in a fantastical animated world.
Animation producers Submarine Animation (Netherlands), MotionWorks (Germany) and Lunanime (Belgium) have worked alongside dance specialists 3 Minutes West on the film. Two-dimensional backdrops play host to impressive three-dimensional elements; including Coppelius's gigantic lair, populated by an army of female robots marching on their ballet pointes. Also impressive is the smooth way in which these live and animated elements blend together; Coppelius dancing with the entirely-animated Coppelia, Swan picking her way carefully through the labyrinthine corridors of Coppelius's base. And as the music — performed by the BBC Concert Orchestra — swells and the dancers perform their impressive feats, it's impossible not to be caught up in the beautiful fantasy of it all.
Production companies: Submarine Amsterdam, 3 Minutes West
International sales: Urban Distribution International sales@urbangroup.biz
Producers: Bruno Felix, Janneke van de Kerkhof, Femke Wilting
Cinematographer: Tristan Oliver
Editor: Michiel Reichwein
Production design: Vincent de Pater
Music: Maurizio Malagnini
Main cast: Michaela DePrince, Vito Mazzeo, Glynis Terborg, Darcey Bussell, Daniel Carmago