The HR department is the centre of this French boardroom thriller which gives Céline Sallette a showcase role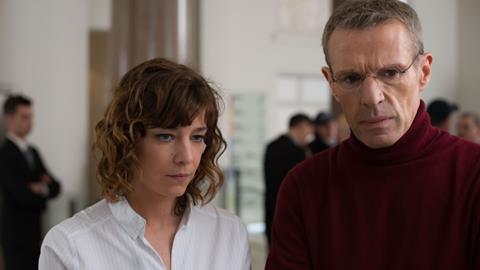 Dir. Nicolas Silhol. France. 2016. 95 min
A mostly satisfying boardroom thriller about greed and guilt, Corporate aims low and mainly hits its mark. Director Nicolas Silhol's feature debut grants actress Céline Sallette a role well tailored to her talents, but is an otherwise modest film and, in turn, offers relatively modest pleasures. The film already completed its theatrical run in France, and a Karlovy Vary berth could mark the end of its big-screen career. It will make a good candidate for VOD and streaming services going forward, particularly in French speaking markets.
The film hits every beat that one would expect, but it does so with grounded authenticity
Most films do not require pre-existing knowledge of the French worker's code, so in that sense Corporate stands unique. Sallette stars as Emilie, a human resources hitwoman at a giant multinational. Because of France's strong worker protection laws, callous corporations have a much harder time firing with impunity. That's where ice-queen Emilie comes in. She's sent to needle and cajole and to get whatever targeted employee to decide—on his or her own, of course – that maybe it's best to move on.
Things go awry when one such employee decides to kill himself rather than acquiesce to HR's strong-arm insinuations, leaving Emilie wracked with guilt and her even chillier superior (played by Lambert Wilson) looking for someone to blame. Corporate intrigue then follows, as Emilie must decide whether to follow her lucrative party line or collaborate with the strident worker's rights advocate investigating the case.
The film hits every beat that one would expect, but it does so with grounded authenticity. Silhol, who co-wrote the script with Nicolas Fleureau, is the son of an HR consultant and a management professor, and he fleshes out this world with clarity and expertise. He's a more perfunctory dramaturgist, however. The script lays out the terms of the conflict and then goes about resolving them with well-timed efficiency, adding no more or less than what is necessary in order to bring the story to its inevitable close. The film's ostensibly searing message – that corporate culture can be ruthlessly dehumanising – is certainly true, though hardly a revelation.
Star of Betrand Bonello's House of Tolerance and television's The Returned, Sallette can play haunted and distraught like no other actor in France, and she's right in her wheelhouse here, while Lambert is pleasantly smarmy as the firm's oleaginous boss. Locations and set design are true to the film's setting, meaning that Corporate is a visually unremarkable affair. Most of the action takes place in nondescript, florescent offices and the most of the characters are clad in sedate business attire, something which will play better on the small screen.
Production company: Kazak Productions
International sales: Indie Sales, chugot@indiesales.eu
Producer: Jean-Christophe Reymond
Screenplay: Nicolas Silhol, Nicolas Fleureau
Cinematography: Nicolas Gaurin
Production design: Sidney Dubois
Editor: Florence Bresson
Music: Mike Kourtzer, Fabien Kourtzer, Alexandre Saada
Main cast: Céline Sallette, Lambert Wilson, Stéphane De Groodt, Violaine Fumeau, Alice de Lencquesaing