Lily Franky plays a Japanese widower on a sentimental journey to England's Lake Windermere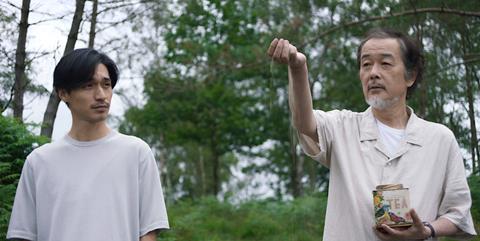 Dir/scr: Patrick Dickinson. UK/Japan. 2022. 94 mins
Fulfilling a last wish is the start to the road of reconciliation for a father and son in Patrick Dickinson's sensitive family drama, which is delicately composed and elevated by a touching performance from Lily Franky that should help raise its international profile. Winner of Best First Film in Rome, Cottontail does not hold any great surprises and, while understanted and full of grace, also lacks bite. Having sold to multiple territories including North America and Japan, its gentle, unassuming nature might prove a challenge in a cutthroat theatrical landscape; streamers could provide a warmer welcome.
While it is understanted and full of grace, it also lacks bite
Developed from Dickinson's admired, semi-autobiographical short Usagi-San (2013), and once announced to star Ken Watanabe, Cottontail begins in Tokyo where widower Kenzaburo (Lily Franky) is adrift after the death of his wife Akiko (Tae Kimura). Kenzaburo often seems to inhabit his own little world; stepping outside his apartment is an assault on the senses, with the sounds of the city stampeding towards him. He is surprised to be handed a letter in which Akiko makes one last request. She wishes her ashes to be scattered at England's Lake Windermere, the site of a cherished childhood holiday in the 1960s and the place where she first became acquainted with the tales of Beatrix Potter.
Kenzaburo plans to undertake the journey on his own but finds himself unable to refuse his son Toshi (Ryo Nishikido) the chance to accompany him. Toshi's wife and daughter are also along for the journey. Once in London, Kenzaburo manages to give his family the slip and embark on a trip that threatens to become a Harold Fry-type pilgrimage. En route, he meets farmer John (Ciaran Hinds), himself a recent widower, and his kindly daughter Mary (Aoife Hinds).
Cinematographer Mark Wolf provides attractive backdrops as he captures the verdant beauty of rural England and the unpredictable turns of the weather. Dickinson strives to emulate a Japanese master like Ozu in his stripped-back focus on the humanity of the characters and the family ties that bind. Yet he does not quite do justice to the relationship between Kenzaburo and his son Toshi.
Kenzaburo seems to connect with strangers in a way he finds impossible with Toshi. Feeling both protective of the boy and inadequate as a parent, he has constantly pushed him away. There is an emotional and physical separation of the father and son that runs throughout the film. Old ways seem to have trapped them both, with Kenzaburo someone who would rather drown his sorrows and keep his peace than talk about things. Dickinson slightly rushes the story's emotional beats, and devoting more time to Toshi's perspective might have achieved more balance to the depiction of their relationship and delivered a greater dramatic pay-off.
Throughout, Lily Franky brings a great deal of rumpled, wounded charm to Kenzaburo. He has the ability to suggest someone who has been knocked off balance and is woozily making his way through the world, sifting through memories of the past. The film is marbled with flashbacks from the first cute, awkward meeting between the young Kenzaburo (Kosei Kudo) and Akiko (Yuri Tsunematsu) and the more painful recollections of the adult Akiko suffering through the Alzheimer's diagnosis that would ultimately claim her life. Dickinson makes effective use of the 2.39:1 ratio to capture vast close-ups of Kenzaburo's anguish and his inability to verbally express his feelings, Franky conveying a good deal of the character through his dead-eyed stares, wistful looks and wry smiles.
Production companies: Magnolia Mae Films, Office Shirous, Brouhaha Entertainment, Written Rock Film, MBK Productions
International sales: Westend Films info@westendfilms.com
Producers: Gabrielle Tana, Kosuke Oshida, Carolyn Marks Blackwood, Helene Theodoly
Cinematography: Mark Wolf
Production design: Matthew Button, Kentaro Kosaka
Editing: Andy Jadavji
Music: Stefan Gregory
Main cast: Lily Franky, Ryo Nishikido, Tae Kimura, Rin Takanashi