Dir. Ariel Vromen. US, 2016, 113 mins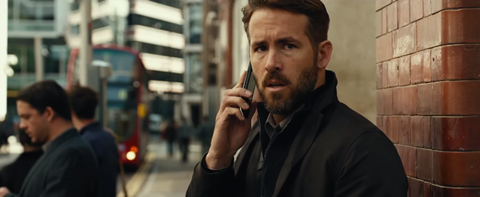 Gary Oldman, Kevin Costner and Tommy Lee-Jones blow the cobwebs off their careers in the hokey thriller Criminal, bolstered by brief appearances from fresher faces such as Ryan Reynolds, Michael Pitt and Wonder Woman Gal Gadot. An awkward memory-transplant thriller which could have done with its own intelligence graft, this UK-shot Millennium Films drama will rely heavily on star-power on theatrical release through Lionsgate on April 15, looking to healthy returns on VOD where its leads now have their greatest cachet.
It's easy to sympathise with Jerico's throbbing headache as he wonders who he is and how did he get here
Apart from Gadot in an all-too-brief supporting role, the lumbering all-male cast fuels a film straight out of the Cannon Films, all-action B-feature playbook. Billed as "the story of the right man in the wrong body", written by Douglas Cook and David Weisberg (The Rock) and directed by Ariel Vromen (The Iceman), Criminal is centred around an unlikely doctor, a "maverick neurosurgeon" played by Tommy Lee-Jones, who transplants the memories of a murdered CIA operative (Ryan Reynolds) into a psychopathic death row convict named Jerico (Kevin Costner).
Criminal's plot – played out with a po-face - is perhaps better suited to a sci-fi channel pilot, although the heavy-duty cast demands a full theatrical roll-out, in a vein similar to last April's Child 44, also featuring Oldman and released by Lionsgate which managed $13m globally on theatrical release. Indeed, Criminal may well transplant successfully to the small screen, where it has the potential to go further
Criminal kicks off with CIA agent Bill Pope (Reynolds) coming to a grisly, bloody end (the film has a 15 cert in the UK) while tracking down a hacker named The Dutchman (Pitt) who has devised some sort of fiendish back door to take over the entire US nuclear military command. A sadistic anarchist (Jordi Molla) is also hot on The Dutchman's heels, and the CIA's fabulously-named London head-of-mission Quaker Wells (Gary Oldman) is desperate enough to engage the services of Dr Franks (Lee-Jones, entirely unconvincing) to transplant Pope's memories onto a blank page.
That page is the brain of Kevin Costner's Jericho, who was thrown out of a moving vehicle at birth, has no human emotions, and is stuck in Hannibal Lecter-like solitary confinement. Once the transplant has taken place, he finds himself irresistibly drawn to Pope's wife, played by Gal Gadot, and who can blame him, as she's the only character in this film who seems real.
For reasons unknown - nobody in the film is playing a Brit - this all takes place in London, in locations from Croydon to the SOAS Library, extending out to Camber Sands in Kent and a Cardiff airbase.
The leads are mostly shot separately and deliver performances which don't always match in terms of intensity or pitch. Costner has the biggest part as this latter-day Frankenstein, but even his belief seems to waver in the face of some difficult script hurdles.
Vroman follows up The Iceman with a competently-made film, featuring solid production design from Jon Henson (Testament of Youth) and some good, gritty chase sequences, particularly at the film's onset. There are some unusual locations which distinguish the feature visually from others of its genre. By the end, though, it's easy to sympathise with Jerico's throbbing headache as he wonders who he is and how did he get here; his bewilderment leaking out to a puzzled audience.
Production companies: Summit Entertainment, Millennium Films
International sales: Lionsgate
Producers: JC Spink, Jake Weiner, Matt O'Toole, Mark Gill, Christa Campbell
Screenplay: Douglas Cook, David Weisberg
Cinematography: Dana Gonzales
Editor: Danny Rafic
Production design: Jon Henson
Music: Keith Power, Brian Tyler
Main cast: Kevin Costner, Gary Oldman, Tommy Lee Jones, Alice Eve, Gal Gadot, Michael Pitt, Jordi Mollà, Antje Traue, Scott Adkins, Amaury Nolasco, Danny Webb, Colin Salmon