Dir: Guillermo del Toro. US. 2015. 118mins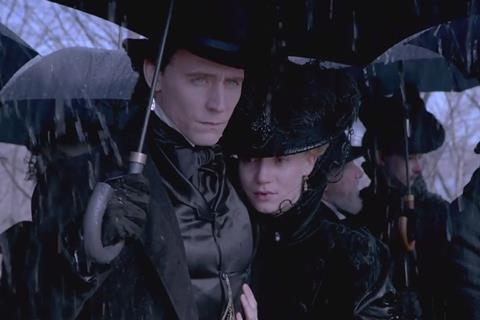 The terror is pleasure in Crimson Peak, a fondly nostalgic Gothic horror movie in which director Guillermo del Toro delivers plenty of elegant chills while trying to supress a cheeky grin, luxuriating in the clammy, spooky-scary conventions of the genre.
With Crimson Peak, Del Toro tries to make a horror movie like they used to, happily playing alongside the ghosts of the past.
Dilapidated mansions, wandering ghosts, the air thick with ever-present menace: Crimson Peak is such a loving homage that sometimes it can feel like an elaborate facsimile, a beautiful corpse perfectly preserved. But del Toro's predictably impeccable production design and tonal flourishes help bring the film to life, aided by strong performances from his leads, especially Jessica Chastain, who gives the otherwise reverent proceedings just the right amount of jolt.
Opening across much of the globe October 16, this Universal release enters a marketplace that will have no shortage of Halloween-timed offerings, including Paranormal Activity: The Ghost Dimension. Because Crimson Peak is more of a horror throwback, preferring turn-of-the-century haunted houses to contemporary found-footage gimmicks, the film may find a commercial sweet spot, which will no doubt be helped by a starry cast that features Chastain, Mia Wasikowska and Tom Hiddleston. Coming off 2013's Pacific Rim, his biggest international hit ($411m worldwide), del Toro could enjoy a little uptick in his marquee value as well, although strong reviews will probably prove just as beneficial.
Set in 1901, Crimson Peak begins in Buffalo as aspiring writer Edith Cushing (Wasikowska) meets handsome Englishman Thomas Sharpe (Hiddleston), who wants to sell her adoring well-to-do father (Jim Beaver) a business proposition. Thomas's sales pitch falls flat, but love blossoms between Edith and Thomas, which displeases her father once he learns mysteriously troubling things about the young man's past.
With the assistance of his conniving sister Lucille (Chastain), Thomas spirits Edith away to his crumbling English estate in the middle of nowhere, where they are soon married. Oddly, Edith doesn't seem too concerned that her father dies under suspicious circumstances before her departure, but she starts to wonder if the Sharpe siblings can be trusted after being visited by ghostly figures inside the mansion.
The filmmaker behind sophisticated horror-fantasy films such as Pan's Labyrinth and The Devil's Backbone, del Toro (who also co-wrote Crimson Peak) has said he wanted to craft a love letter to bygone Gothic romances such as Rebecca, but even younger viewers will instinctively be able to pick up on the references being made, the movie's old-fashioned aesthetic recycled and parodied frequently in contemporary horror.
Often in del Toro's films, the atmosphere and look can outstrip the characters and plotting. The same limitation rears its head in Crimson Peak, but this proves to be less of an issue than in the past, partly because production designer Tom Sanders, cinematographer Dan Laustsen, composer Fernando Velázquez and costume designer Kate Hawley have produced such an absorbing, enveloping world that the very fabric of the sound and images generates sufficient dread.
That's a good thing since Crimson Peak's central players are a tad underdeveloped — admittedly, somewhat by design. Just as del Toro is saluting older, more sensuous horror films, so too is he presenting us with characters who very easily could have walked straight out of those earlier movies. As Edith, Wasikowska portrays a stereotypical virginal, naïve beauty who only slowly realises she's cast her lot with monsters. (Del Toro doesn't even bother hiding that fact, as Thomas and Lucille are shown early on plotting.) Likewise, Hiddleston's English gentleman with a secret isn't meant to be a wry wink or sendup of a familiar trope: instead, the actor follows his director's lead, eschewing irony or smugness in his performance.
Of course, the problem with such an approach is that it can leave Crimson Peak haunted by its influences. And while the movie moves forward with a steady confidence, the suspense surrounding precisely what's going on in the big spooky house and between the Sharpe siblings tends to stay at a low boil, more an excuse to sustain the exquisitely icy tenor than really ratcheting up the tension. Fear not: Eventually, del Toro not only reveals the contours of the Sharpes' plan but also dreams up several ace set pieces that are more than faithful re-creations of pre-existing horror sequences but, in fact, are rivetingly and superbly executed. (And throughout Crimson Peak, he savours introducing blood-like imagery whenever possible, most notably in the red clay surrounding and under the siblings' weathered domicile.)
If del Toro is mostly playing it straight, albeit with deep affection, he is intriguingly undercut a tad by Chastain, whose Lucille from the first moment signals that her tight-lipped smile is hiding all sorts of sinister intentions. Without ever devolving into camp, the Oscar-nominated actress gives a performance in which her character's subdued evil is so obvious that it's delightfully, unsettlingly comical. This is a droll turn, but Chastain brings extra dimensions as Crimson Peak grows in intensity, Lucille finally laying bare the extent of her demented wickedness. Del Toro and Chastain work in cahoots, reaching for an emotional, finely-calibrated outsized finale that pays off much of what has come before. With Crimson Peak, he tries to make a horror movie like they used to, happily playing alongside the ghosts of the past.
Production companies: Legendary Pictures, DDY
Worldwide distribution: Universal Pictures, www.universalpictures.com
Producers: Thomas Tull, Jon Jashni, Guillermo del Toro, Callum Greene
Screenplay: Guillermo del Toro, Matthew Robbins
Cinematography: Dan Laustsen
Production designer: Tom Sanders
Editor: Bernat Vilaplana
Music: Fernando Velázquez
Website: www.crimsonpeakmovie.tumblr.com
Main Cast: Mia Wasikowska, Jessica Chastain, Tom Hiddleston, Charlie Hunnam, Jim Beaver