Julien Temple takes a trip down memory lane - or what's left of it - with the former Pogues frontman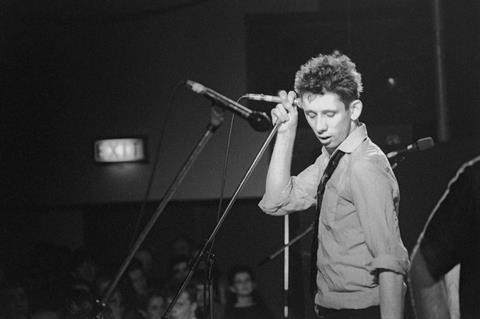 Dir. Julien Temple. UK. 2020. 124 mins.
A documenter of the London punk scene from the very start, Julien Temple now turns his attention to a contemporary who took a very singular path to success and to ruin. Crock of Gold is a riotous piece of storytelling, mapping the picaresque path of singer-songwriter Shane MacGowan, legendary both for his wild living and for the hard-times romanticism of his songs for neo-trad punk-folk band the Pogues.
Unashamedly complicit with its subject
Executed in a full-tilt, hell-for-leather manner recalling the frenzy of the Pogues' performances, Crock of Gold combines interviews, glimpses of MacGowan today, archive footage (ranging from news to clips of Irish-themed films) plus a torrent of original animation to evoke the splendour and squalor of a very singular talent. The latest addition to Temple's cycle of docs about maverick musicians (Joe Strummer, Wilko Johnson, Ray Davies), Crock of Gold has a manic eclecticism harking back to his hybrid Sex Pistols movie The Great Rock 'n' Roll Swindle (1979). At two hours, it's an exhausting watch that makes you yearn for less density, and perhaps more critical insight.
Crock of Gold – named after a novel by James Stephens – takes as its springboard MacGowan's memories of a rural childhood in Tipperary, evoked in a mixture of archive footage of Irish life and flamboyantly romanticised re-enactments. MacGowan's youth takes on a harsher hue when his family moves to England and eventually London, where he and his parents were unhappy (not surprisingly, given the strident anti-Irish feeling in England in the 1970s). What follows is a tale of depression, drugs and misbehaviour, including, MacGowan claims, a spell as a rent boy at Piccadilly Circus. But then he found a sense of belonging as the London punk scene exploded in 1976, with this gawky misfit (scrawny, big ears, legendarily bad teeth) finding overnight celebrity after getting his earlobe bloodily chewed at a Clash gig. He made his first musical forays with punk band the Nipple Erectors (then the Nips), but his musical and verbal skills truly flourished with the formation of Pogue Mahone (an anglicisation of the Gaelic for 'kiss my arse'), shortened to the Pogues.
MacGowan's songs – including 'Streams of Whisky', 'Dark Streets of London' and 'A Pair of Brown Eyes' – mythologised the experience of Irish exiles in London of that time, with trad instrumentation including banjo and penny whistle used to create a punk-inflected re-invention of folk roots. The band thrived spectacularly, but as the film shows, the effect on MacGowan was eventually catastrophic. Following the massive success of pithy yet lushly romantic Christmas ballad 'Fairytale of New York' ("Our 'Bohemian Rhapsody'", MacGowan comments), a gruelling tour schedule reduced the singer to a wreck, exacerbating his drink and drugs intake and culminating in a nightmarish freakout in New Zealand, evoked here in the animated images of Ralph Steadman.
After being sacked from the band, and briefly going solo, MacGowan largely withdrew from music, and is seen in recent footage (he is now 62) the worse for wear, using a wheelchair and slurring his words. His on-camera contributions to the film are generally unforthcoming, sometimes recorded very roughly on audiotape, and often hard to make out. He is seen with his friend, and the film's producer, Johnny Depp, who is clearly enjoying the craic more than MacGowan is, and having an abortive conversation with Primal Scream's Bobby Gillespie. His voice-off reminiscences are considerably more revealing, as is archive material of the man in his prime.
His wife Victoria Clarke is on hand to affectionately raise his morale, while no less a luminary than Sinn Fein politician Gerry Adams pays him an admiring visit at home. The most revealing contributions come from Shane's sister Siobhan MacGowan, with comments filmed over the years from father Maurice. While a more traditional documentary might have included appraisals from music critics or collaborators (it's notable that no ex-Pogues are on hand), Temple chooses instead to tell the story from the inside, working from MacGowan's memories and his thoughts about Ireland (with, one suspects, a certain amount of self-mythologising involved).
This makes Crock of Gold unashamedly complicit with its subject, and invested in a hoarily un-PC tradition of rock 'n' roll mythology, with the animation (ranging from cod-Disney through mock-Beano to retro-psychedelia) evoking very male tales of booze, bullying, bad trips and bonking. The film does, however, reflect unjudgmentally on the alcohol and drug abuse behind MacGowan's physical and artistic decline, while he and others claim dubiously that his intake is fuelled not by a self-destructive impulse but by appetite for life. A detached South Bank Show profile this decidedly isn't, despite climaxing with a grand-scale 60th birthday tribute featuring Sinead O'Connor, Nick Cave and Bono.
The film's prime achievement is to illuminate MacGowan as an Irish-born artist inspired by political history and cultural experience. And once those great Pogues songs are at last heard in all their glory, you understand the claims made for MacGowan as a modern bard – and grieve for the brevity of his brilliant, breakneck career.
Production companies: Infinitum Nihil, Nitrate Film, Hanway Films, BBC Music, Warner Music Entertainment
International sales: Hanway Films, info@hanwayfilms.com
Producers: Johnny Depp, Stephen Deuters, Stephen Malit, Julien Temple
Screenplay: Julien Temple
Cinematography: Stephen Organ
Editor: Caroline Richards
Music: Ian Neil
Featuring: Shane McGowan, Johnny Depp, Gerry Adams, Siobhan MacGowan