Documentary tells the uplifting story of Alexis Valdes and his move to the US in search of ballet perfection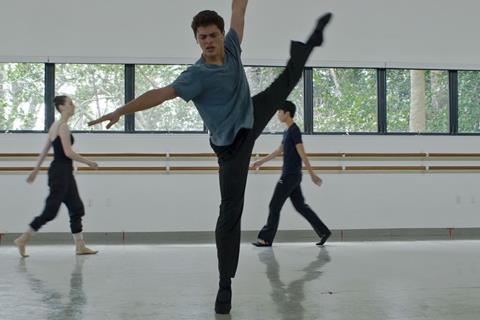 Dir: Roberto Salinas. Canada/Chile/Italy 2020. 98 minutes
Ballet depends on exact balance, but gender-wise the art-form has long been lop-sided: female dancers far outnumber males; on the management side the reverse tends to be true. In film, fictional presentations are usually distaff-focused (The Red Shoes, The Company, Black Swan, both Suspirias); documentary-makers more often gravitate towards masculine subjects (Ballet 422, Dancer, Dance Or Die, Ballet Boys).
This is an enterprise planned and executed with inspirational positivity
The latest addition to this popular sub-genre is Roberto Salinas' competently-handled Cuban Dancer, which world-premiered quietly in Rome Film Festival's youth sidebar last October. A decent fit for documentary-skewing festivals and channels aimed primarily at relatively mainstream audiences, the film follows the gracefully energetic footsteps of teenager Alexis Valdes over a period of four years — first in Cuba and then Florida, after his family's 2016 emigration. Valdes' career so far has certain obvious parallels with that of international ballet star Carlos Acosta in the late 1980s and early 1990s — focus of Icíar Bollaín's well-received 2018 bio-pic Yuli.
The picture's 2015-19 time-frame — encompassing the election of Donald Trump and the ensuing refrost of Cuba/USA relations after the Obama-era's thaw — may cause viewers to expect more socio-political material than Salinas elects to include. Alexis, fully committed to his notoriously demanding profession, seems able to exist in an artistic "bubble" upon which real-world matters seldom impinge. His father watches a news-report about Cuba/USA tensions, but such elements remain background noise.
Director/co-writer/co-editor Salinas — previously responsible for 2014's United Nations lid-lifter The Troublemaker — concentrates squarely on Alexis's personal experience with sensitive sympathy. This is an enterprise planned and executed with inspirational positivity in mind: it's not just Alexis who proves capable of delivering an effective uplift.
There are the inevitable professional ups and downs as he deals with the disappointments and joys of the aspiring dancer's life, but nothing too drastic. "You left out the drama," his teacher at Cuba's National Ballet School scolds after a half-hearted exercise, and Salinas leaves himself open to similar accusations.
Alexis has a girlfriend in Cuba and, after breaking up with her, another in the USA — he's unambiguously heterosexual, but if his pursuit of ballet (he started dancing aged nine) ever caused him or his proud parents any kind of prejudice-motivated problems in the macho culture of their island, the film omits them. Likewise, hardly anything is made of the differences between socialist Cuba, where the National Ballet School charges its students no fees, and the unalloyed capitalism of the USA (as it happens, the HARID Conservatory in Boca Raton, where Alexis completes his studies, is a tuition-free establishment.)
"I believe I was born for this, to dance," says Alexis, who gets rigorously pushed and punishingly challenged by his teachers, but never by Salinas. The director takes a safe-hands, self-effacing approach — unseen, unheard. He is content to let his protagonist, whose physical development is more apparent than his emotional or intellectual maturing, express himself in ways very familiar from ballet movies of all stripes down the decade — albeit with a patriotic slant in the final moments ("being Cuban is already being a warrior; we have the fight in our blood.")
Salinas does not, however, go for the fly-on-the-wall style adopted by, say, Frederick Wiseman in La Danse (2009). Stylised interludes punctuate the documentary footage via nifty sequences choreographed by his co-writer and co-editor Laura Domingo Aguero. Several loose-limbed numbers are executed through the corridors, halls and exteriors of Alexis's schools, the fluidly gliding camera effectively becoming an organic part of the dance.
Production companies: Indyca, RAI Cinema, Filmoption International, Valdivia Film
International sales: Deckert Distribution, info@deckert-distribution.com
Producers: Paul Cadieux, Simone Catania, Fernando Lataste
Screenplay: Laura Domingo Aguero, Roberto Salinas
Editing: Abraham Lifshitz. Also: Piero Lassandro, Armando Duccio Ventriglia, Roberto Salinas
Cinematography: Roberto Salinas
Music: Beta Pictoris, Caroline Chaspoul