A solid, funny film about the depressing WMD cover-up in Germany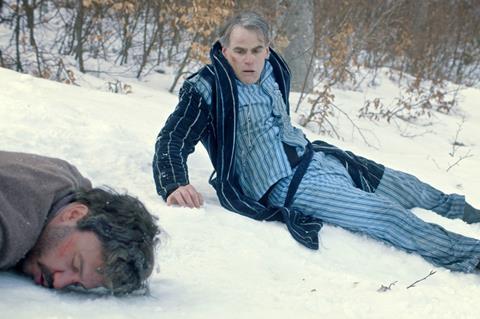 Dir. Johannes Naber. Germany. 2019. 109 mins
"Based on a true story, unfortunately," reads a caption at the start of Johannes Naber's entertaining account of the story behind a lie which had global repercussions. Yet there's clearly dramatic licence involved as Curveball imagines a relationship between a fictional German secret service officer (Sebastian Blomberg) and the real-life Iraqi asylum seeker Rafid Alwan (Dar Salim), who claimed, in return for a German passport, that he had worked on Sadam Hussein's secret bio-weapon program. Alwan's lies were knowingly used as justification for the Iraq war. It's a slick and frequently very amusing film about a profoundly dispiriting period of history.
The film's main asset is its sharp screenplay
The third feature from gaffer-turned-director Johannes Naber, Curveball shares a similarly cynical perspective (and, in Blomberg, a star) with his satirical second feature, Age Of Cannibals. The film's dry, sometimes absurdist humour should ensure positive word of mouth when it is released domestically in the autumn. Outside Germany, further festival slots seem likely, as does interest from arthouse distributors attracted by the wry Adam McKay-style spin on real events.
Dr Arndt Wolf (Blomberg), a socially maladroit scientist, is convinced that Iraq is covertly developing bio weapons. He is "like a dog with a bone", says CIA agent and sometime lover Leslie (Virgina Kull) who was with him on the inspections which failed to locate any such weapons. When the German secret service finds itself handling a potentially valuable asset – an asylum seeker who claims to have worked on the weapons program – Wolf's expertise makes him the unexpected choice to run the investigation. And his passionate investment in the idea that there are indeed weapons yet to be located makes him the worst possible man for the job.
Wolf cuts a faintly ludicrous figure in his banana yellow hazard suit and Blomberg brings a glum incongruity to the role, coaxing comedy out of his exasperated answer to a phone call which interrupts his work. "Hello, Biological Warfare". A slightly naïve character, Wolf is hopelessly out of his depth in the shark tank of careerists who view intelligence reports as stepping stones for advancement and prioritise political expediency over truth. But, against the odds, a real friendship develops between Wolf and Rafid (who is depicted, generously, as an amiable chancer).
When Rafid is revealed to be a liar, Wolf is the fall guy who is forced out of the secret service and into a life spent mainly drinking whisky and smoking in his underpants. But post 9/11, Wolf learns that the message that Rafid's story was a hoax never reached the intelligence agencies of Germany's allies. The embarrassment of admitting that they had been strung along by a conman trumps the need for transparency, in the view of Wolf's former bosses.
The build of tension is channelled through an effectively twitchy score, written by Naber, and through an increasingly panicky camera. But the film's main asset is the sharp writing of a screenplay which deftly balances humour against the grave implications of an intelligence infrastructure which tailors the facts to suit its current agenda. "Truth doesn't matter," the hapless Wolf is told. "Justice matters. We make the facts."
Production company: Bon Voyage Films
International Sales: Arri Media International worldsales@arri.de
Producers: Amir Hamz, Christian Springer, Fahri Yardim
Screenplay: Oliver Keidel, Johannes Naber
Editing: Anne Jünemann
Cinematography: Sten Mende
Production Design: Tamo Kunz
Music: Johannes Naber
Main cast: Sebastian Blomberg, Dar Salim, Virginia Kull, Michael Wittenborn, Thorsten Merten, Franziska Brandmeier