The life of a young offender is thrown into relief when he encounters refugees on a migrant route in Greece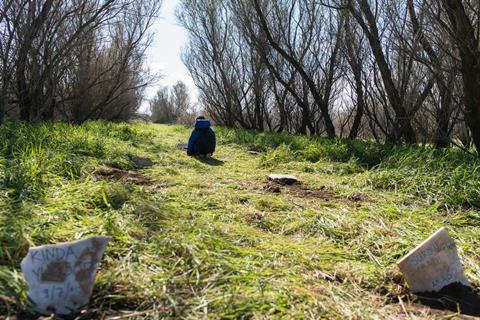 Dir. Dimitris Koutsiabasakos. Greece. 2020. 101 mins
An empathetic if low-key drama, Daniel 16 follows the coming of age of a sullen young offender from Hamburg who finds himself stranded far from home. A solid festival title which should prove a particularly good fit for youth strands at further festivals, it centres around the title character, sent to serve his sentence at a family-run institution in rural Greece with little more than a sports bag and a bad attitude. Close to the Turkish border and migrant routes, his temporary new home brings him in contact with refugees and provokes a change of heart about his own circumstances.
A naturalistic approach to storytelling and the unforced performances
Director Dimitris Koutsiabasakos' background in documentary is evident in the naturalistic approach to storytelling and the unforced performances. This imbues the film with authenticity, but doesn't always make for compelling drama. At times, it seems that the young and inexperienced core cast might have benefited from a firmer directorial hand. The most challenging role is that of Daniel, played by Nikolas Kisker. Pasty, sullen and inexpressive, he is a character who barely speaks for the first half of the film but who is wrapped up in layers of anger, mistrust and hatred which are gradually unpeeled during his time at the young offenders unit. Conveying a complex psychological journey with so little dialogue is something with which Kisker sometimes struggles. It's not that his performance is bad – on the contrary, his lumpen, inarticulate, adolescent glowering is all too accurate. But this stony-faced teenager in emotional lockdown doesn't give the audience much to work with.
In contrast, Max (Alexander Liakopoulos Buchholz), the only other boy at the unit, is an open book. A lonely child who has found a makeshift family in this abandoned corner of Greece, Max turns hopeful eyes towards Daniel, already casting him in the role of big brother. But Daniel is resistant, meeting Max's overtures with blank-eyed disinterest, and on some occasions, violence.
The institution is run by a German-Greek couple: Sarah (Marlene Kaminsky), who runs the educational side of the outfit, and Stavros, who manages the farm which, along with more conventional livestock, houses several emus. Watchful Daniel soon identifies the weak spots in their strained united front. There's another man, Kostis (Kostis Kallivretakis), who works with them. A covert affair is simmering between Sarah and Kostis; it's clear that she sees her future with him rather than with Stavros.
Desperate to get back to Germany and to the dog he fears that his mother plans to have put down, Daniel impulsively flees. After an uncomfortable night sleeping in a storm drain, he is caught by the police, just at the moment when the bodies of drowned migrants are pulled from the river which separates this corner of Greece from Turkey. During another escape bid, this time to try and cadge a lift with human traffickers, he sees the murder of a Syrian, a man he knows to have a young son.
And it's the dawning realisation that a child is in grave danger, and that he is uniquely positioned to act, that triggers the beginning of a change in Daniel. It's telling that it is to the child, Nidal, who speaks no German, that Daniel finally confesses that it was an act of hate against an immigrant that landed him in the young offenders unit in the first place. And while the film is too grounded to suggest that complete rehabilitation is imminent for Daniel, who remains a troubled child, it does leave us hoping that the rage that clouded his vision of the world around him might finally have started to clear.
Production company/international sales: View Master Films, info@viewmasterfilms.gr
Producers: Yorgos Kyriakos, Costas Lambropoulos
Screenplay: Dimitris Koutsiabasakos, Glykeria Patramani, Panagiotis Christopoulos
Cinematographer: Giannis Fotou
Editor: Christos Giannakopoulos
Production design: Eleni Dagaki
Music: Vangelis Fampas
Main cast: Nikolas Kisker, Alexander Liakopoulos Buchholz, Filopateer Adel Hafiz AnsMogras, Vassilis Koukalani, Marlene Kaminsky, Kostis Kallivretakis, Kostis Siradakis