A small, strange Irish town is the setting for this adaptation of Kevin Barry's short story collections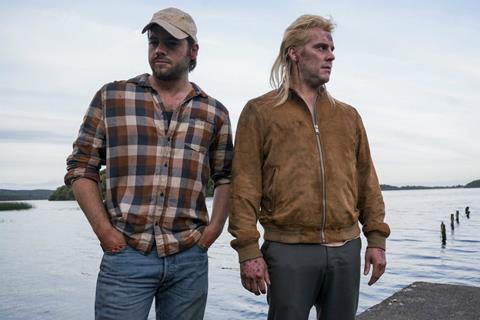 Dir: Ian Fitzgibbon. Ireland/UK, 2019. 95mins
Kevin Barry's short stories form a queasy foundation for Dark Lies The Island, a bleakly comic film set in a one-horse town called Dromord. Writing the screenplay himself, the Irish author has constructed a wicked little picture with a big-screen appetite courtesy of director Ian Fitzgibbon (Perrier's Bounty) and attractive lensing by Cathal Watters (Papi Chulo).
The blend of down-and-dirty dialogue with cinematic sophistication is fronted by a committed cast
The churning lake turns the heads of the inhabitants of Dromord, run almost entirely by the Mannion clan, a pleasingly vile bunch to spend time with. When a mysterious man arrives to buy the local takeaway, he inadvertently alters their future. Dark Lies The Island combines elements of Barry's two short story collections, stitched together with scabrous humour, and while the blend isn't entirely smooth, perseverance is rewarded with a satisfyingly bleak payoff and some killer one-liners. Although Dark Lies The Island isn't a completely unfamiliar proposition — audiences who savoured John Michael McDonagh's The Guard will feel on safe ground here — there's a sparky chemistry which makes the film a surprise.
The blend of down-and-dirty dialogue with cinematic sophistication is fronted by a committed cast, chiefly Pat Shortt as Daddy Mannion, head of the clan and husband of the surprisingly youthful Sarah (Charlie Murphy). Turns out Sarah used to be the girlfriend of his son Doggy (Peter Coonan), who now licks his wounds in a caravan in the woods where he runs many and varied local businesses via a bank of mobile phones. There's another brother, village idiot Martin Mannion (Moe Dunford), and Daddy's daughter with Sarah, brilliantly played by newcomer Jana Moheiden. Meanwhile, the mysterious, scarred Richie (Tommy Tiernan) arrives in town having bought the local chip shop (from Mannions estate agents, naturally, which sits alongside Mannions undertakers, Mannions pub, etc).
Each piece of the jigsaw has a strong sense of identity, even if the flow between them isn't always smooth. The mullet-haired Doggy's caravan, where Sarah still visits to do his highlights. The twin brothers who spy on Sarah's sexual shenanigans with Daddy at Doggy's behest. A karaoke bar which Richie visits; the funeral home; Martin's chicken farm; the roiling lake in this "godless hole of a place". While Dark Lies The Island is always identifiable as a series of vignettes, it does eventually add up to a satisfying whole.
The two veteran actors Shortt and Tiernan help ground the piece in the face of exuberant performances by the younger Mannions. As Sarah, Murphy is perhaps too fresh-faced for her hard-bitten character, although she sashays around the village in gold lame with the requisite aplomb. Moheiden is a real find, delivering her coarse dialogue with an apposite innocence.
Production company: Grand Pictures
International sales: Independent Film Sales, mail@independentfilmcompany.com
Producer: Michael Garland
Screenplay: Kevin Barry
Cinematography: Cathal Watters
Editing: Stephen O'Connell
Production design: Jeffrey Sherriff
Music: Stephen Rennicks
Main cast: Pat Shortt, Charlie Murphy, Peter Coonan, Moe Dunford, Tommy Tiernan, Aisling O'Sullivan, Jana Moheidan